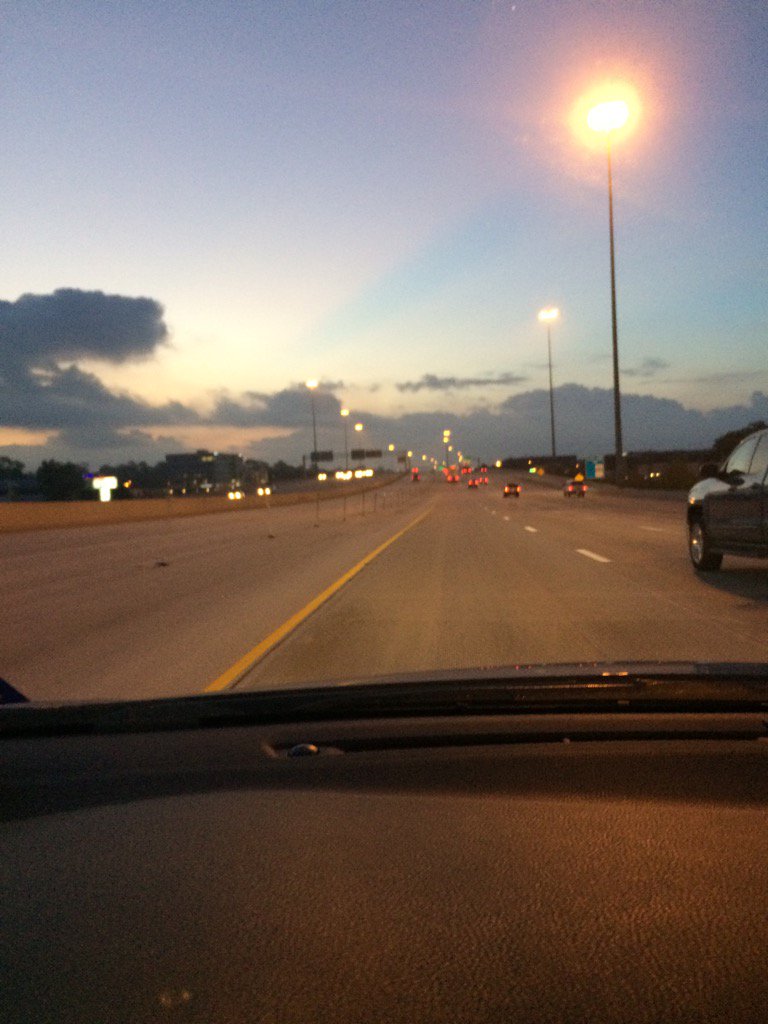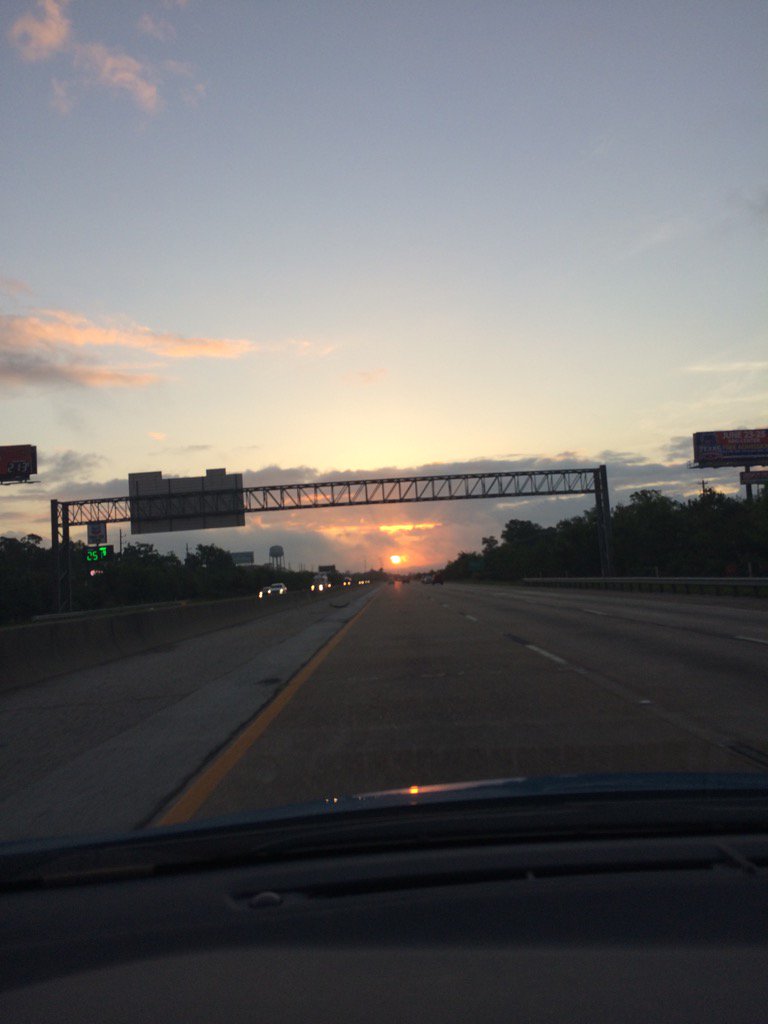 East TX, on I-10, on the way to Beaumont, TX, during the early morning.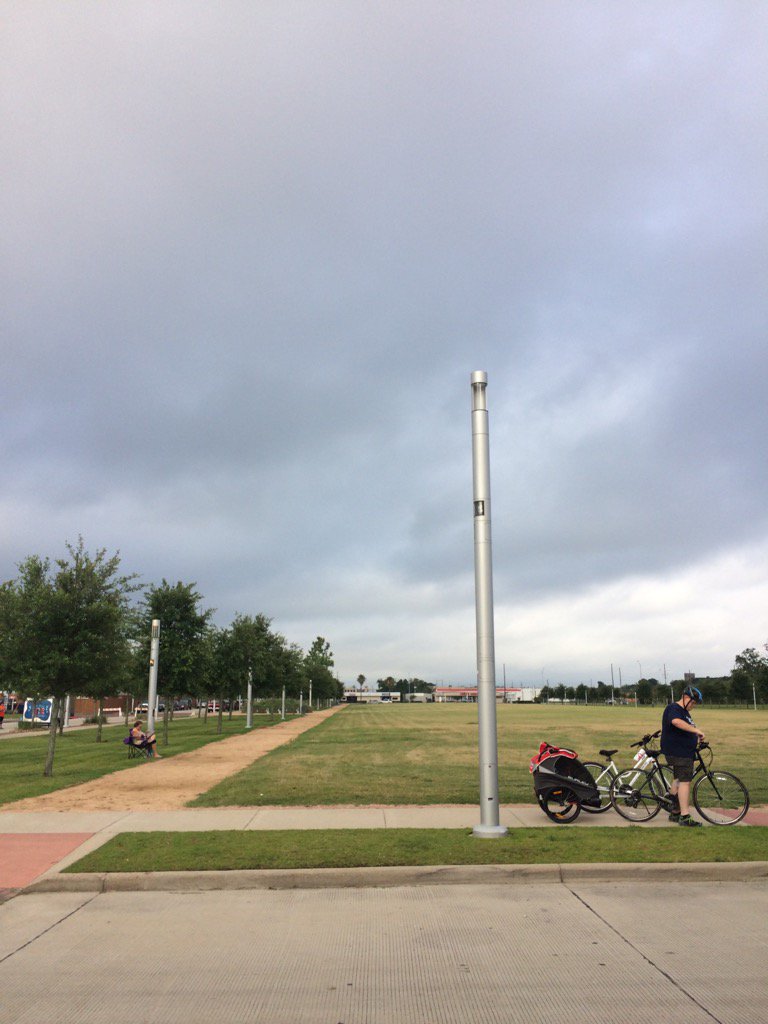 Beaumont, TX, during the early morning.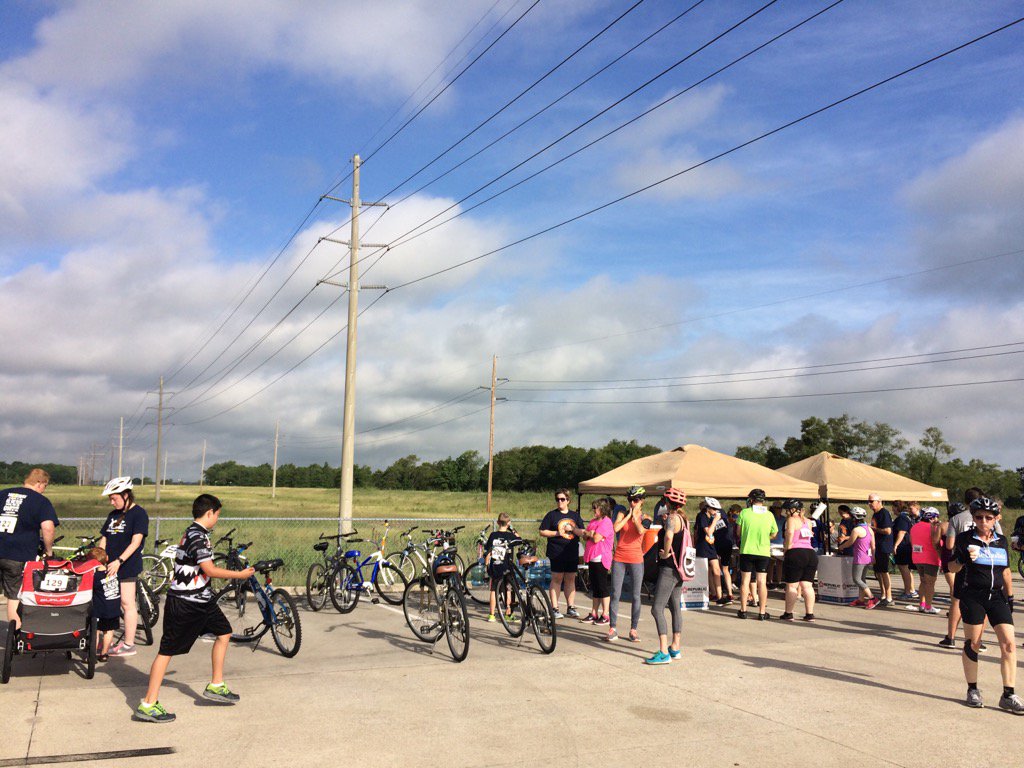 Beaumont, TX, during the mid-morning.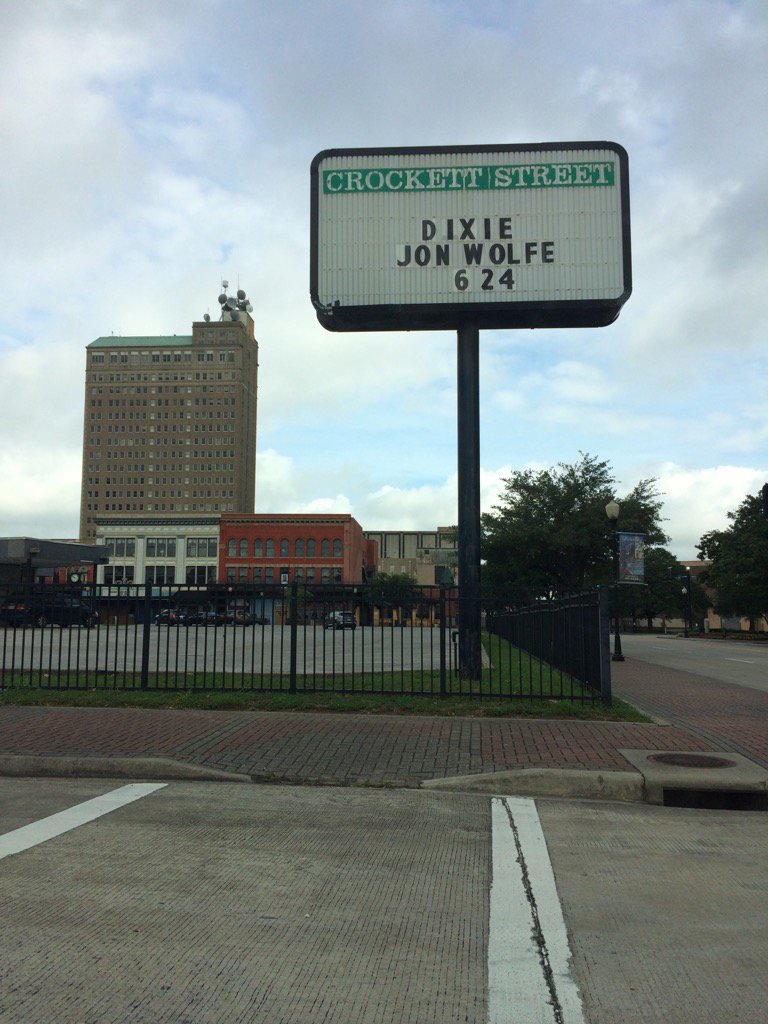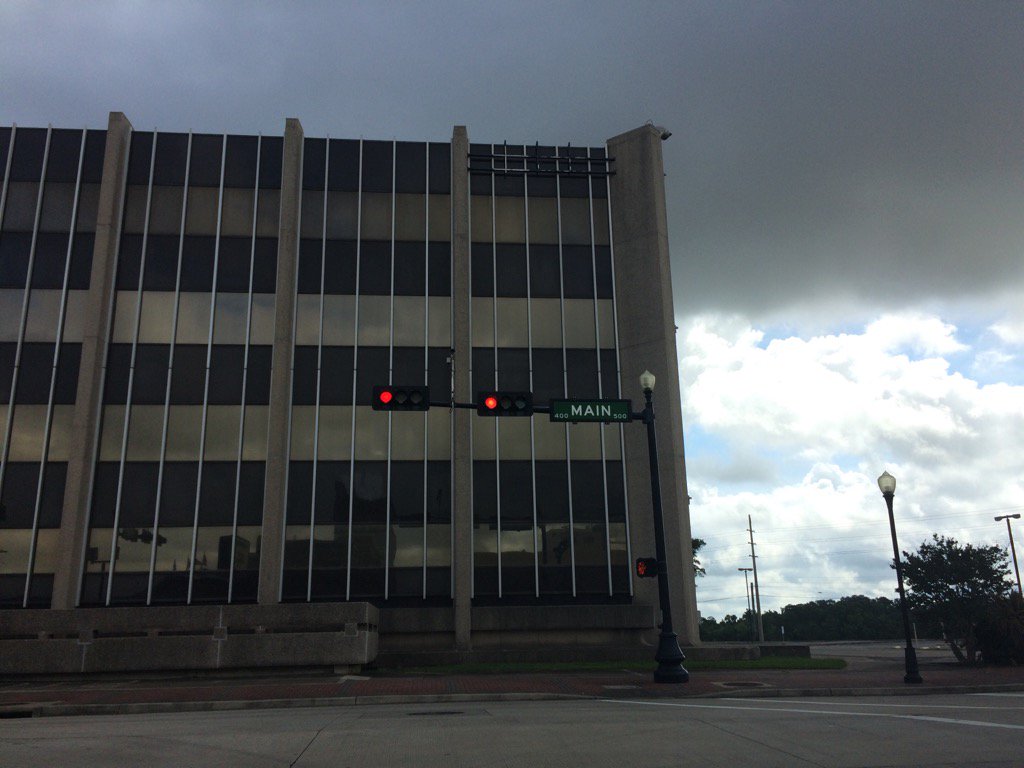 Downtown Beaumont, TX, during the mid-morning.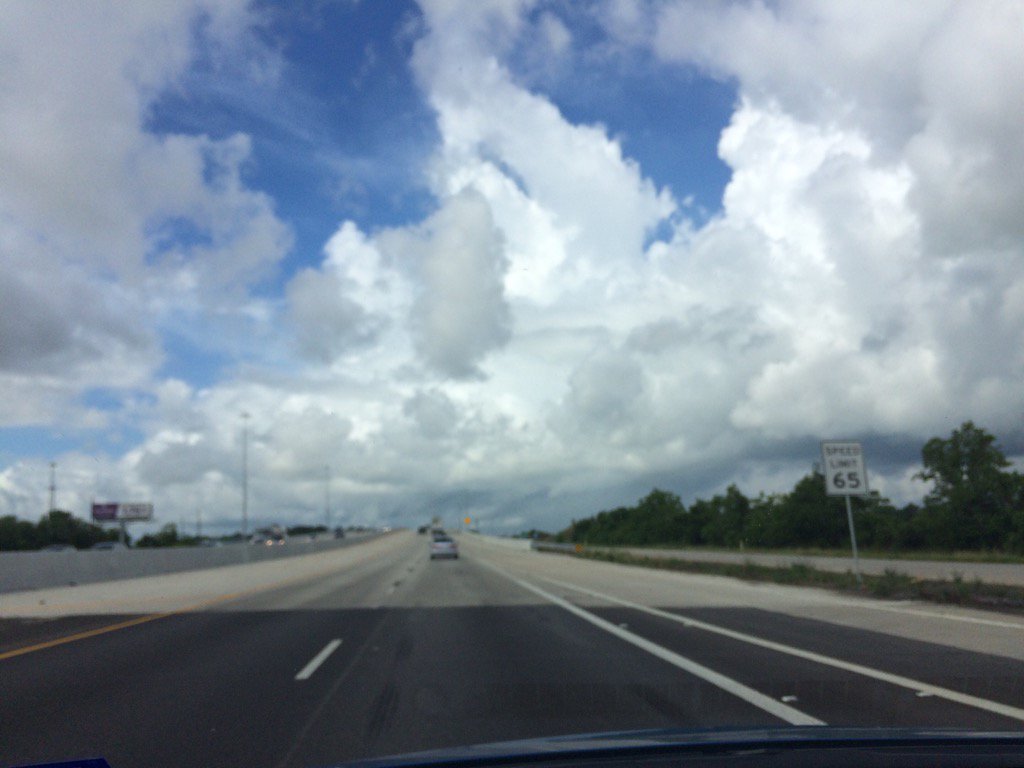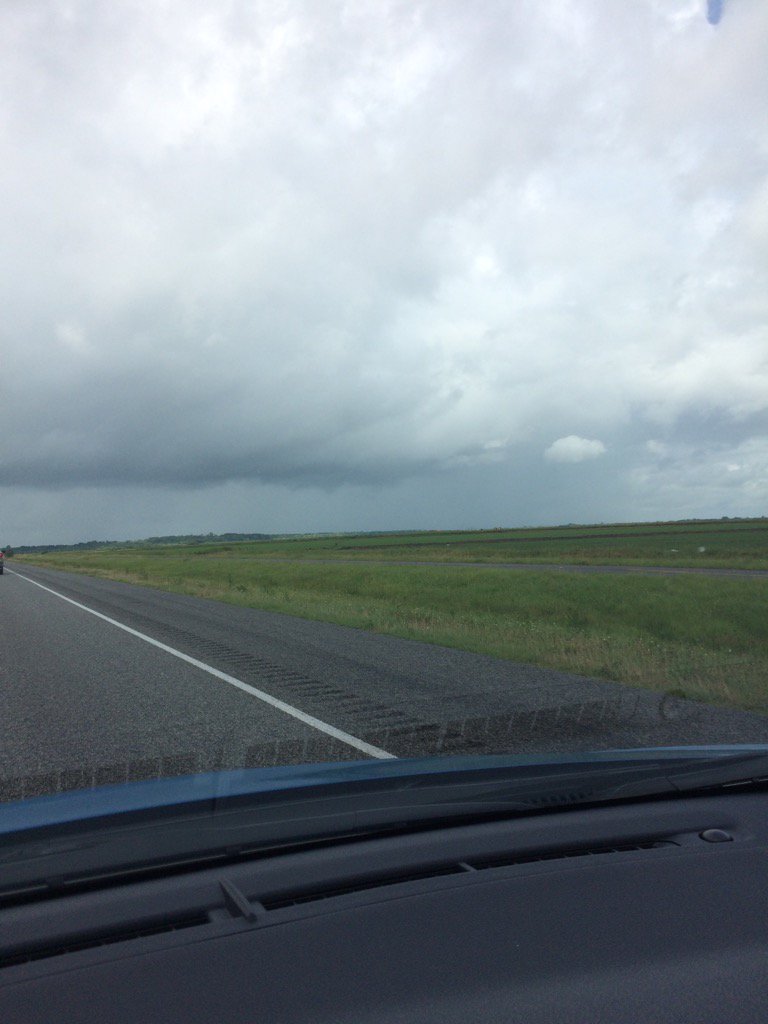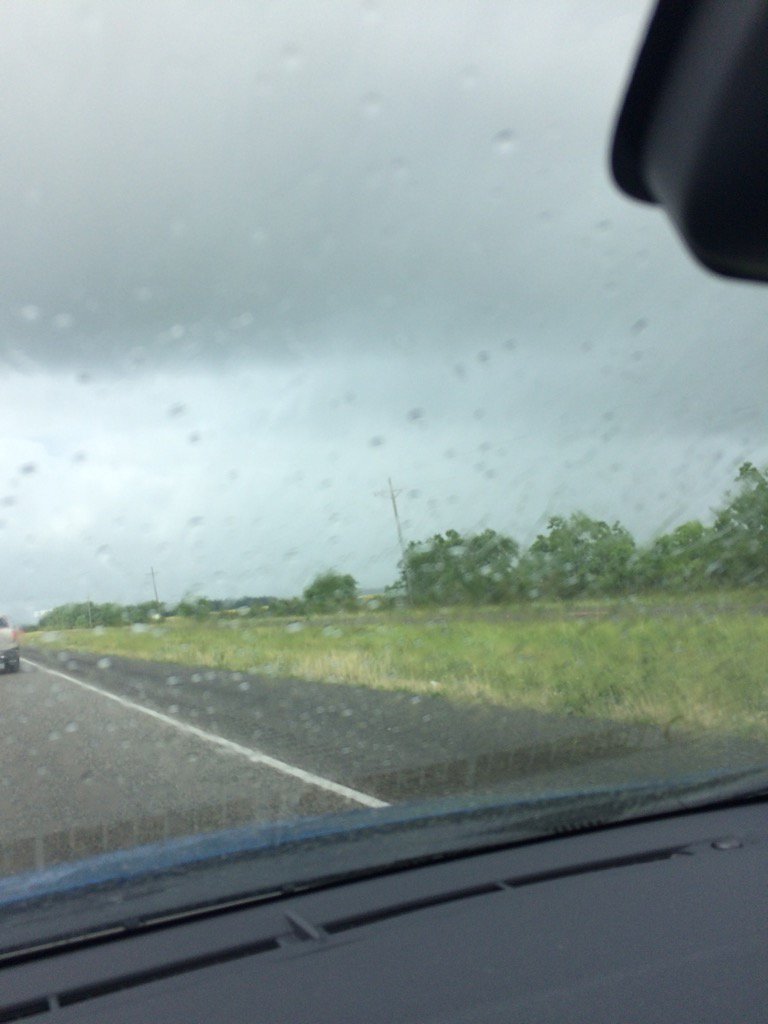 East, TX, on I-10, headed back towards Houston, TX, during the late morning.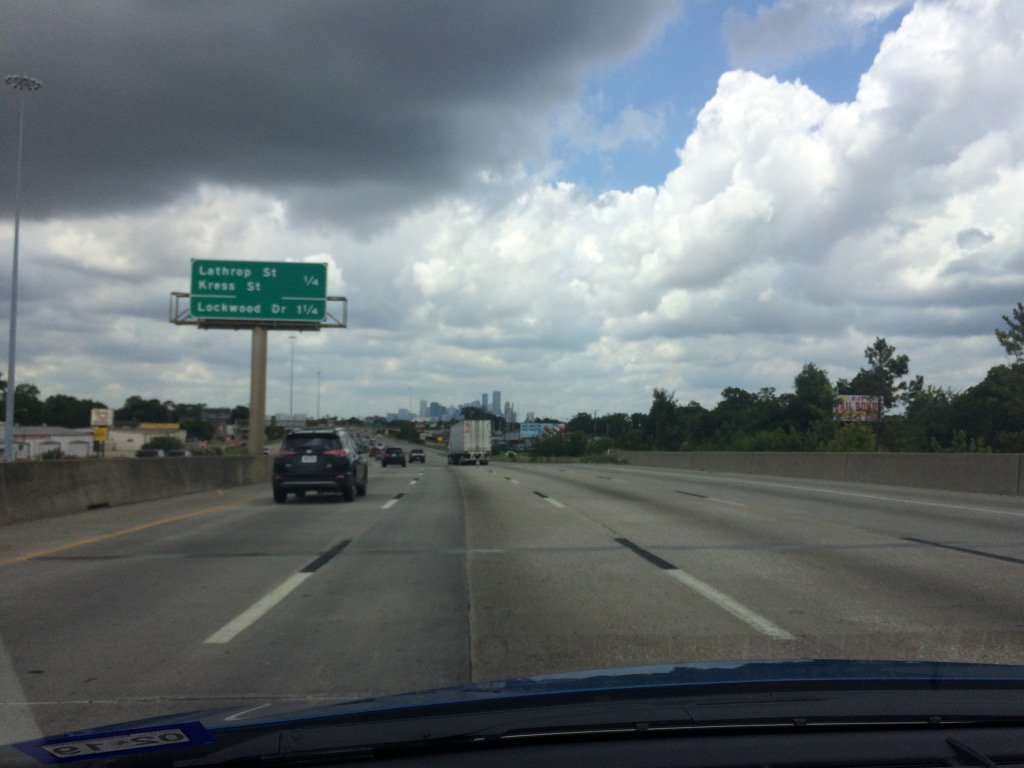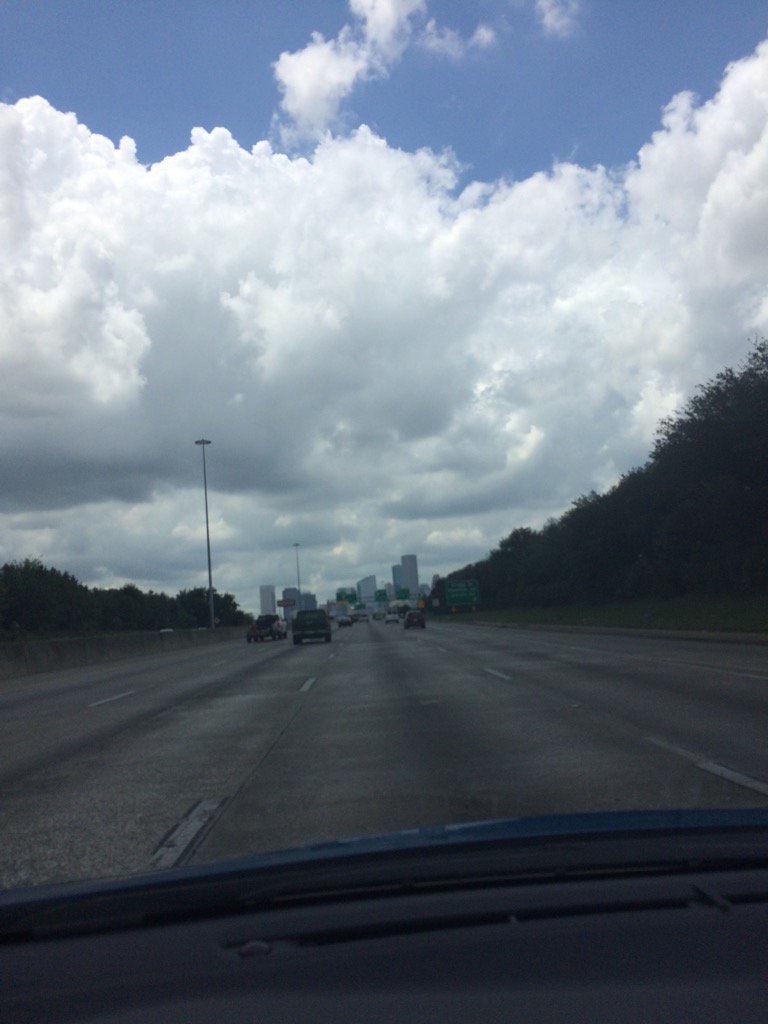 Near downtown Houston, TX, during the early afternoon.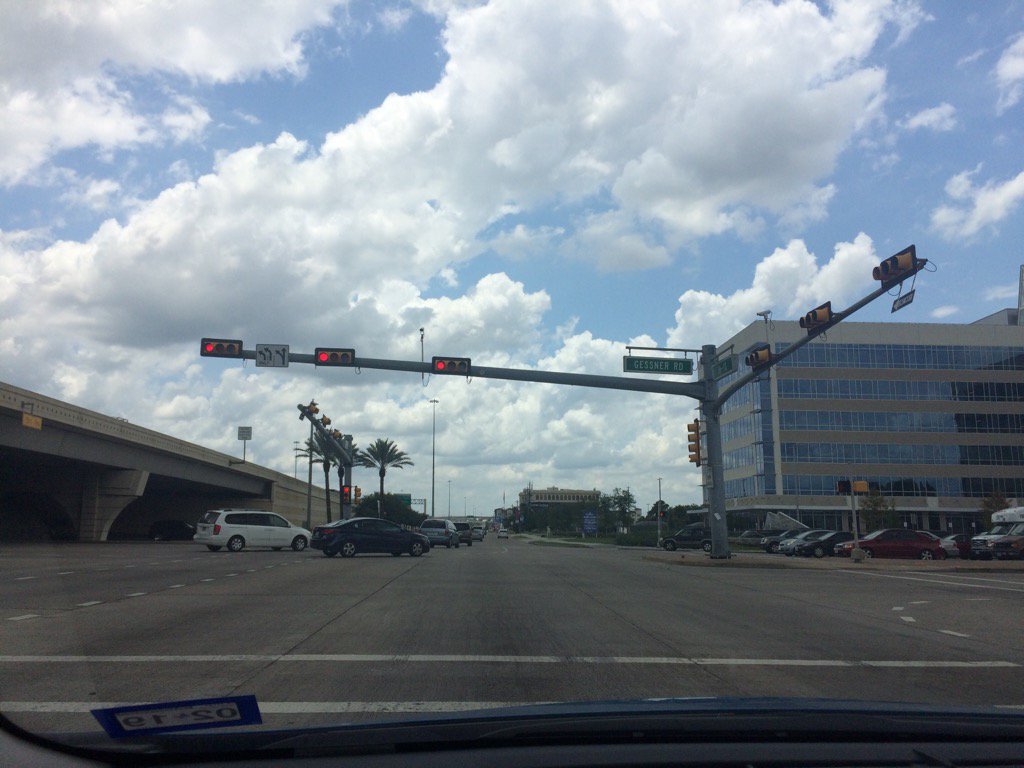 West Houston, TX, during the early afternoon.
Cypress, TX, during the early evening.
Northwest Houston, TX, during the early evening.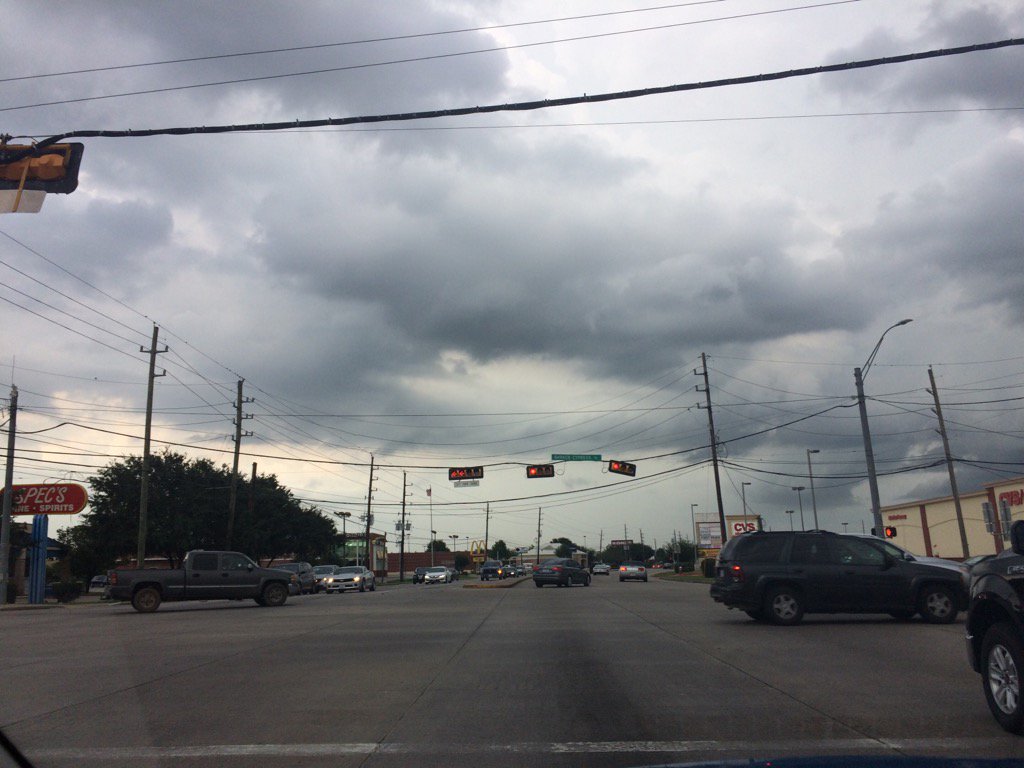 Cypress, TX, during the late evening.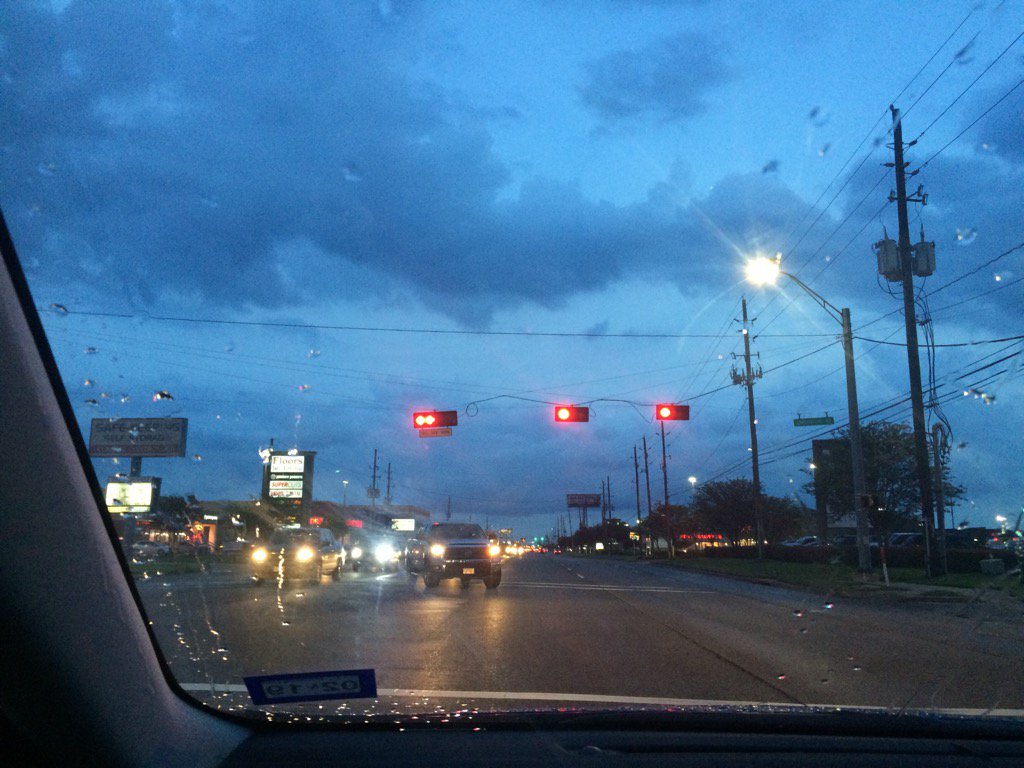 Northwest Houston, TX, during the late evening.
East, TX, on I-10, headed towards Houston, TX, from Beaumont, TX, during the late morning.
Summary: The day was warm, mostly cloudy, and partly wet. Isolated to scattered light to heavy showers and thunderstorms passed up through the Houston, TX and Beaumont, TX area, from the south, during the morning, afternoon, evening, and night. The wind speeds looked to be calm with maybe some moderate to moderately strong gusts. The sky stayed mostly cloudy from the early morning, through the in the Houston, TX area and probably the Beaumont, TX area. It felt warm during the morning, evening, and night. It felt very warm during the afternoon. There was a flood advisory and a special weather statement issued, think, for the Houston, TX area, as well as a hazardous weather statement by NOAA, for the Houston, TX area. I don't know about the Beaumont, TX area. I didn't witness, or hear about any flooding, or storm damage to the Houston, TX, or Beaumont, TX area. I did witness some ferocious lightning with some loud rumbles of thunder in Northwest Houston, TX and Cypress, TX, during the late evening and early night.
Locations: Houston, TX, Cypress, TX, and Beaumont, TX.
Thoughts: Lots of heavy rain and lighting going on. I am glad that there wasn't any lightning at the bike event that I went to in Beaumont, TX.
Area Forecast Discussion
Issued by NWS Houston/Galveston, TX
Home | Current Version | Previous Version | Text Only | Print | Product List | Glossary Off
Versions: 1 2 3 4 5 6 7 8 9 10 11 12 13 14 15 16 17 18 19 20 21 22 23 24 25 26 27 28 29 30 31 32 33 34 35 36 37 38 39 40 41 42 43 44 45 46 47 48 49 50
000
FXUS64 KHGX 040315
AFDHGX
Area Forecast Discussion
National Weather Service Houston/Galveston TX
1015 PM CDT Sat Jun 3 2017
.UPDATE...
A radar night with little in the way of near term grid edits.
Leaned towards higher POPS across more southern zones over the
next 12 hours. Reasoning stems from a less worked over air mass
and that the model blends peg higher probs along and south of the
I-10 corridor through 18Z tomorrow. Of course...with the slow
eastern movement of the TX-OK Panhandle-centered broad upper
low...areawide periods of rain with embedded thunderstorms will
again re-form Sunday. A more meso-driven event with lower confidence
on location. Focus will likely be upon tonight`s weak residual
outflow boundaries. Confidence on Sunday`s precipitation is higher
on the occurrence and timing. The only other caveat will be early
Sunday morning fog between rain episodes. Relatively mid to upper
drier air noted on the water vapor imagery will advance in from
the southwest and thin out early morning cloud cover. A thinner
cloud deck with light squirrelly winds over damp grounds will
increase the probs for patchy fog development. 31
&&
.PREV DISCUSSION... /ISSUED 712 PM CDT Sat Jun 3 2017/
AVIATION...
A few short term concerns. Scattered storms in Harris Co should be
in the vicinity of IAH for the next hour or two. Lightning, wind
gusts ~25kt and brief heavy rain the primary concern there.
Looking further north where a line of showers and embedded tstms
are situated from roughly Crockett to Brenham will be pivoting ese
thru the evening - likely making it thru UTS, CXO, and possibly
IAH between now and 11pm or so. Same type of impacts - brief heavy
rain limiting visby to 0.75-1.5nm, wind gusts ~30kt and lightning.
There are numerous boundaries running around, so brief collisions
will enhance overall strength at times.
Think we`ll probably see things start tapering off toward
midnight. After the precip, confidence as to whether cigs will
fill in and fall is low, so will keep prevailing at MVFR or higher
until trends are established. By mid/late morning Sunday, we
should see precip redeveloping and expand in areal coverage and
persist thru much of the day. Probably could have gone
categorical -ra vcts working after about 17z and will consider
that for the 6z package. Wide range on conditions expected, VFR
outside of convection, to IFR under the strongest cells. 47
PREV DISCUSSION... /ISSUED 339 PM CDT Sat Jun 3 2017/
Showers and thunderstorms ongoing this afternoon mainly along the
seabreeze now east of I-45 and starting to develop along the
Highway 59 corridor southwest of Richmond. Active storms over West
and North-Central Texas this afternoon in association with the
slow moving upper low near KFDR. Storms in SETX should continue to
expand inland and likely increase a little in coverage and
intensity with atmosphere becoming more unstable across the
northern CWA. Brief heavy downpours still possible this
afternoon/early evening.
Guidance is all over the place for tonight/Sunday. Storms that are
going on across TX not lining up well with most of the higher res
modeling and hence confidence is lower on how this plays out
overnight. Thinking the general trend should be southeastward as
the upper low detaches and drifts towards SETX. Complex of storms
rolling down the Rio Grande will also add more uncertainty to the
forecast as some of this mass could shift eastward. WV/Vis imagery
showing the deeper moisture over the Gulf moving toward SETX/LA
and the leading edge of the deeper moisture should reach the
coastal areas by 03z. This should set the stage for slow moving
heavy rain as remnants of storms to the west die off during the
convective minimum and then leave a boundary to potentially help
focus storms along in the morning. Convective temperatures Sunday
82-83 which will be easily reachable. PW spiking up to 2-2.2"
should increase rainfall efficiency. Thinking the coverage will be
fairly widespread with pockets of heavy rains of 2 to 4 inches.
May lead to some isolated street flooding.
Upper low continues to track southeastward and should move through
the area Tuesday with a `cold front`. This should further
destabilize the airmass and lead to continued threat of slow
moving showers and thunderstorms Monday night/Tuesday. Eventually
Wednesday SETX gets on the back side of the upper low and coverage
should diminish with warming mid levels and drying in the lower
levels of the atmosphere thanks to weak high pressure building
into the area in the wake of the `June front`.
Thursday through Saturday looking pleasant for June with low pops
and heat index readings of 85-95. 45
MARINE...
Per obs this afternoon, the weak coastal trough that set up over the
marine waters earlier this morning has moved just a bit onshore. Not
expecting any significant development over the Gulf the rest of this
afternoon and evening with mainly light/moderate onshore winds
staying in place through the overnight hours. Winds could pick up
little tomorrow (Sun) as the gradient tightens some in response
to an approaching upper low. This system will increase shower and
thunderstorm coverage Sun/Mon. Of course, winds and seas will be
higher in/around these thunderstorms. Long-range models are also
still indicating the passage of a cold front on Tues is still on
tap. Light offshore flow could remain in place through Thurs. 41
&&
.PRELIMINARY POINT TEMPS/POPS...
College Station (CLL) 69 87 71 85 71 / 30 60 50 70 20
Houston (IAH) 74 88 73 87 73 / 70 70 50 80 40
Galveston (GLS) 77 86 77 86 78 / 30 70 50 70 50
&&
.HGX WATCHES/WARNINGS/ADVISORIES...
TX...NONE.
GM...NONE.
&&
$$
Discussion...31
Hazardous Weather Outlook
Hazardous Weather Outlook
National Weather Service Houston/Galveston TX
347 PM CDT Sat Jun 3 2017

TXZ178-179-199-200-210>214-226-227-235>238-042100-
Austin-Brazoria-Chambers-Colorado-Fort Bend-Galveston-Harris-
Jackson-Liberty-Matagorda-Montgomery-Polk-San Jacinto-Waller-
Wharton-
347 PM CDT Sat Jun 3 2017

This hazardous weather outlook is for portions of Southeast Texas..

.DAY ONE...Tonight

Daytime heating will trigger scattered showers and thunderstorms
today. Storm motion will be slow and locally heavy rain will be
possible in the stronger storms.

.DAYS TWO THROUGH SEVEN...Sunday through Saturday

An upper level low will trigger scattered to numerous showers and
thunderstorms Sunday and Monday. Storm motion will remain slow
and locally heavy rain will be possible. Some flooding issues
might be possible both Sunday and Monday. Funnel clouds may be
possible Sunday morning with the rapid development of showers and
thunderstorms. Widespread rainfall by Monday night will be between
1 and 3 inches with isolated areas receiving up to 4 inches of
rain.
.SPOTTER INFORMATION STATEMENT...

Spotter activation will not be needed.

$$



---
Flood Advisory
Flood Advisory
National Weather Service Houston/Galveston TX
909 PM CDT SAT JUN 3 2017

TXC201-040400-
/O.NEW.KHGX.FA.Y.0091.170604T0209Z-170604T0400Z/
/00000.N.ER.000000T0000Z.000000T0000Z.000000T0000Z.OO/
Harris TX-
909 PM CDT SAT JUN 3 2017

The National Weather Service in League City has issued a

* Flood Advisory for...
  West central Harris County in southeastern Texas...

* Until 1100 PM CDT.

* At 907 PM CDT, Doppler radar and automated rain gauges indicated
  heavy rain due to thunderstorms. This will cause minor flooding in
  the advisory area. 1 to 1.5 inches inches of rain have fallen
  around Bear Creek at FM 529 in the past 30 minutes.

* Some locations that will experience flooding include...
  Cypress and northern parts of Katy.

PRECAUTIONARY/PREPAREDNESS ACTIONS...

Turn around, don`t drown when encountering flooded roads. Most flood
deaths occur in vehicles.

&&

LAT...LON 2998 9568 2989 9567 2984 9571 2980 9582
      2989 9586 2995 9580

$$