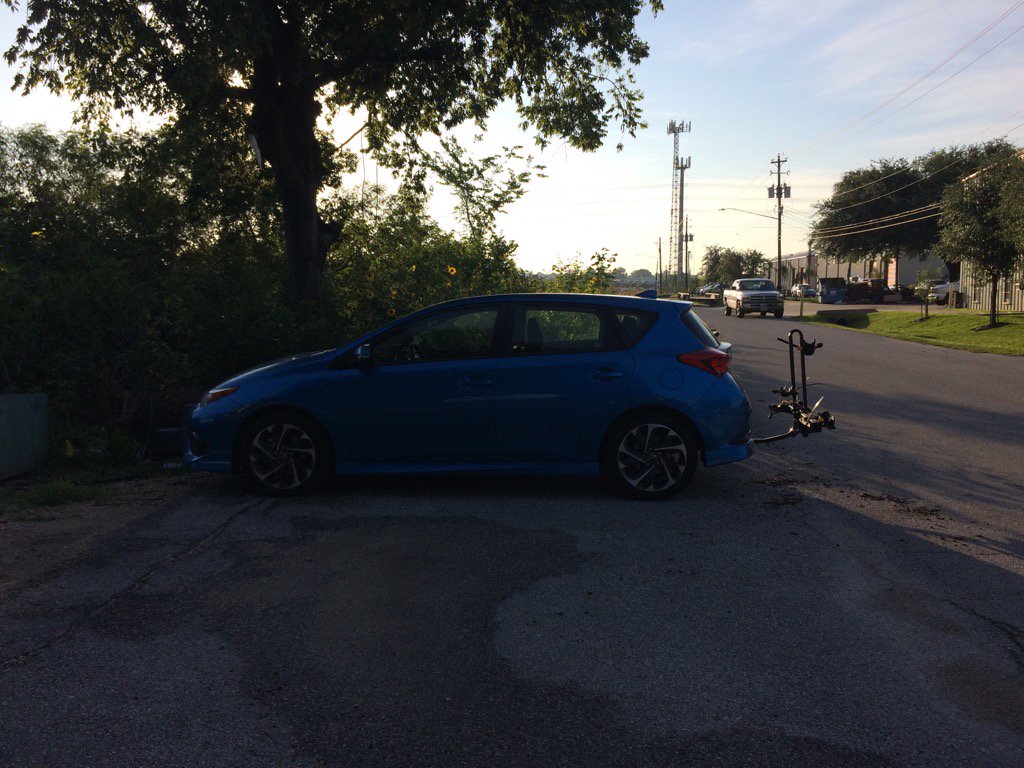 Northwest Houston, TX, during the early morning.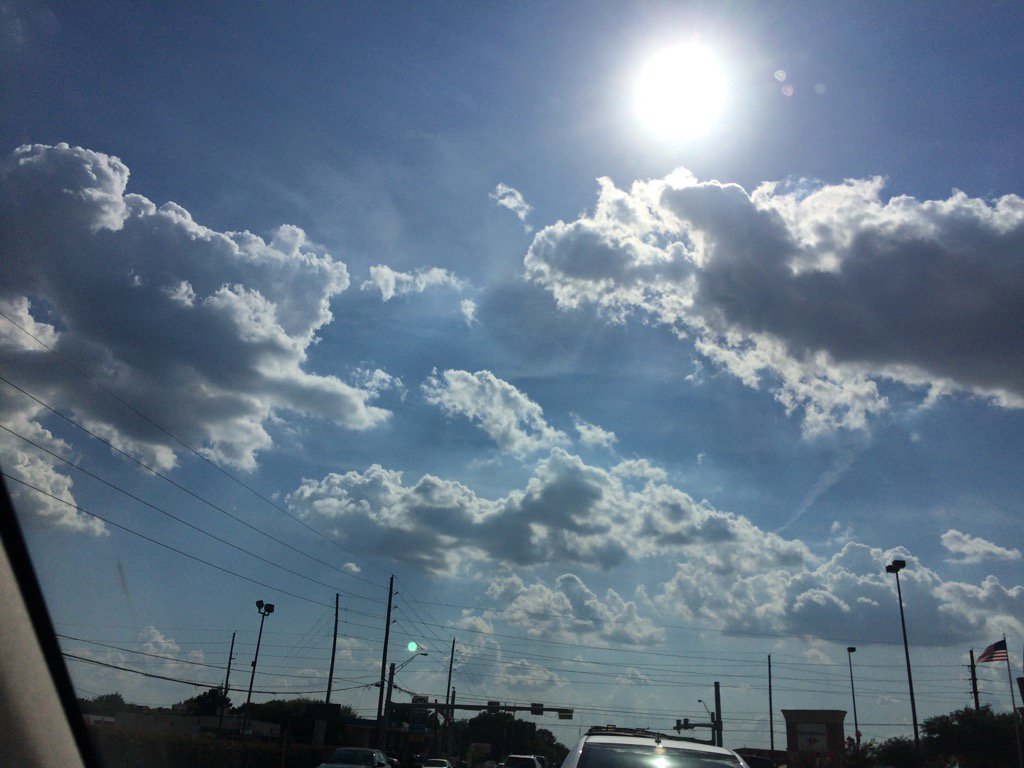 Northwest Houston, TX, during the late afternoon.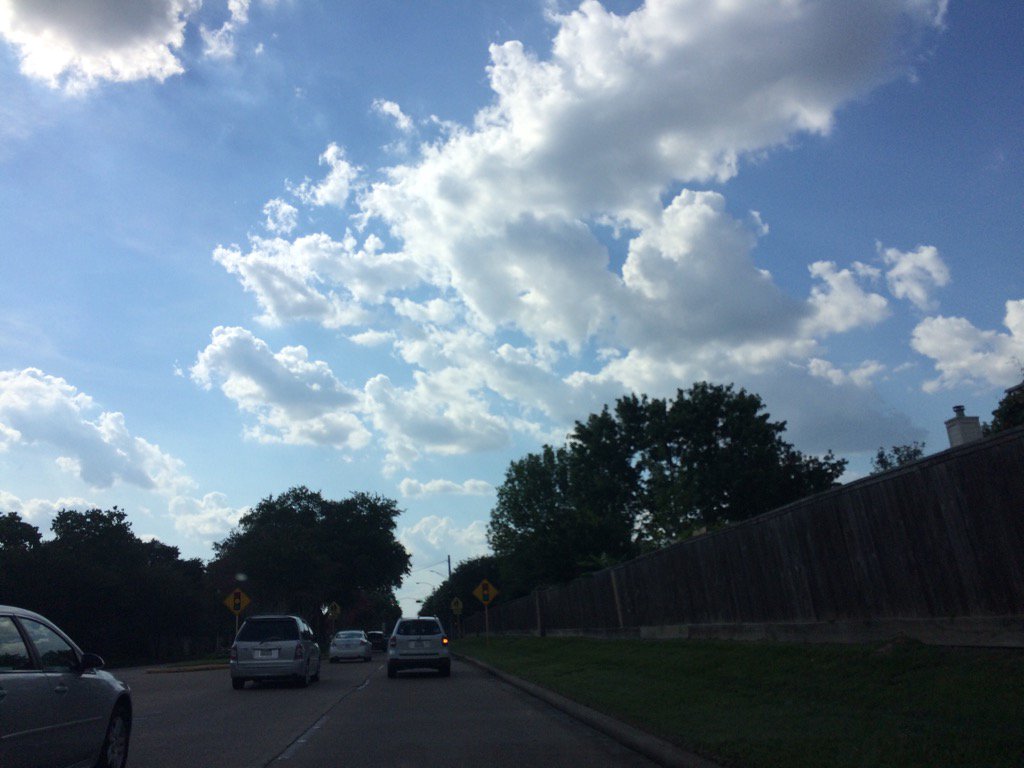 Northwest Houston, TX, during the early evening.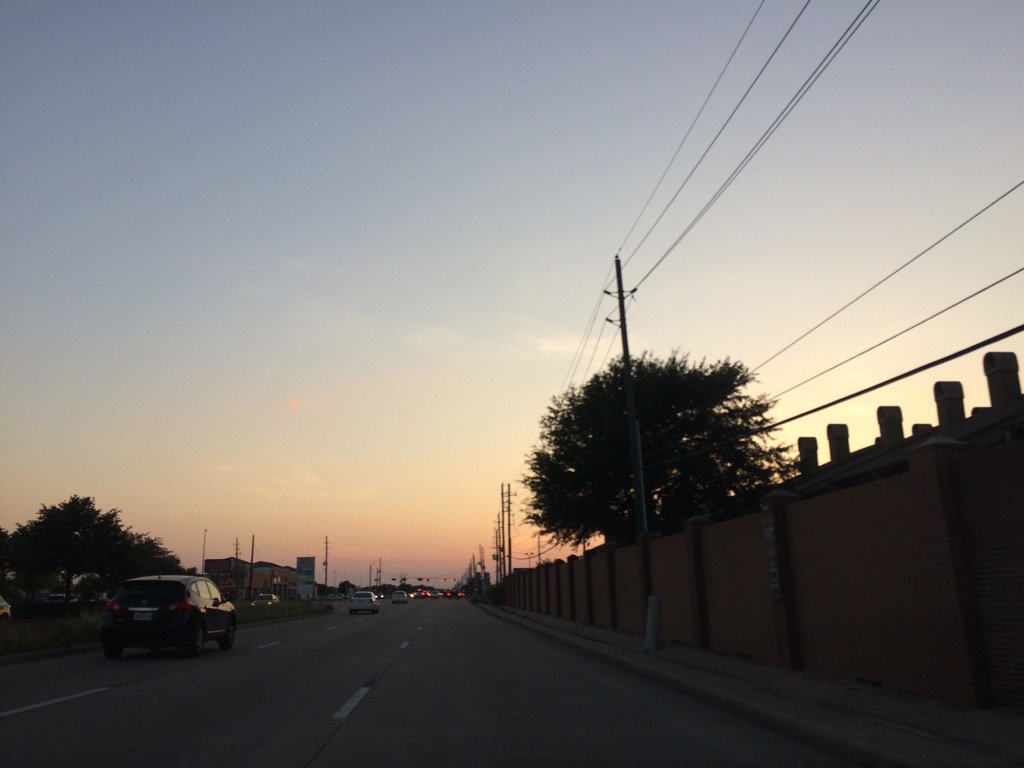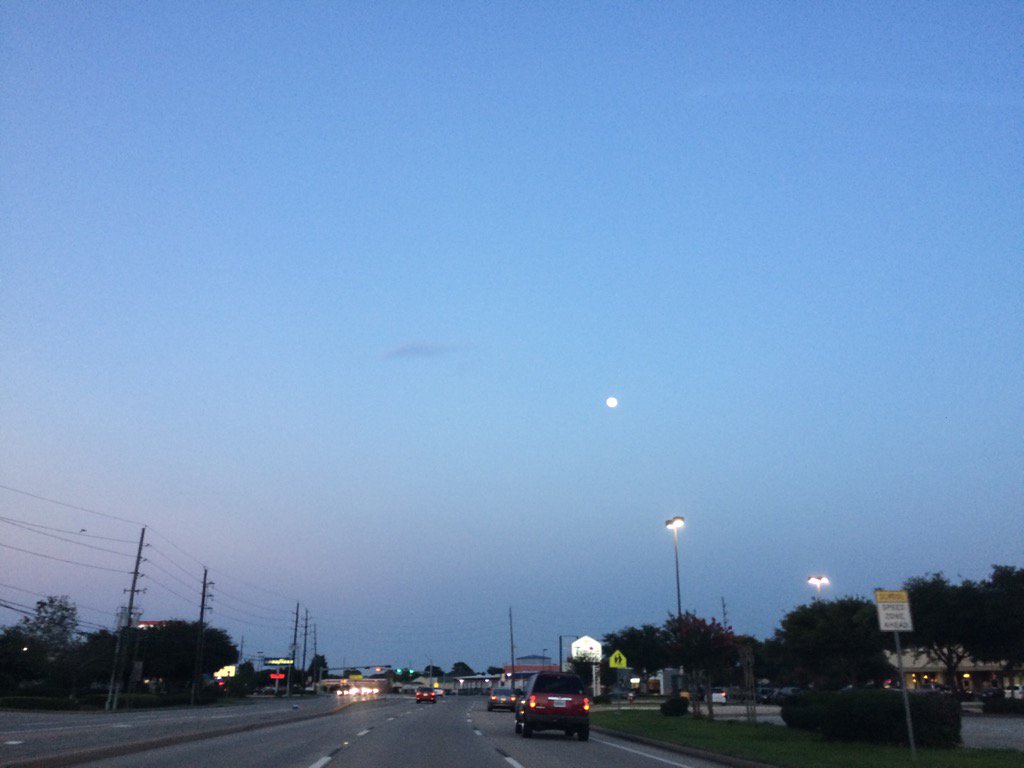 Northwest Houston, TX, during the late evening.
Summary: The day was sunny, warm, and dry. There were reports of some isolated showers and thunderstorms near and maybe in the Houston, TX area. I didn't see, feel, or hear any rain drops. The clouds did look like they wanted to produce rain, when I was driving in and through Cypress, TX, during the early evening. The sky looked to be mostly clear, maybe clear during the morning and mostly clear during the late evening and night. Cumulus clouds looked to be scattered across the sky, during the afternoon and early evening. The wind speeds looked to be calm with maybe some moderate to moderately strong gusts. It felt warm during the morning, evening, and night. It felt very warm, almost hot, during the afternoon. There was an air quality alert for the next day, Thursday Jun. 8 17. There were no other watches, warnings, alerts, advisories, or weather statements issued for the Houston, TX area, that I know of. The low temps looked to be in the 70's with maybe a few 60's and the high temps looked to be in the 90's with maybe a few 80's, for the Houston, TX area.
Locations: Northwest Houston, TX and Cypress, TX.
Thoughts: It felt pretty warm today. Nothing much going on with the weather in Houston, TX, until early next week. I did hear about a possible gusty Saturday, or maybe Sunday, but that is a wait and see.
Area Forecast Discussion
Issued by NWS Houston/Galveston, TX
Home | Current Version | Previous Version | Text Only | Print | Product List | Glossary Off
Versions: 1 2 3 4 5 6 7 8 9 10 11 12 13 14 15 16 17 18 19 20 21 22 23 24 25 26 27 28 29 30 31 32 33 34 35 36 37 38 39 40 41 42 43 44 45 46 47 48 49 50
000
FXUS64 KHGX 072350
AFDHGX
Area Forecast Discussion
National Weather Service Houston/Galveston TX
650 PM CDT Wed Jun 7 2017
.AVIATION...
Deep northerly flow helping to bring some isolated showers down
into the area, but it does look like the cap is holding steady.
Not going with any mention of VCSH at this time as sunset nears
and the activity dies off. Otherwise, will be continuing with a
VFR forecast through tomorrow night. Only a brief mention of BR
for CXO toward Thurs morning. 41
&&
.PREV DISCUSSION... /ISSUED 400 PM CDT Wed Jun 7 2017/
Little bit of uncertainty in the short term forecast this
evening. Some of the short range guidance are bringing in showers
and thunderstorms across our northwestern zones late this
afternoon and into the evening hours, but a not so confident in
this trend based on how these models are initializing coverage-
wise. There is a small thunderstorm that has bubbled up just to
the north of Burleson and Brazos counties, but we will have to see
if coverage increases as we move through the afternoon. If these
showers and thunderstorms do develop, I would expect the chance
for isolated showers and thunderstorms to increase as we move into
the evening hours for our northwestern counties. As of now, based
off of radar trends, keeping PoPs on the lower side just because
of the lack of coverage and low confidence in the short range.
As surface high pressure continues to push in from the north
east, should begin to see our winds which are currently out of the
north become northeasterly overnight. Expecting low temperatures
tonight will be right below normal for this time of year with
lows in the mid-upper 60s inland and upper 60s to low 70s closer
to the coast. Thursday and Friday are looking to be on the drier
side as the surface high pressure remains in place. This will
allow for our high temperatures to reach into the upper 80s to
lower 90s.
Rain chances begin to rise Sunday morning as an area of
higher PWs push into the region with onshore flow that returns
Saturday. A higher pocket of PWs that is currently the Carribean
will push towards SE TX and will help to allow for some
convection to develop Sunday into Monday. The global models are
currently not as consistent on the timing of the precip, rather
carry PoPs between the Sunday into Monday period. These higher PW
values along with onshore flow helping to push in the seabreeze,
should aid in the shower and thunderstorm development. Behind the
precip on Monday, conditions dry out once again late Tuesday and
remain on the drier side through Thursday.
Hathaway
&&
.PRELIMINARY POINT TEMPS/POPS...
College Station (CLL) 65 88 65 89 68 / 0 0 0 10 0
Houston (IAH) 68 88 67 89 69 / 0 0 0 0 0
Galveston (GLS) 75 84 75 85 77 / 0 0 0 0 0
&&
.HGX WATCHES/WARNINGS/ADVISORIES...
TX...NONE.
GM...NONE.
&&
$$
Air Quality Alert
TXZ213-237-238-081915-

AIR QUALITY ALERT MESSAGE
TEXAS COMMISSION ON ENVIRONMENTAL QUALITY
RELAYED BY NATIONAL WEATHER SERVICE HOUSTON/GALVESTON TX
207 PM CDT Wed Jun 7 2017

...OZONE ACTION DAY THURSDAY...

THE TEXAS COMMISSION ON ENVIRONMENTAL QUALITY (TCEQ)...HAS ISSUED AN
OZONE ACTION DAY FOR THE HOUSTON...GALVESTON...AND BRAZORIA AREAS FOR
THURSDAY JUNE 8 2017.

ATMOSPHERIC CONDITIONS ARE EXPECTED TO BE FAVORABLE FOR PRODUCING
HIGH LEVELS OF OZONE POLLUTION IN THE HOUSTON...GALVESTON AND
SURROUNDING AREAS ON THURSDAY. YOU CAN HELP PREVENT OZONE POLLUTION BY
SHARING A RIDE...WALKING...RIDING A BICYCLE...TAKING YOUR LUNCH TO
WORK...AVOIDING DRIVE THROUGH LANES...CONSERVING ENERGY AND KEEPING YOUR
VEHICLE PROPERLY TUNED.

FOR MORE INFORMATION ON OZONE:

OZONE: THE FACTS (WWW.TCEQ.TEXAS.GOV/AIRQUALITY/MONOPS/OZONEFACTS.HTML)
EPA AIR NOW:
(WWW.AIRNOW.GOV/INDEX.CFM?ACTION=AIRNOW.LOCAL_CITY&CITYID=236)
TAKE CARE OF TEXAS: (WWW.TAKECAREOFTEXAS.ORG/AIR/AIRQUALITY)

$$