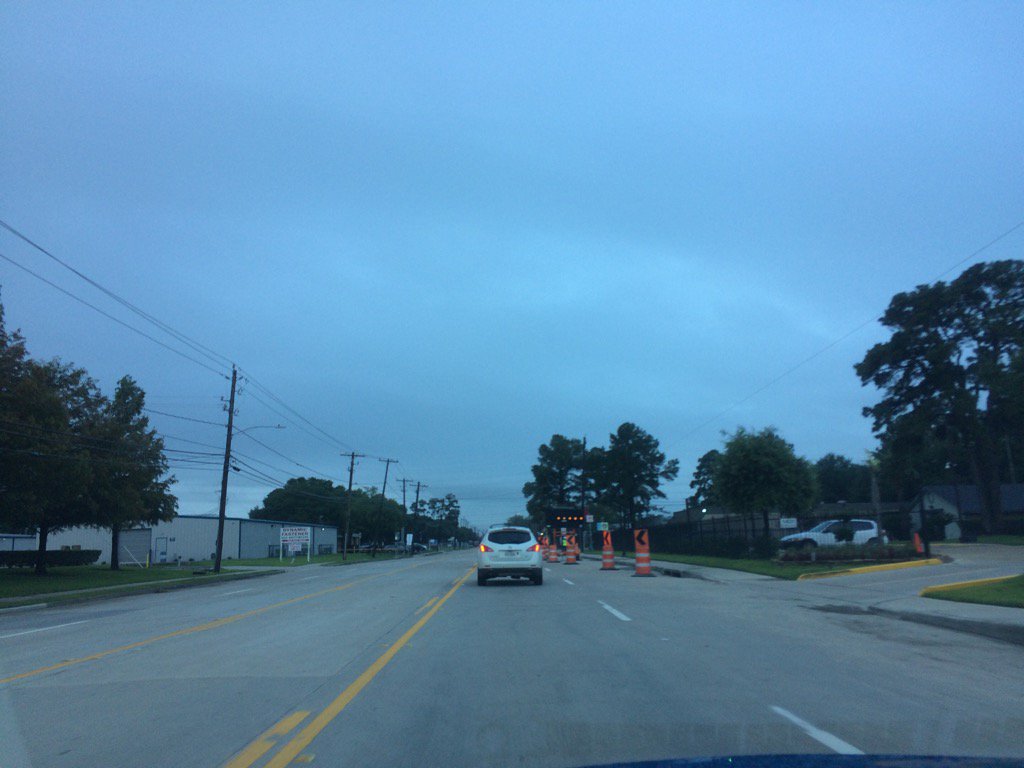 Northwest Houston, TX, during the early morning.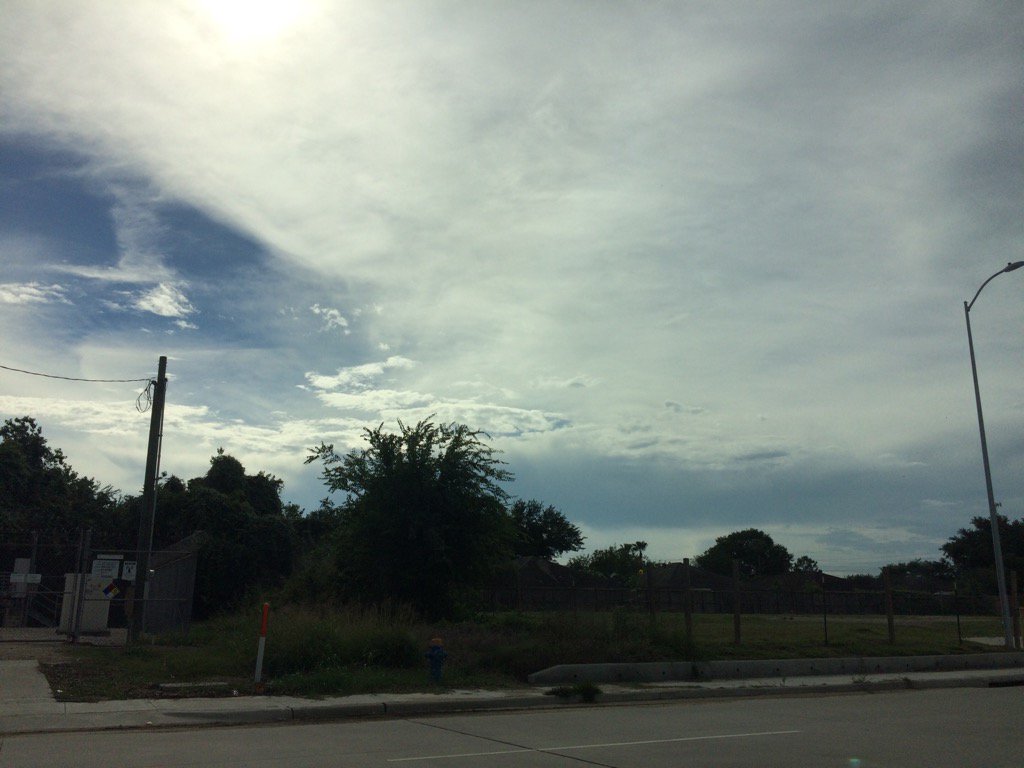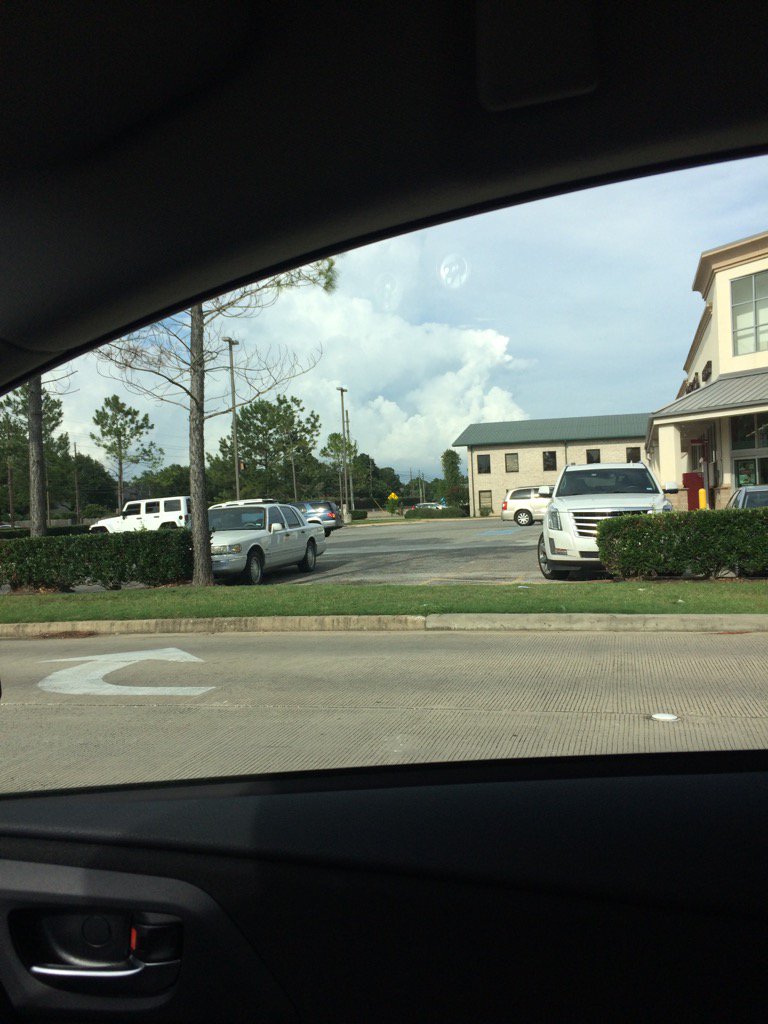 Northwest Houston, TX, during the early evening.
Summary: The day was warm, mostly cloudy, and a little wet. Isolated to scattered showers and thunderstorms once again where moving in and around the Houston, TX, area, during the morning, afternoon, evening, and maybe night. I am pretty sure that I heard some low rumbles of thunder and it looked like my house in northwest Houston, TX got some moderate rain during the early morning and the place where I work in northwest Houston, TX looked to maybe have gotten some moderately heavy rain during the late morning. I am not really sure if I got any rain though. Most areas south, west, and north of the Houston, TX area looked to have gotten at least a few inches of rain. The sky looked to have stayed mostly cloudy from the early morning, through the evening and maybe night. The wind speeds looked to be calm with maybe some moderate to moderately strong wind gusts. It felt warm during the morning, evening, and night. It felt very warm during the afternoon. I saw s flood advisory being issued for the Houston, TX area, sometime during the day. There was also a hazardous weather statement issued by NOAA for the day. I didn't hear about, or see any other watches, warnings, advisories, alerts, or weather statements being issued for the Houston, TX area. The low temps look to be in the 70's and the high temps looked to be in the 80's with maybe some 90's, for the Houston, TX area. I didn't hear about, or see any flooding, or storm damages, from the showers and thunderstorms that passed through the Houston, TX area.
Locations: Northwest Houston, TX.
Thoughts: Well it is the last day for the Houston, TX area to get rain tomorrow. Which is fine because Houston, TX has been getting a lot of rain and they probably want a break. Also apparently there is a cold front about to come through sometime either Tuesday, or Wednesday.
Area Forecast Discussion
Issued by NWS Houston/Galveston, TX
Home | Current Version | Previous Version | Text Only | Print | Product List | Glossary Off
Versions: 1 2 3 4 5 6 7 8 9 10 11 12 13 14 15 16 17 18 19 20 21 22 23 24 25 26 27 28 29 30 31 32 33 34 35 36 37 38 39 40 41 42 43 44 45 46 47 48 49 50
000
FXUS64 KHGX 060305
AFDHGX
Area Forecast Discussion
National Weather Service Houston/Galveston TX
1005 PM CDT Mon Jun 5 2017
.UPDATE...
A couple of early evening storms over Burleson and Polk Counties
that haven`t got the memo yet to just die out. With the loss of
heating the feeling is that these storms should gradually weaken
through the 10 PM hour. The upper trough axis is laid right over
eastern Texas and this will advance east and be over Louisiana
tomorrow...placing us on its backside through mid-week. A slow
decrease in overall moisture albeit a decrease...with slightly
higher PVA moving in from the ArkLaTex region...will keep higher
end POPs alive generally across the eastern forecast area tomorrow.
As was the case early this morning...there are still moderate
chances that Gulf-based convection may fire back up during the
pre-dawn hours. Tuesday minTs in the average lower 70s...maxTs in
the average mid to upper 80s. 31
&&
.PREV DISCUSSION... /ISSUED 632 PM CDT Mon Jun 5 2017/
AVIATION...
Scattered showers and an isolated storm or two will continue into
this evening. Generally VFR conditions are expected, with some
MVFR conditions possible if the stronger showers/storms move right
overhead. VRB winds will become light northerly this evening as a
"cold" front pushes through. There could potentially be some
lower cigs again Tuesday morning, but left most sites at SCT since
confidence is low. Another round of showers and storms is
expected Tuesday, with the greatest coverage expected to the east
and south of KIAH. 11
&&
PREV DISCUSSION... /ISSUED 336 PM CDT Mon Jun 5 2017/
DISCUSSION...
S/W over Matagorda Bay this afternoon with RW/TSRA developing
across the northern areas and sagging southward. Storms will
probably move into the Metro area between 5-8 pm on a weakening
trend. Brief heavy downpours and spotty in nature. Not the
widespread heavy rainfall scenario/pattern of yesterday and the
day before. Loss of heating should bring the demise of the storms
between 7-9 pm. Upper trough axis/`cold` front moves through and
into the Gulf by midnight so will need to keep an eye on s/w
rotating around the back side of the low late tonight/Tuesday for
redevelopment of storms. Scattered to isolated in nature with
greater coverage possible Tuesday in the eastern half of the area.
Soundings support strong gusty winds as the s/w moves from north
to south through the area. May be in marginal severe threat for
damaging winds primarily afternoon hours. Residual moisture
Tuesday night/Wednesday morning may help re-fire a few storms
over the coastal waters otherwise the area should be relatively
quiet Wednesday with weak high pressure settling in over NETX then
sliding east Thursday. Areas near Matagorda Bay may have a slight
chance Thursday PM as moisture starts to return and upper trough
axis lingers. Onshore flow Friday through Sunday with warm
temperatures and building cap. Pleasant June weather for those few
days. Sunday into Monday rain chances increase as plume of
tropical moisture moves across the Gulf and into SETX. 45
MARINE...
Only light rain remains over the gulf this afternoon as this
mornings stronger thunderstorm activity has weakened and moved out
of the area. Some re-development may occur overnight as a weak front
moves off the coast.
Winds are currently onshore near 5 knots, however offshore winds
will develop early Tuesday morning behind the front. High pressure
building in from the plains will help to swing the winds around to
the northeast by Wednesday. Caution conditions are possible Tuesday
night and Wednesday morning when the gradient tightens between the
high pressure ridge and a low pressure system over the Southern
Atlantic coastal areas. The winds should diminish Wednesday night
and Thursday as the high pressure ridge settles over the region and
onshore winds should resume by Friday. 44
&&
.PRELIMINARY POINT TEMPS/POPS...
College Station (CLL) 70 87 68 89 66 / 30 30 0 20 0
Houston (IAH) 71 88 70 89 67 / 50 50 10 10 0
Galveston (GLS) 75 85 75 85 75 / 50 50 20 10 0
&&
.HGX WATCHES/WARNINGS/ADVISORIES...
TX...NONE.
GM...NONE.
&&
$$
Discussion...31/11
Hazardous Weather Outlook
Hazardous Weather Outlook
National Weather Service Houston/Galveston TX
906 AM CDT Mon Jun 5 2017

TXZ163-164-176>179-195>200-210>214-226-227-235>238-061415-
Austin-Brazoria-Brazos-Burleson-Chambers-Colorado-Fort Bend-
Galveston-Grimes-Harris-Houston-Jackson-Liberty-Madison-Matagorda-
Montgomery-Polk-San Jacinto-Trinity-Walker-Waller-Washington-
Wharton-
906 AM CDT Mon Jun 5 2017

This hazardous weather outlook is for portions of Southeast Texas..

.DAY ONE...Today and Tonight

A slow moving upper level disturbance will bring periods of
showers and thunderstorms to the region today. Some of the rain
will be locally heavy and minor flooding will be possible. Some of
the stronger storms will produce frequent cloud to ground
lightning and wind gusts to around 35 to 40 mph. With the heavy
rainfall the last few days some areas have wet soils and the
strong gusty winds could topple weakly rooted trees.

.DAYS TWO THROUGH SEVEN...Tuesday through Sunday

A chance of thunderstorms will linger on Tuesday with again the
stronger storms capable of producing gusty winds.

.SPOTTER INFORMATION STATEMENT...

Spotter activation will not be needed.

$$