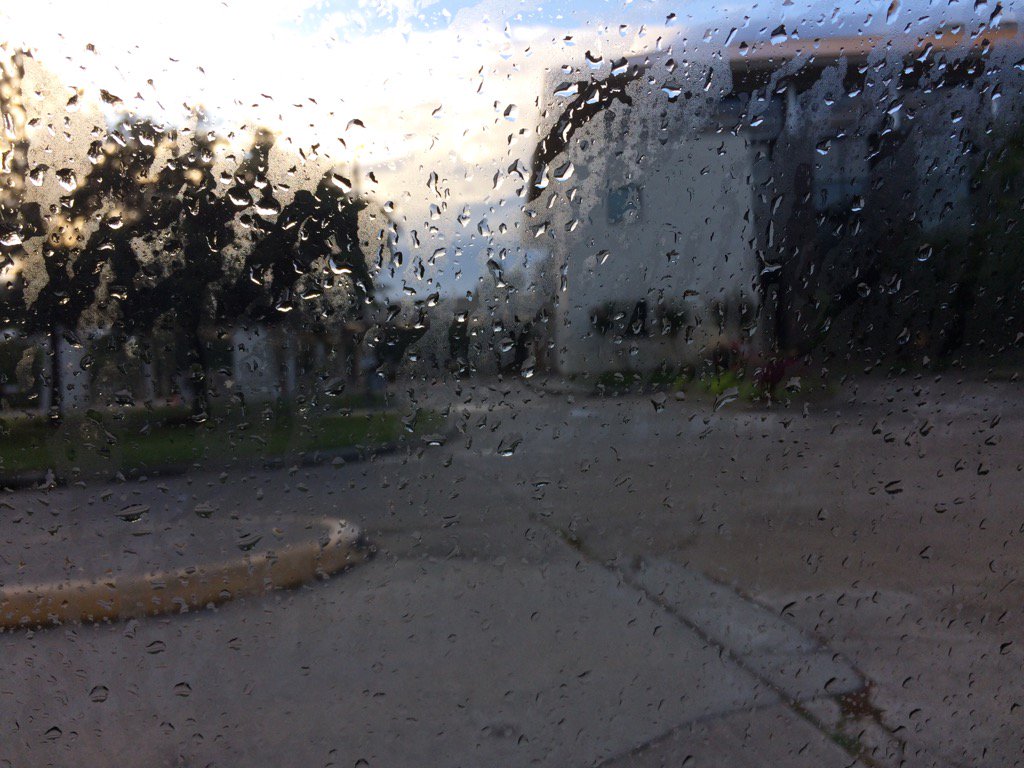 Northwest Houston, TX, during the early morning.
Northwest Houston, TX, during the early afternoon.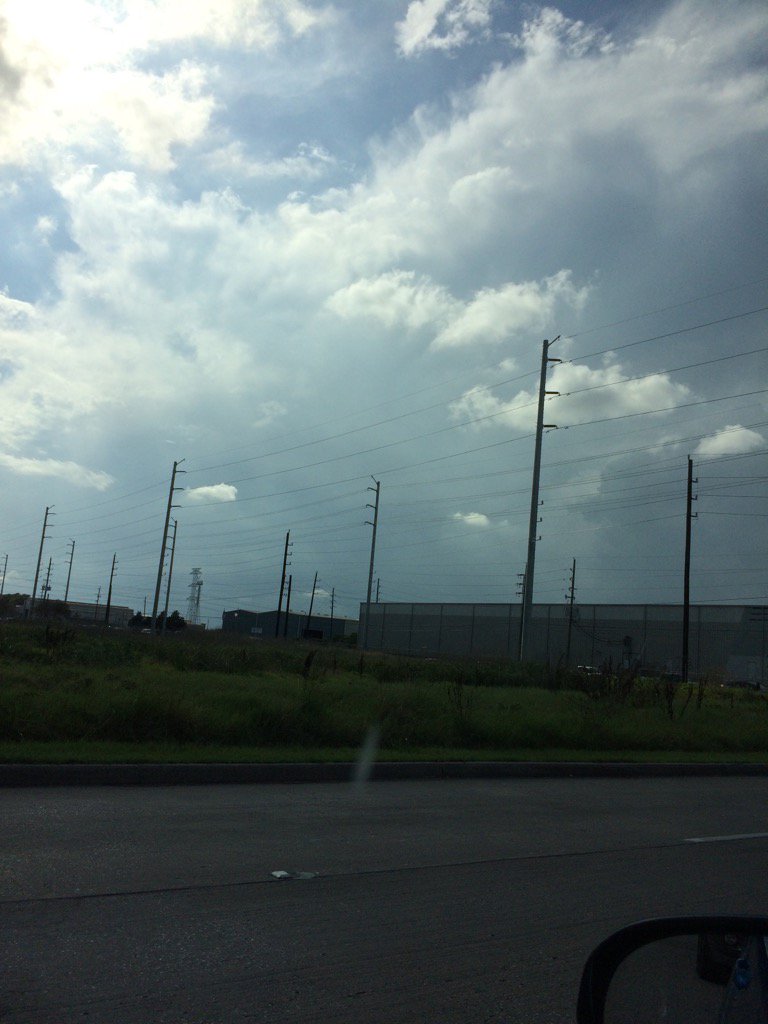 Northwest Houston, TX, during the early evening.
Summary: The day was warm, mostly cloudy, and a little wet. A cluster of showers and thunderstorms moved through the Houston, TX area during the early morning and again during the early afternoon. There were isolated showers and thunderstorms in and around the Houston, TX area, during the mid and late morning, mid and late afternoon, evening, and night. The wind speeds were calm with moderate to moderately strong gusts with maybe some really strong gusts. The sky stayed mostly, mostly cloudy from the morning, through the evening and maybe night. The sky may have cleared up a bit, during the late evening and night. It felt warm during the morning, afternoon, evening, and night. There was a hazardous weather statement issued for the Houston, TX area, for today, by NOAA. NOAA also said that there were some reports of possible tornadoes and funnels. There were no other watches, warnings, alerts, advisories, or weather statements issued for the Houston, TX area, that I know of. The low temps looked to be in the 70's and the high temps looked to be in the 80's, for the Houston, TX area. I didn't hear about any reports of flooding, or storm damage. The showers and thunderstorms left the Houston, TX area with some big, huge puddles. But it looks like that is all they left. (Update: The sky was clear during the night.)
Locations: Northwest Houston, TX.
Thoughts: I got to see some heavy rain today and last night with some nice thunder and lightning.
Area Forecast Discussion
Issued by NWS Houston/Galveston, TX
Home | Current Version | Previous Version | Text Only | Print | Product List | Glossary Off
Versions: 1 2 3 4 5 6 7 8 9 10 11 12 13 14 15 16 17 18 19 20 21 22 23 24 25 26 27 28 29 30 31 32 33 34 35 36 37 38 39 40 41 42 43 44 45 46 47 48 49 50
499
FXUS64 KHGX 020011
AFDHGX
Area Forecast Discussion
National Weather Service Houston/Galveston TX
711 PM CDT Thu Jun 1 2017
.AVIATION...
Scattered storm activity dying with the setting sun. Generally VFR
conditions through the early Friday morning hours. Higher probs
that MVFR ceilings will begin developing...along with MVFR fog...
over many non-metro hubs. Mainly clear skies under a weak wind
field...along with higher low level moisture/damp ground...will
increase the odds of experiencing at least a few hours of MVFR
decks through late morning. No significant (convection) trigger
tomorrow has low end chances for widely scattered showers primarily
occurring in the afternoon hours within the interior...early
morning closer the coast. 31
&&
.PREV DISCUSSION... /ISSUED 355 PM CDT Thu Jun 1 2017/
DISCUSSION...
Scattered showers and thunderstorms have moved across much of SE
Texas today. Thunderstorms anchored along the coast produced heavy
rainfall and had rotation with the possibility of waterspouts.
Fortunately this activity stayed off the coast in the Gulf. Those
trends have continued inland but on much smaller scales. There
has been very heavy rainfall localized in southern parts of Sugar
Land and there has been a public report of a funnel cloud in
southern Montgomery county with these storms. These storm
evolutions are certainly indicative of a very moist airmass in
place which will likely continue to be over SE Texas through the
weekend into early next week.
Upper level flow basically has split flow over the eastern Pacific
(split flow in June?) with a jet coming into California. Flow
splits from there with northern branch going into the Inter-
mountain west and ridging over the northern Plains. Southern
branch as a trough over the southern Rockies into the Baja
Peninsula and westerly flow across much of the northern Gulf of
Mexico. A mean trough has developed over the Hudson Bay south to
the Great Lakes. CIPS analogs show no prior cases to a 300mb
pattern similar to the current pattern just to give you an idea of
how much of an outlier this pattern is for the beginning of June.
Friday through the weekend the first of a couple of troughs move
across the southern Rockies into the Plains. The first moves out
into Texas tomorrow with a second one on its heals. This second
trough slows down Saturday into Sunday and may become centered
over the Big Bend by Sunday. Synoptic models seem to have a decent
handle on this evolution despite the split flow pattern.
Precipitable water values remain around 1.5 to 2.0 inches across
much of the area, close to 2.0 inches Sunday through Tuesday. This
also corresponds to when the upper level trough moves over the
region providing large scale ascent over SE Texas. Rain chances
remain around 20 to 40 percent tomorrow into Saturday and then
higher chances Sunday through Tuesday. The best chances look to be
Monday with mainly 50 to 60 PoPs. Main hazards Sunday through
Tuesday look to be heavy rainfall but again with a moist Gulf
airmass there could be a waterspout, funnel clouds or a very brief
tornado. Heavy rainfall will be possible with generally 1-3 inches
of rainfall but there could be that very isolated 5 inches that
does occur like we saw near Sugar Land today.
The upper level trough over the Great Lakes does amplify Monday
through Wednesday over the mid-Atlantic and New England areas.
This helps push a front southward Tuesday night into Wednesday.
Rain chances decrease next Wednesday and Thursday as drier air
filters into the region. Low temperatures for the end of the week
could be in the 60s for early June and give the area a short break
from the humid 70 dewpoints.
TROPICAL...
The morning forecast discussion already listed the names of the
tropical cyclones for the 2017 hurricane season. NHC`s Tropical
Weather Outlook provides an overview of the names and what to
expect in the outlooks. Overall forecast data has not changed
much with a board area of higher moisture over the Gulf for the
weekend. Forecast models have been widely inconsistent with
developing any kind of tropical cyclone. This has ranged from
nothing at all to some type of circulation developing and moving
NE. With 300mb winds around 30 knots over much of the Gulf, it
will be difficult for any tropical development at this point.
45
&&
MARINE...
Generally light to moderate onshore winds will prevail the next few
days. Elevated winds/seas are possible in and near scattered storms.
With the pressure gradient weakening over the weekend, we could see
lighter winds over the bays/Gulf waters. A weak coastal trough developing
over the southern Gulf early next should push ENE and help drag a
weak cold front across SE TX and in the coastal waters early Tues.
Not expecting any Caution or Advisory Flags at this time. 41
&&
.PRELIMINARY POINT TEMPS/POPS...
College Station (CLL) 69 87 70 88 70 / 20 30 10 30 20
Houston (IAH) 72 88 73 88 73 / 10 30 10 30 10
Galveston (GLS) 78 87 78 87 78 / 20 30 20 30 20
&&
.HGX WATCHES/WARNINGS/ADVISORIES...
TX...NONE.
GM...NONE.
&&
$$
Discussion...42
Aviation/Marine...31
Hazardous Weather Outlook
Hazardous Weather Outlook
National Weather Service Houston/Galveston TX
348 AM CDT Thu Jun 1 2017

TXZ163-164-176>179-195>200-210>214-226-227-235>238-020900-
Austin-Brazoria-Brazos-Burleson-Chambers-Colorado-Fort Bend-
Galveston-Grimes-Harris-Houston-Jackson-Liberty-Madison-Matagorda-
Montgomery-Polk-San Jacinto-Trinity-Walker-Waller-Washington-
Wharton-
348 AM CDT Thu Jun 1 2017

This hazardous weather outlook is for portions of Southeast Texas..

.DAY ONE...Today and Tonight

Scattered showers and thunderstorms are expected across Southeast
Texas today. Stronger activity may be capable of heavy downpours
and gusty winds.

.DAYS TWO THROUGH SEVEN...Friday through Wednesday

Scattered to occasionally numerous showers and thunderstorms are
expected Friday through Tuesday. Stronger activity may be capable
of heavy downpours and gusty winds.

.SPOTTER INFORMATION STATEMENT...

Spotter activation will not be needed.

$$