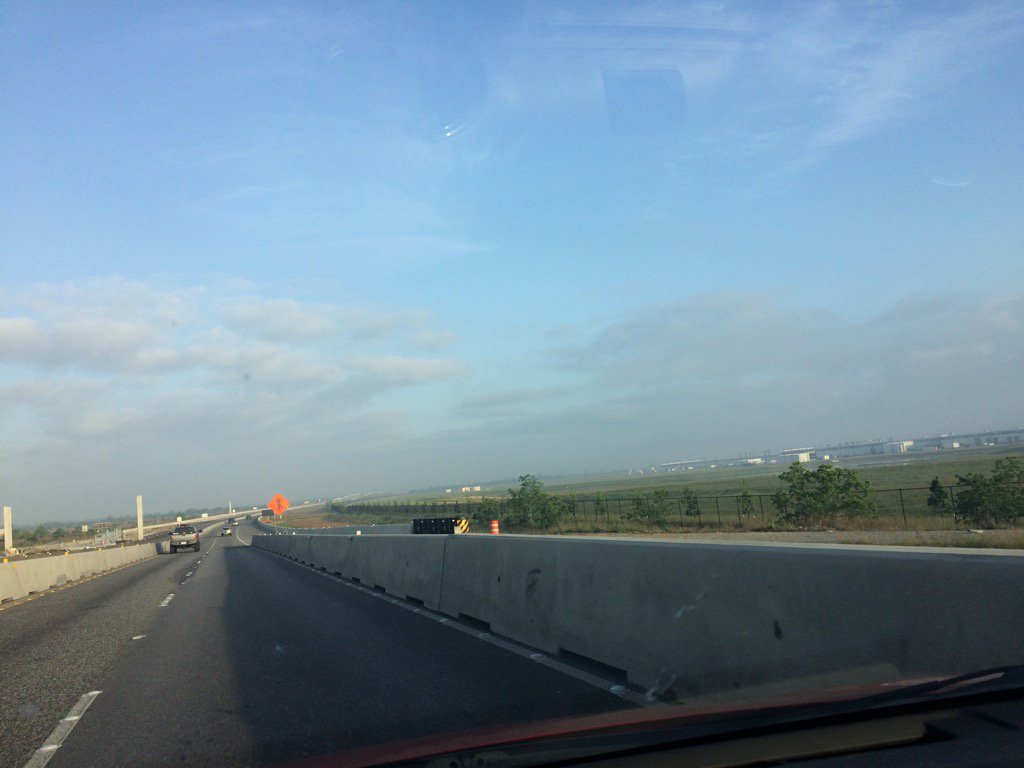 Driving down highway 290 on the way to Waller ISD Football Stadium, during the early morning.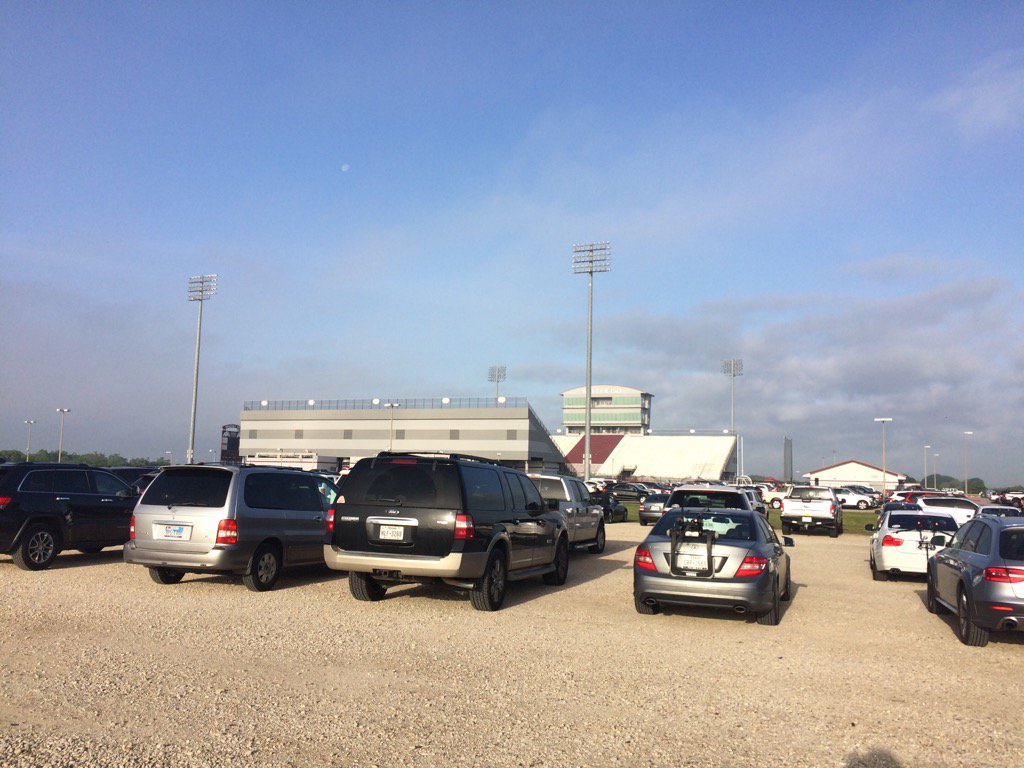 Waller ISD Football Stadium in Waller, TX, during the mid-morning.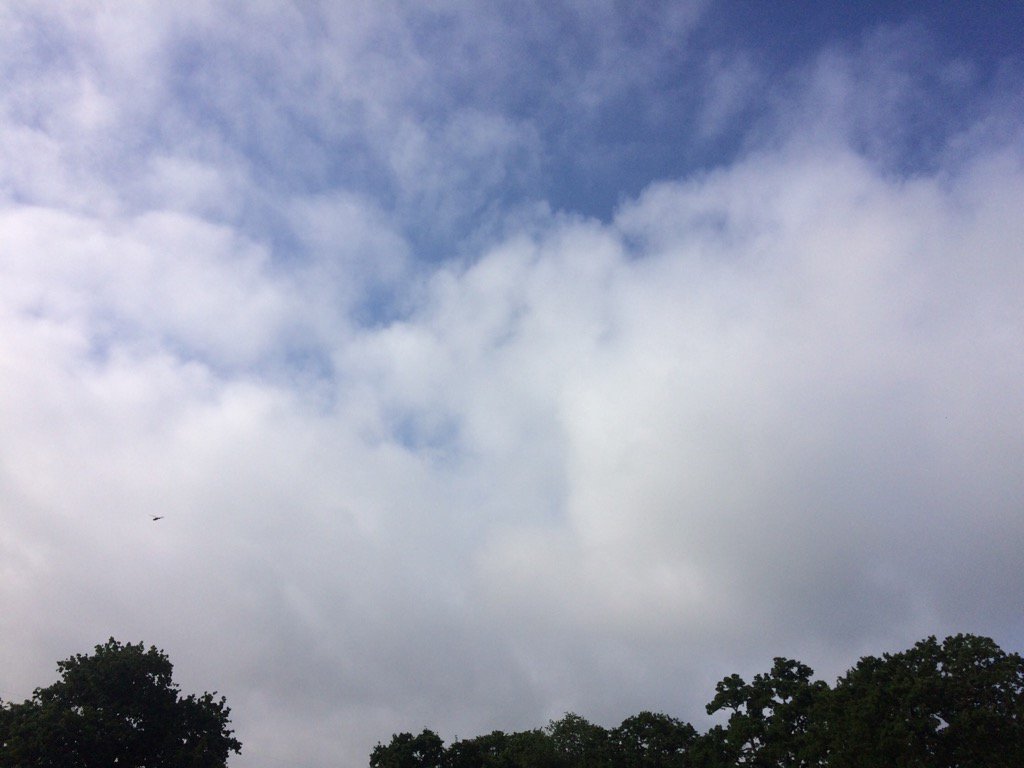 Somewhere in, or near Waller, TX, during the mid-morning.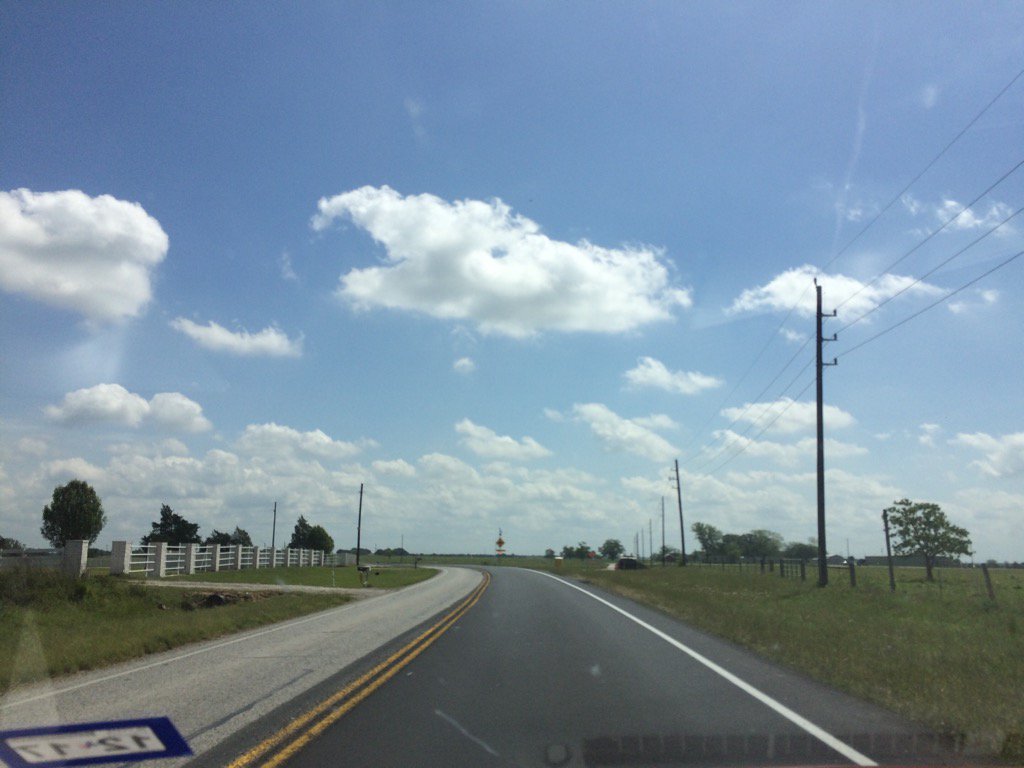 On Telge Road, or maybe Waller-Tomball Road, on the way back home, during the late morning.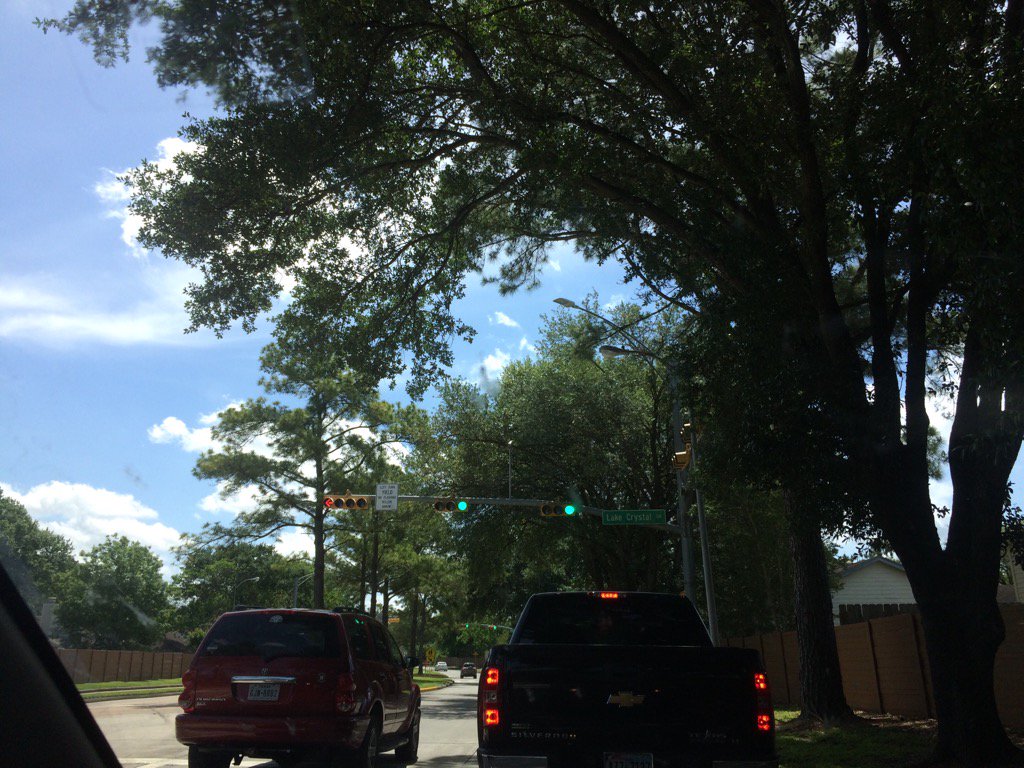 Northwest Houston, TX during the early afternoon.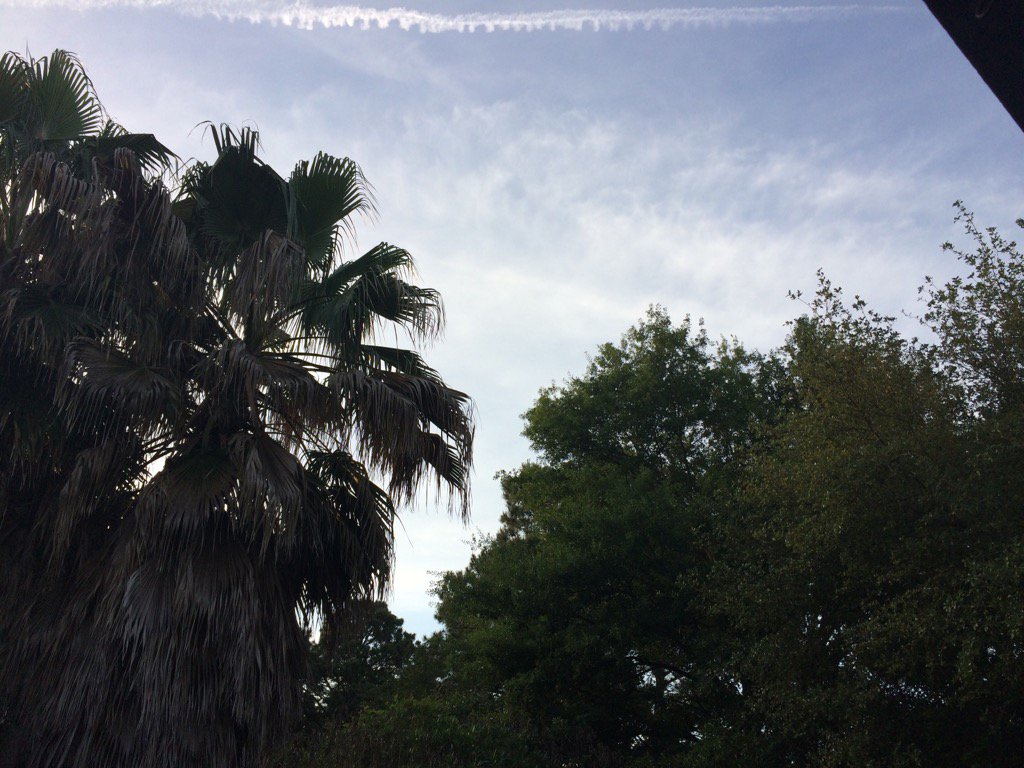 Northwest Houston, TX, during the late evening.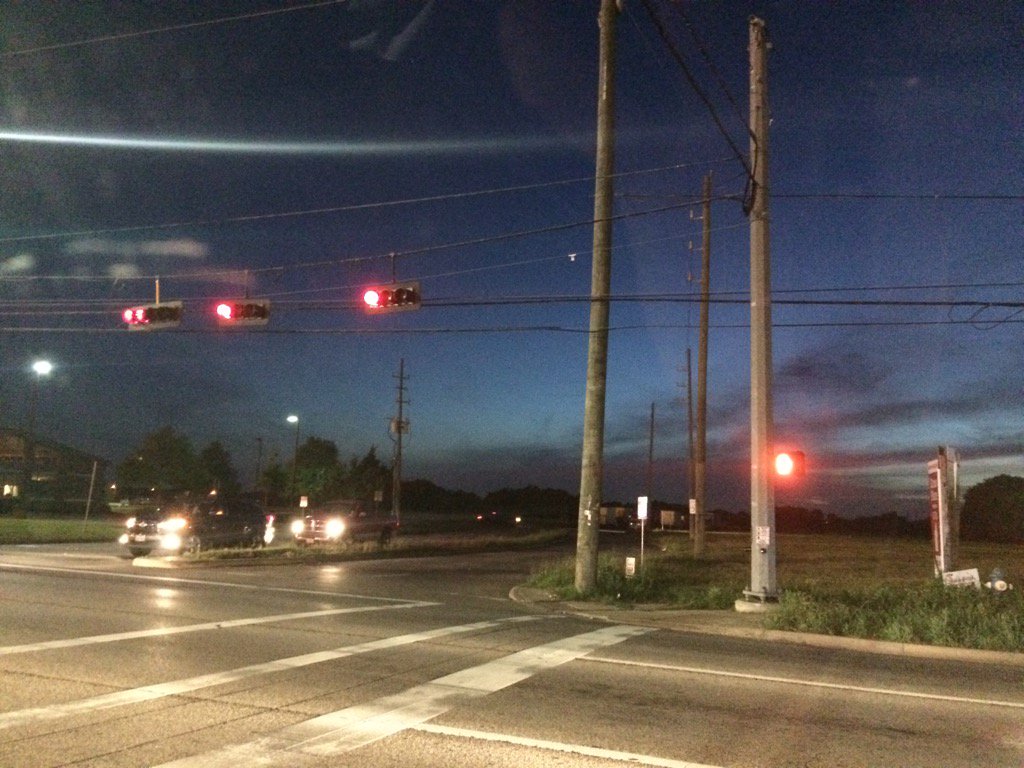 Northwest Houston, TX, during the early night.
Summary: The day was warm, mostly sunny, and mostly cloudy. Maybe some rain. I didn't fee, see, or hear about any rain drops falling anywhere in, or near Houston, TX, but there might have been some. The wind speeds were calm with moderate to moderately strong gusts. There were no advisories, watches, warnings, alerts, or weather statements issued for the Houston, TX area, that I know of. There was some light dense fog on the way to Waller, TX, during the early morning. The sky stayed mostly cloudy. The low temps were in the 60's and the high temps were in the 80's.
Locations: Northwest Houston, TX, Cypress, TX, and Waller, TX.
Thoughts: The day was pretty nice. The temperature was warm enough for me to take a nice swim. The water didn't feel cold, only a little cool.
Area Forecast Discussion
Issued by NWS Houston/Galveston, TX
Home | Current Version | Previous Version | Text Only | Print | Product List | Glossary Off
Versions: 1 2 3 4 5 6 7 8 9 10 11 12 13 14 15 16 17 18 19 20 21 22 23 24 25 26 27 28 29 30 31 32 33 34 35 36 37 38 39 40 41 42 43 44 45 46 47 48 49 50
000
FXUS64 KHGX 160206
AFDHGX
Area Forecast Discussion
National Weather Service Houston/Galveston TX
906 PM CDT Sat Apr 15 2017
.DISCUSSION...
High pressure continue to ridge across SE Texas at mid evening.
Latest high resolution and statistical models continue to forecast
the potential for patchy fog later tonight. The current forecast
is on track and no changes are planned at this time.
40
&&
.PREV DISCUSSION... /ISSUED 644 PM CDT Sat Apr 15 2017/
AVIATION.../00Z TAF/
VFR conditions should persist this evening. Based on guidance
which seemed to be too aggressive with ceilings and lower
visibility, it looks like most of the area will be dealing with
low ceilings and fog again for Sunday morning. TAFs will keep MVFR
ceilings with the potential for LIFR ceilings/visibility for some
of the Houston terminals along with CXO/UTS/CLL. LBX will likely
have fog as well. Moisture also appears to be increasing tomorrow
along with a shortwave trough moving into Texas so there could be
at least some showers in the afternoon and perhaps a thunderstorm.
Thunderstorms were left out of TAFs this go around but may be
needed if confidence is high enough at the 06Z TAF update.
Overpeck
PREV DISCUSSION... /ISSUED 342 PM CDT Sat Apr 15 2017/
DISCUSSION...
An isolated shower or two may still pop up this afternoon across
the far eastern zones. Some patchy fog may develop once again
overnight tonight before burning off by mid morning tomorrow.
Isolated to scattered daytime showers and thunderstorms return to
the forecast on Sunday and remain there through midweek as PWs
recover to around 1.2-1.4" and several subtle upper-level
weaknesses rotate across SE Texas. A few strong to severe pulse
thunderstorms may be possible both Sunday and Monday afternoons
with forecast CAPE near 2500-3000, LI around -8, and DCAPE around
700-900.
On Wednesday an upper-level ridge begins to nudge overhead from
the southwest, limiting precip chances and allowing high temps to
climb well into the mid 80s through Friday. The next frontal
system should reach SE Texas sometime around Saturday. Models
were in pretty good agreement on the timing of this system
yesterday but are slightly less so today. The GFS has sped up the
arrival yet again and now has the front reaching SE Texas
overnight Friday night. The ECMWF seems to be holding fairly steady
with a daytime Saturday arrival. For now, left the timing to
reflect a Saturday morning arrival pending better model
agreement/continuity.
11
MARINE...
Light to moderate onshore flow is expected to continue through
much of next week as surface high pressure remains parked off to
our east. Next frontal system looks to push into SE Texas sometime
around next Saturday.
11
PREV DISCUSSION... /ISSUED 1238 PM CDT Sat Apr 15 2017/
AVIATION...
At this time, not anticipating any SHRA/TSRA development for this
afternoon near area TAF sites (activity should stay well east of
the area). VFR for the rest of the day and on into the evening
hours. Could see MVFR/IFR ceilings and/or visibilities develop
again overnight, but winds might end up staying elevated enough
to keep IFR conditions at a minimum (went with MVFR conditions
for most of the 18Z TAFs). SHRA/TSRA coverage is expected to be
on the increase as the day progresses tomorrow. For now, went
with VCSH for IAH in the afternoon. 42
&&
.PRELIMINARY POINT TEMPS/POPS...
College Station (CLL) 66 83 67 82 65 / 10 20 10 30 20
Houston (IAH) 67 83 67 82 67 / 10 30 10 30 10
Galveston (GLS) 72 80 72 80 72 / 10 10 10 20 10
&&
.HGX WATCHES/WARNINGS/ADVISORIES...
TX...NONE.
GM...NONE.
&&
$$
Discussion...40
Aviation/Marine...39