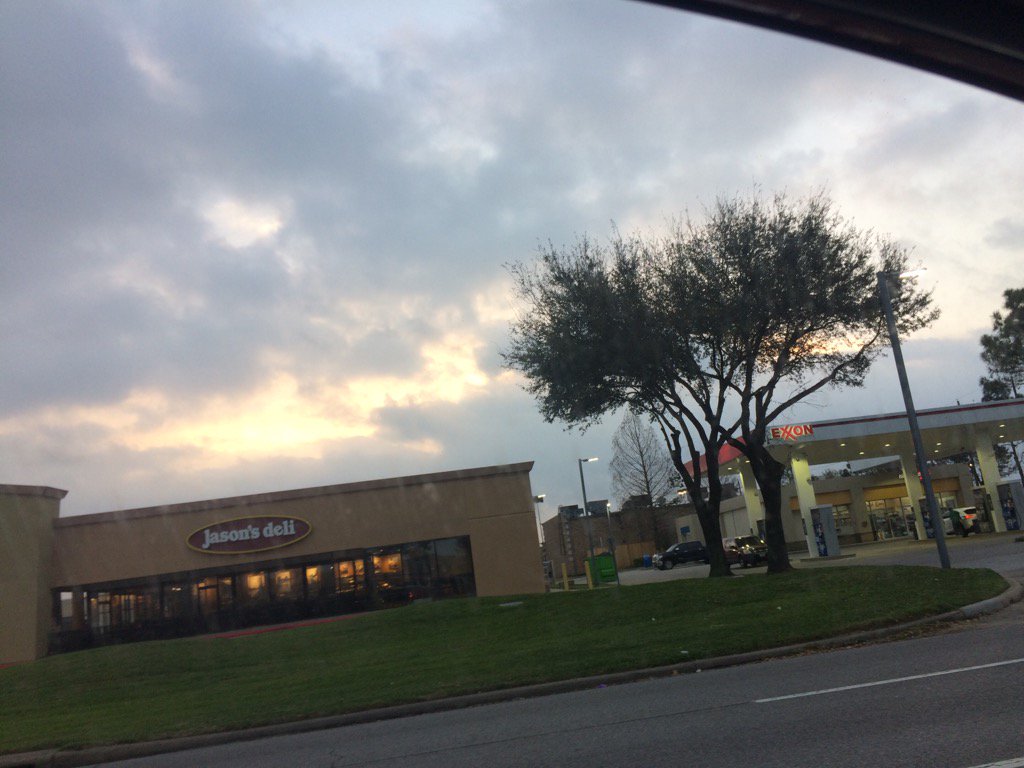 Northwest Houston, TX, during the early morning.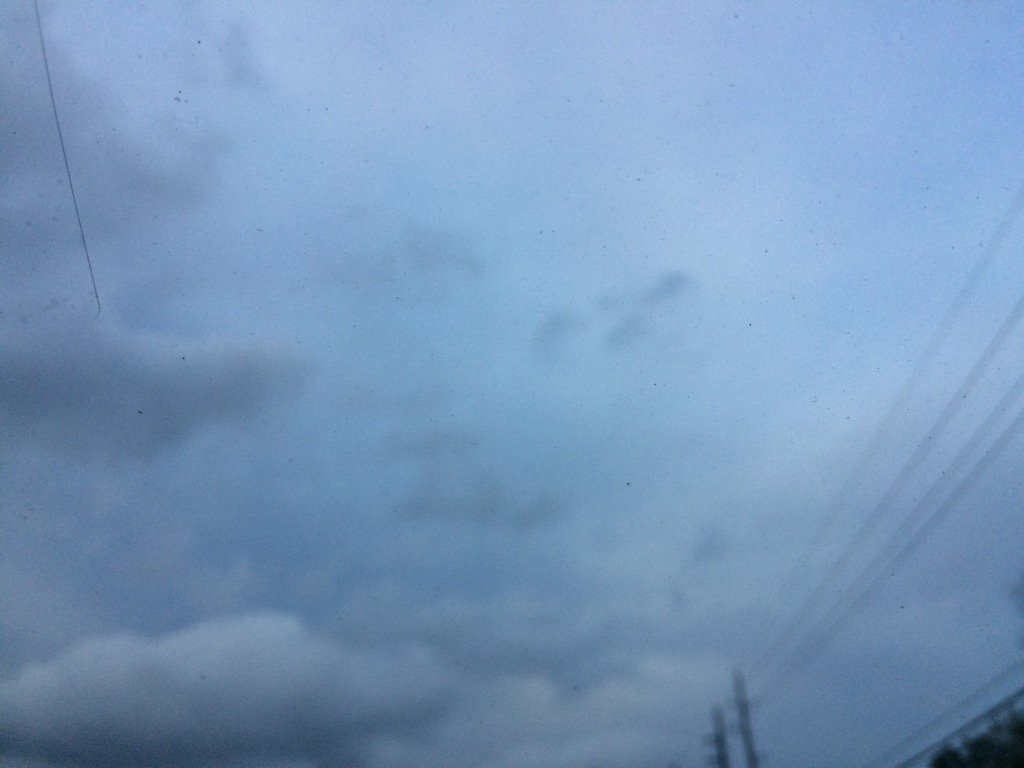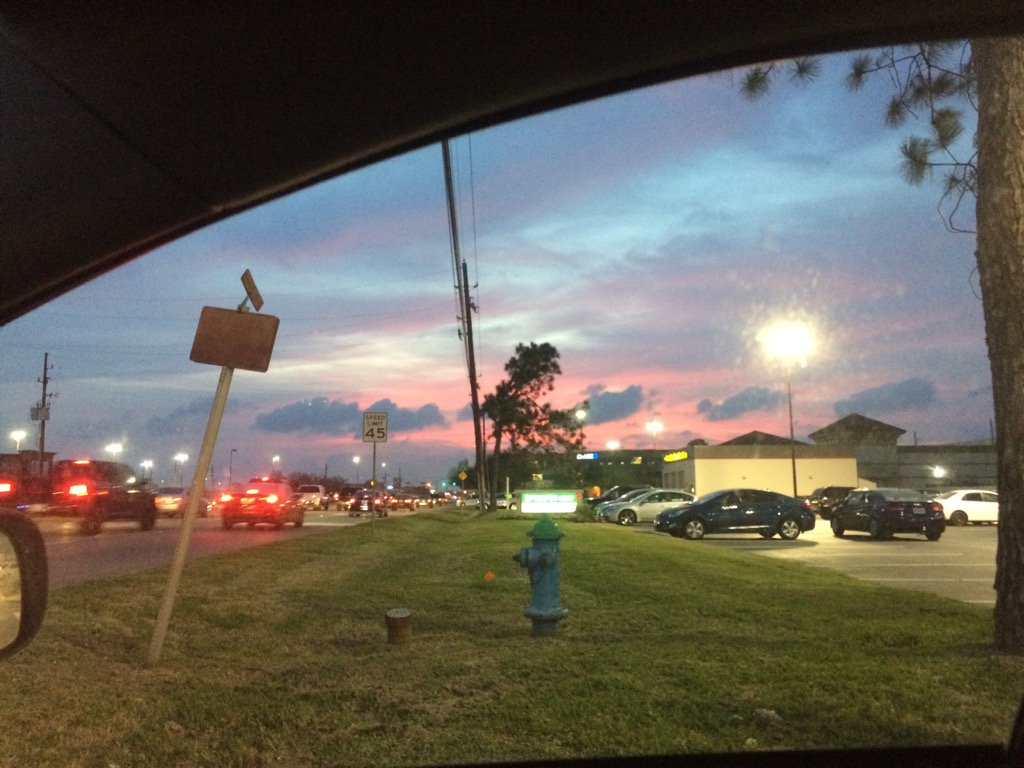 Northwest Houston, TX, during the late evening.
Summary: The day was mostly cloudy, very warm, and dry. I don't think there was any rain. I didn't see any where I was and I don't remember seeing any rain on the radar, during anytime of the day. Moderate to moderately strong gusts were around during most of the day. There was a fire weather statement issued by NOAA for the Houston, TX, for March 1, 2017. The lows were in the low 70's and maybe some high 60's with low to mid 80's highs, in the Houston, TX area.
Locations: Northwest and west Houston, TX.
Thoughts: It felt very warm today. I was hoping to see some rain, but I didn't. It doesn't look like Houston, TX will see any rain Wednesday either.
Area Forecast Discussion
Issued by NWS Houston/Galveston, TX
000
FXUS64 KHGX 010312
AFDHGX

Area Forecast Discussion
National Weather Service Houston/Galveston TX
912 PM CST Tue Feb 28 2017

.UPDATE...
Strong WAA continues and seeing a lowering of CIGS across the
southern CWA. Made some adjustments to the current forecast based
on 18z guidance and latest obs. Expect mostly cloudy to cloudy
conditions overnight with well above normal temperatures. Light
fog across the south will likely thicken overnight and patchy
dense fog will probably develop in the nearshore waters/bays and
coastal areas. Will probably issue a Marine Dense Fog Advisory
for Galveston Bay/Eastern Nearshore waters. Cold front moving
into the Panhandle and is forecast to move through SETX Wednesday
morning and into the coastal areas in the early afternoon with a
prefrontal trough a few hours earlier turning the winds to the
sw/w. Deep dry air sweeps across in the wake of the front with
heating in the afternoon bringing a respite from the high humidity
of the last few days. Rain chances are low this evening with a
strong cap in place and forecast to strengthen over most of the
CWA through 09z. Eastern areas could mix out the cap enough to see
scattered showers/isolated thunderstorms toward morning-mid
morning. By afternoon expect rain chances to be almost entirely
out over the Gulf waters.
45



&&

.PREV DISCUSSION... /ISSUED 604 PM CST Tue Feb 28 2017/

AVIATION...
A mix of IFR to VFR ceilings across the terminals late this
afternoon will deteriorate into the IFR to MVFR range this evening
as cooling results in additional saturation beneath an inversion
located around 900 MB on aircraft soundings out of Houston. LIFR
ceilings and visibilities are possible at Galveston by 06Z as sea
fog along the coast advects inland. Surface analysis as of 23Z
shows an approaching cold front pushing into Oklahoma from Kansas,
with this boundary crossing the terminals 12-18Z Wednesday. An
elevated surface pressure gradient ahead of the front will keep
southerly winds around 10 knots through the evening but a
prefrontal trough will result in a west/southwest wind shift ahead
of the front early Wednesday morning. A few isolated SHRA
possible along the prefrontal trough as it moves south ahead of
the front at Conroe and terminals south with a brief period for
patchy fog also possible for inland terminals as winds decrease
below 10 knots with the prefrontal trough`s approach.

Ceilings and visibilities are expected to rapidly improve behind
the front as drier air moves into the region, with VFR conditions
becoming established by 12-15Z Wednesday. Elevated northerly winds
10-15 knots with stronger gusts 20-25 knots are expected behind
the front by Wednesday afternoon.

Huffman

PREV DISCUSSION... /ISSUED 403 PM CST Tue Feb 28 2017/

DISCUSSION...
A partly to mostly cloudy Tuesday with interior surface temperatures
pushing into the lower 80s...drier air mixing down providing
cloud breaks that may allow a few sites to briefly achieve the
middle 80s as we close out this warmest February on record. Sea
fog hanging just off the coast will likely advect inland shortly
after sunset...expecting another hazy evening and early Tuesday
especially over the (near) coastal counties. As there has been
virtually no change to this resident air mass...forecasting the
return of patchy maritime fog (locally dense pockets) similar to
this morning`s conditions. Murky...low overcast and hazy conditions
will persist over the second half of the forecast area tomorrow
morning just downstream of an approaching central Texas cold
front. This front is forecast to come through from the late
morning (north/central CWA) hours and reach the coast during the
mid-afternoon hours followed by moderate offshore inland winds...
strong over the waters...in its wake late tomorrow afternoon and
evening. There is not much column moisture to work with so expecting
tomorrow`s frontal passage to be a fairly dry one. Higher moderate
POPS reside closer to the coast with very low QPF scattered showers.
Cannot rule out an isolated (possibly elevated) storm if the
progged skinny CAPE is briefly realized but..other than that...
little fanfare to begin the month of March.

Cooler post-frontal conditions will set in later in the week that
will make Thursday and the better part of Friday pristine weather
days if a fan of mainly clear skies and more seasonable T
readings in the mid to upper 60s during day/chilly mid to upper 40
sunrise readings. Easterly winds veer around to onshore Friday
and the moisture prime will begin...near or above 99 percentile
std dev pwat air over us through the weekend. An unsettled weekend
weather pattern is still being advertised by the suite as the
ensemble members still trend towards hanging back an upper level
trough over Baja. Shortwave disturbances emanating from central
Mexico and moving up within the southwesterly steering flow will
increase mesoscale POPs that will be fine tuned from Saturday
onward. High moisture...lift from these shortwaves...possible LLJ
with enhanced upper divergence just downstream of the eastern
advancing mid-upper trough all suggest likely weekend into early
next week rain chances. A surface boundary that slowly moves into
the area and stalls either Monday or Tuesday would provide
additional low level focus that hints to an early week high
rainfall/flooding scenario. Although muddled...a consistent signal
that will likely cause a more wet than dry pattern shift from as
early as Saturday and...depending on the eastward advancement of
the trough and precedent mesoscale behavior...could persist well
into next Tuesday. 31

Marine...
Moderate to occasionally strong onshore winds will prevail tonight
in response to low pressure moving toward the western Great Lakes.
Winds will veer to the southwest early Wednesday as a pre-frontal
trough crosses the coast. Warm moist air over riding cooler shelf
waters will again produce favorable conditions for sea fog tonight.
SREF and LAV guidance continue to suggest vsby falling to below a
mile at KGLS and a Marine Dense Fog Advisory may be required later
this evening. The threat for sea fog should end once winds become SW-
W and slightly drier air begins to filter into the region. A cold
front will cross the marine areas Wednesday afternoon and winds will
shift to the northwest. North winds will quickly increase Wed Night
and sustained winds between 20 and 25 knots will foster a Small
Craft Advisory for the Gulf waters through Thursday morning.

Winds will become northeast as surface high pressure settles over
North Texas. The high will shift east by Friday and sfc winds will
be come east. The persistent east wind will bring elevated seas and
tide levels to the upper Texas coast. Another SCA may be required
for the offshore waters on Friday. Tide levels are expected to
increase 1.0 to 2.0 above MLLW by Saturday morning and some minor
coastal flooding might be possible late Fri night/Sat morning. Winds
will continue to veer to the SE on Saturday as the surface high
drifts to the eastern U.S. and pressures begin to fall over the high
plains. An upper level disturbance will bring a period of unsettled
weather to the coastal waters Sat-Mon. 43

Fire Weather...
A cold front will cross SE TX on Wednesday. Considerably cooler and
drier weather will enter SE TX and RH values by afternoon will
approach 30 percent northwest of a Columbus to Huntsville to
Madisonville line. Northwest winds will also increase to 15 to 20
mph and the combination of dry grasses, moderate winds and low RH
will set the stage for potentially elevated fire weather concerns.
RH values will fall below 30 percent on Thursday but lighter winds
will preclude a threat for elevated fire weather conditions. 43

&&

.PRELIMINARY POINT TEMPS/POPS...
College Station (CLL)      67  71  44  68  43 /  20  10   0   0  10
Houston (IAH)              73  79  48  69  45 /  20  30   0   0  10
Galveston (GLS)            71  75  55  66  54 /  10  40  10   0  10

&&

.HGX WATCHES/WARNINGS/ADVISORIES...
TX...NONE.
GM...SMALL CRAFT SHOULD EXERCISE CAUTION until midnight CST tonight
     for the following zones: Coastal waters from Freeport to
     the Matagorda Ship Channel out 20 NM...Coastal waters from
     High Island to Freeport out 20 NM.

     SMALL CRAFT SHOULD EXERCISE CAUTION until 4 AM CST Wednesday for
     the following zones: Waters from Freeport to the Matagorda
     Ship Channel from 20 to 60 NM...Waters from High Island to
     Freeport from 20 to 60 NM.

&&

$$

Discussion...45