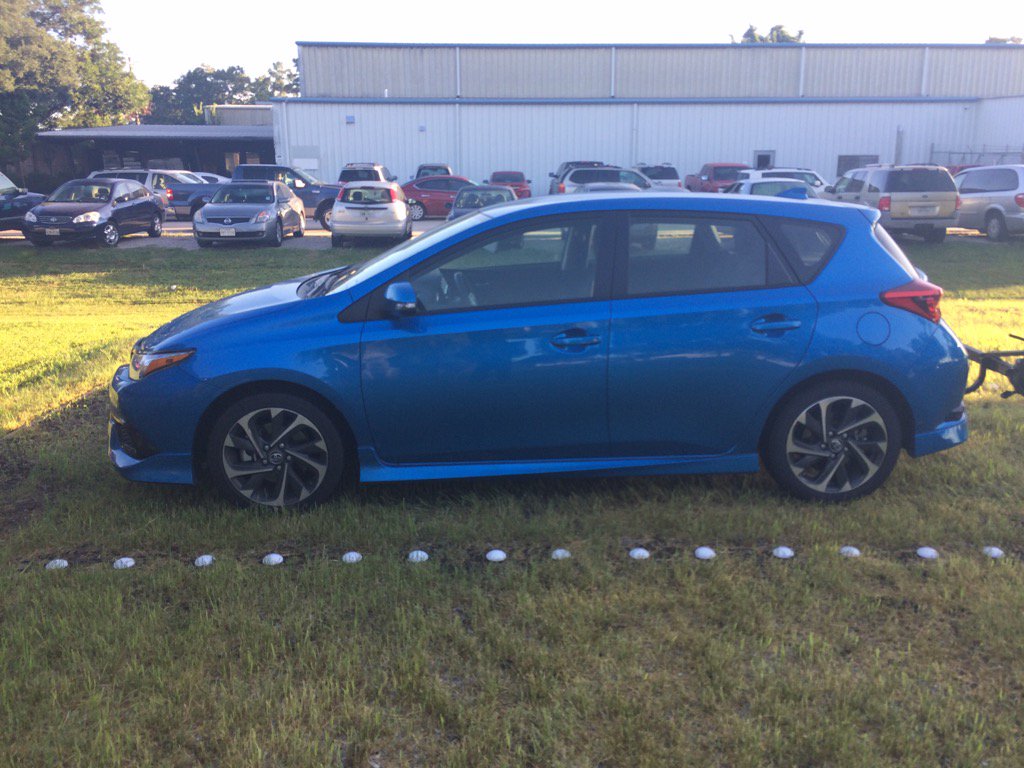 Northwest Houston, TX, during the early morning.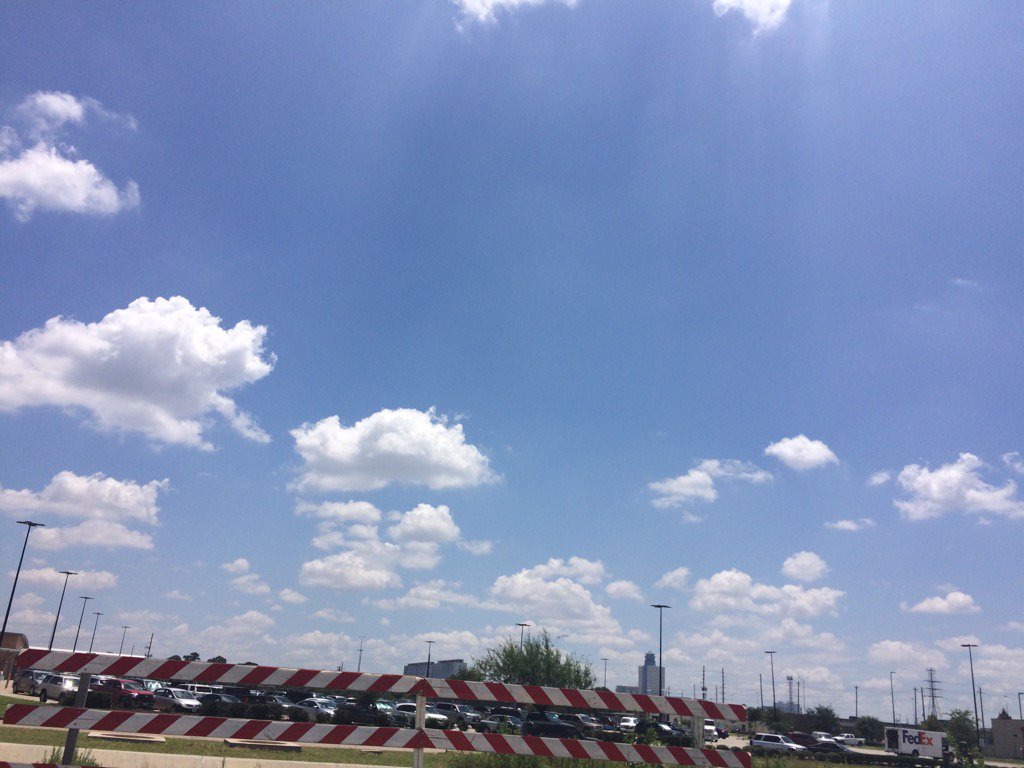 Northwest Houston, TX, during the early afternoon.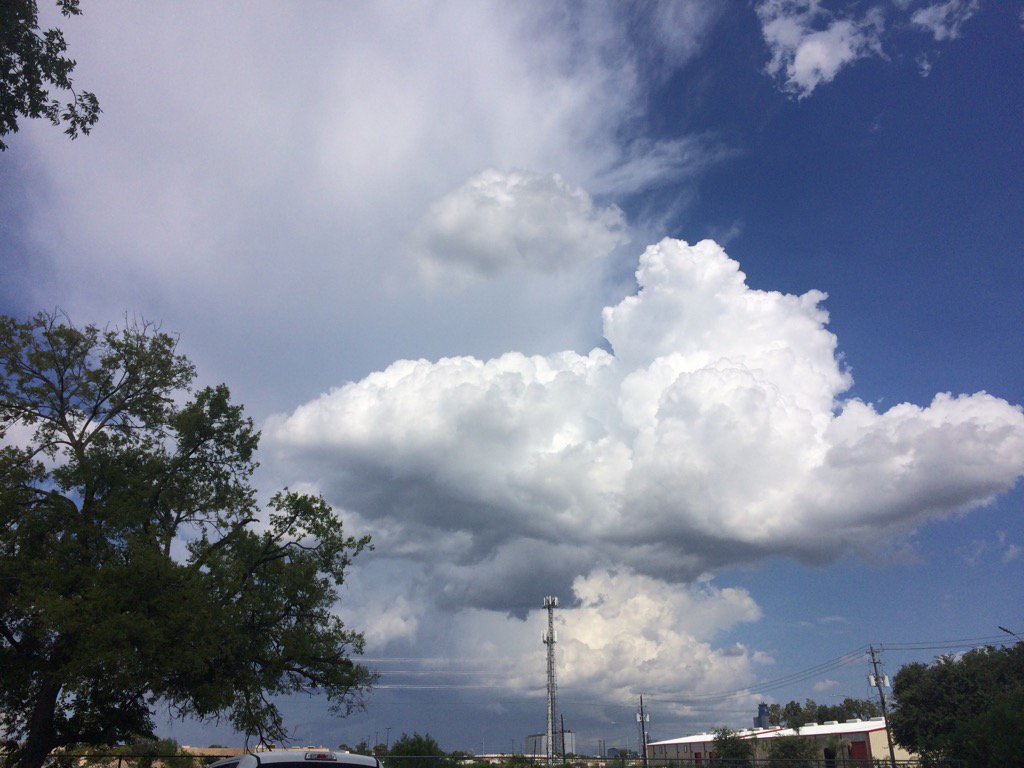 Northwest Houston, TX, during the late afternoon.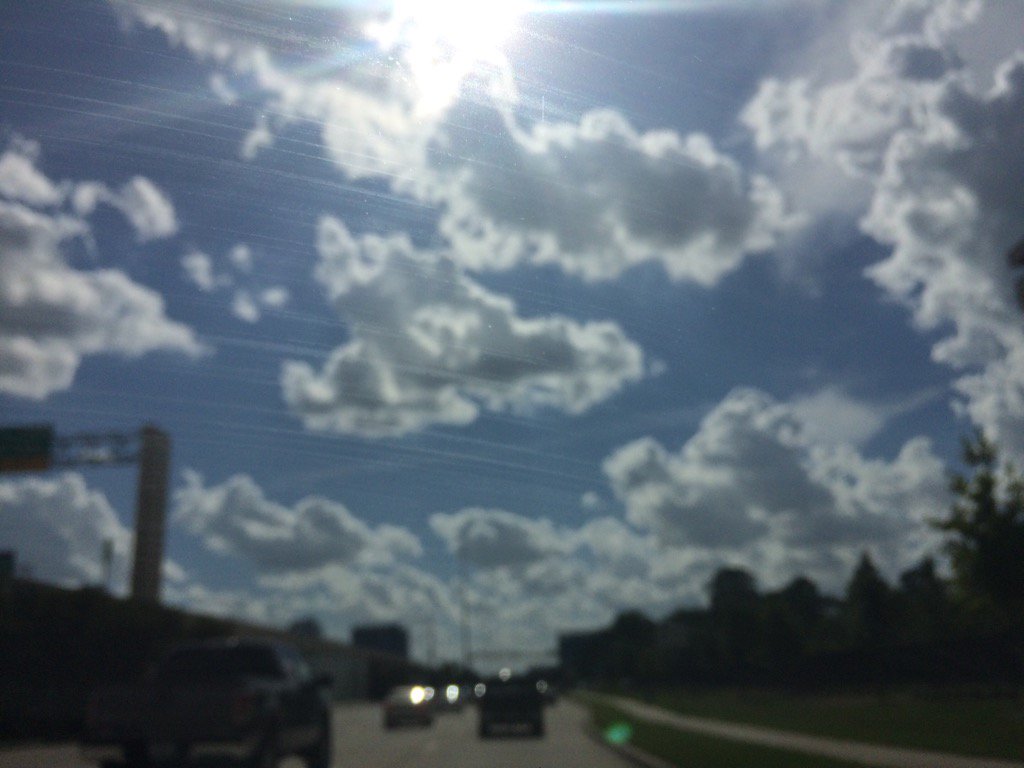 West Houston, TX, during the early evening.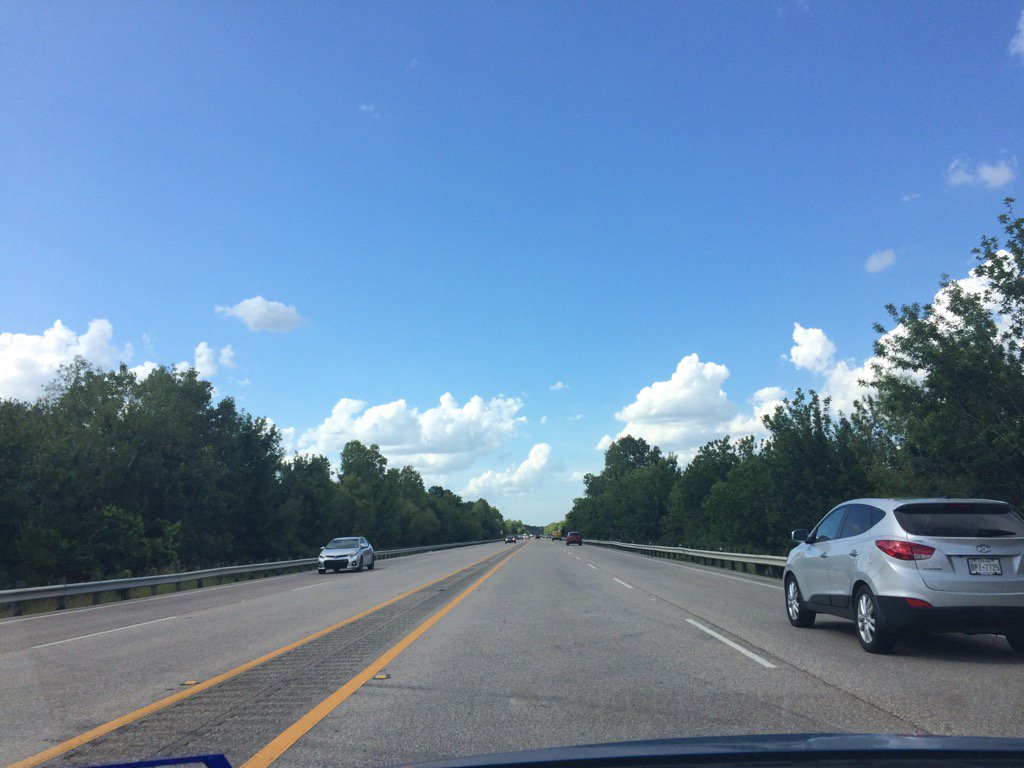 Northwest Houston, TX, during the early evening.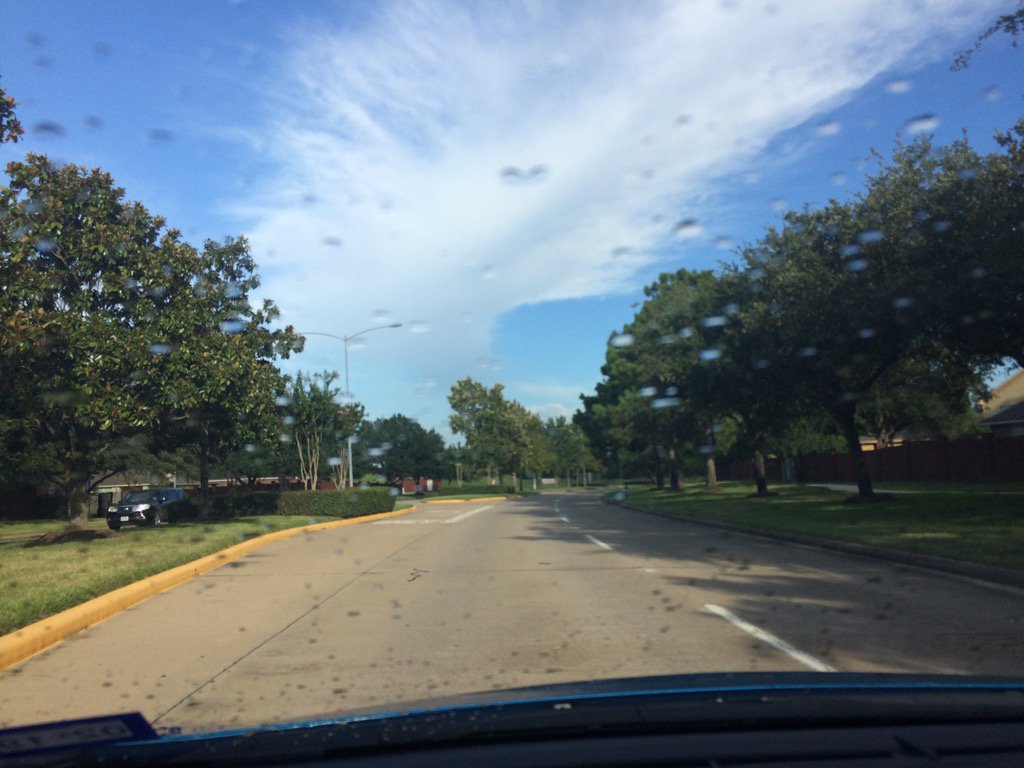 Cypress, TX, during the early evening. (No that those are not rain drops on my car's windshield. I had just washed my car.)
Summary: The day was very hot, sunny, and dry. Isolated to scattered, light to moderately heavy and heavy showers and thunderstorms looked to have started to pop up in south and north east Houston, TX and spread into central Houston, TX, during the afternoon and evening. The rain looked to have stayed mostly in east and central Houston, TX. With maybe some light to moderate showers moving into some parts of west Houston, TX. I didn't see, feel, or hear any rain drops. The sky looked to be mostly clear with maybe some alto stratus clouds in the horizon, during the early morning. Alto stratus and strato cumulus clouds looked to be widely scattered across the sky, during the mid and late morning, afternoon, evening, and night. The wind speeds looked to be calm with gentle to moderate gusts with maybe some moderately strong gusts. It felt warm during the early morning, late evening, and night. It felt very warm, during the mid-morning. It felt hot, during the late morning and early evening. It felt very hot during the afternoon. There was a Hazardous Weather Outlook issued for the Houston, TX area, by NOAA and there was also a flood advisory issued for parts of east Houston, TX. There were no other watches, warnings, alerts, advisories, or weather statements/outlooks issued for the Houston, TX area, that I know of. The low temps looked to be in the 70's and the high temps looked to be in the 90's, for most of the Houston, TX area.
Storm Summary:
There were a few moderately heavy to heavy showers and thunderstorms that caused flash flooding in parts of east Houston, TX, during the afternoon and evening. There were no reports of storm damage. That I know of.
My Storm Summary:
I started to see the storm clouds that were in central Houston, TX, during the mid, or maybe late afternoon. I continued to see storm, or maybe nimbus clouds, through the early evening. I didn't see, feel, or hear any rain drops. I also didn't hear any thunder, or see and lightning. I didn't see any storm damage.
Locations:
Northwest and west Houston, TX and Cypress, TX.
Thoughts:
It is feeling hotter. But still no heat advisory issued yet.
Area Forecast Discussion
Issued by NWS Houston/Galveston, TX
Home | Current Version | Previous Version | Text Only | Print | Product List | Glossary Off
Versions: 1 2 3 4 5 6 7 8 9 10 11 12 13 14 15 16 17 18 19 20 21 22 23 24 25 26 27 28 29 30 31 32 33 34 35 36 37 38 39 40 41 42 43 44 45 46 47 48 49 50
000
FXUS64 KHGX 280220
AFDHGX
Area Forecast Discussion
National Weather Service Houston/Galveston TX
920 PM CDT Thu Jul 27 2017
.DISCUSSION...
Isolated convection from earlier today has waned with the loss of
heating and additional precipitation is not expected tonight. A
sprawling upper level ridge of high pressure extends from eastern
Arizona to Northeast Texas.The ridge is progged to expand and
extend into SE TX by Friday morning. At the surface weak high
pressure was located over the western Gulf of Mexico. 00z
soundings show PW values between 1.75 and 1.85 inches but fcst
sounding show PWATs falling to around 1.45-1.55 inches by Friday
afternoon. Subsidence from the upper ridge, the lack of a sfc
trigger and a reduction in moisture should lower rain chances
below todays paltry coverage. Temps will likely warm a degree or
so as 850 temps warm and the air mass dries a little. Heat index
values tomorrow will range from about 104 to 109 degrees and the
area will be flirting with heat advisory criteria. Hobby Airport
reached 109 degrees this afternoon just ahead of the cluster of
storms between 500 and 530 PM. Previous forecast has a good handle
on things and only minor tweaks to grids are needed. 43
&&
.PREV DISCUSSION... /ISSUED 649 PM CDT Thu Jul 27 2017/
AVIATION...
The isolated showers and thunderstorms which were occuring near
KIAH, KHOU, and KSGR earlier have dissipated as of 2330Z. The
leftover outflows could affect the winds at these three sites and
possible as well as KCXO between 00Z and 02Z.
There is a slight chance that MVFR conditions could develop at the
more rural sites between 10Z and 14Z Friday morning. SREF
probabilities show the potential for the visibility to be reduced
by light fog especially at KLBX and KSGR. Had some reports of
patchy ground fog earlier today around sunrise. Given the airmass
will be about the same Friday morning as 24 hours previous, will
need to stay alert to the possibility for patchy fog development
once again.
VFR conditions expected after 14Z. A drier airmass is expected but
still expect some isolated shower or thunderstorm development
inland of the coast due mainly to the seabreeze and bay breeze. A
consensus of the global models shows the best chances in the
Houston metro area big airports after 21Z.
40
PREV DISCUSSION... /ISSUED 344 PM CDT Thu Jul 27 2017/
DISCUSSION...
A few showers and thunderstorms will continue to pop up generally
along and south of the I-10 corridor this afternoon before
gradually diminishing this evening with the loss of heating. Rain
chances will be lower tomorrow afternoon as PWs drop to only
around 1.5-1.7 inches or so. The next couple of days will continue
to be hot and humid, with heat indices of 105-110 forecast both
Friday and Saturday. Heat advisories may be required one or both
days. The next best chance for rain will come late Saturday and
into early next week as a backdoor cold front sags southwestward
into the area. It`s pretty unusual to get cold fronts this far
south this time of year, and this one really won`t be providing a
whole lot of relief from the heat. Starting on Sunday we begin to
back away from heat advisory criteria, but it will still remain quite
hot through the rest of the forecast period.
Slightly drier conditions are expected in the wake of the front,
and the long term forecast will heavily depend on the evolution of
the upper-level pattern. Right now it looks like we may become
sandwiched between high pressure to the west and low pressure over
the southeast. However, models have been all over the place with
the placement of this trough heading into the latter half of next
week, and this will greatly affect what shower/thunderstorm
coverage we could see.
11
MARINE...
Light south to southwest winds and low seas are expected to continue
through the end of the work week, increasing to near 10-15 knots
Friday night as a weak cold front backdoors into Southeast Texas.
Winds will gradually decrease as this boundary approaches on
Saturday and Sunday, with a period of light offshore flow possible
moves off the coast Sunday and Monday if the front is able to move
off the coast. Isolated to scattered thunderstorms along the front
may be capable of producing locally higher winds and waves on Sunday.
Huffman
&&
.PRELIMINARY POINT TEMPS/POPS...
College Station (CLL) 76 100 77 99 77 / 10 10 10 20 20
Houston (IAH) 77 98 78 96 78 / 10 10 10 20 30
Galveston (GLS) 82 92 83 91 82 / 10 10 10 10 20
&&
.HGX WATCHES/WARNINGS/ADVISORIES...
TX...NONE.
GM...NONE.
&&
$$
Discussion...43
Hazardous Weather Outlook
Hazardous Weather Outlook
National Weather Service Houston/Galveston TX
347 PM CDT Thu Jul 27 2017

GMZ330-335-350-355-370-375-TXZ163-164-176>179-195>200-210>214-226-
227-235>238-282100-
Austin-Brazoria-Brazos-Burleson-Chambers-
Coastal waters from Freeport to the Matagorda Ship Channel out
20 NM-Coastal waters from High Island to Freeport out 20 NM-
Colorado-Fort Bend-Galveston-Galveston Bay-Grimes-Harris-Houston-
Jackson-Liberty-Madison-Matagorda-Matagorda Bay-Montgomery-Polk-
San Jacinto-Trinity-Walker-Waller-Washington-
Waters from Freeport to the Matagorda Ship Channel from 20 to
60 NM-Waters from High Island to Freeport from 20 to 60 NM-
Wharton-
347 PM CDT Thu Jul 27 2017

This hazardous weather outlook is for portions of Southeast Texas..

.DAY ONE...This Afternoon and Tonight

Heat index values will be high through early this evening. Make
sure precautions are taken to keep people and pets safe from the
heat.

.DAYS TWO THROUGH SEVEN...Friday through Wednesday

On Friday and Saturday, heat index values might have the potential to
rise toward heat advisory levels. Continue to make sure precautions
are taken to keep people and pets safe. Slightly lower temperatures
are expected Sunday through Wednesday.

.SPOTTER INFORMATION STATEMENT...

Spotter activation is not expected at this time.

$$