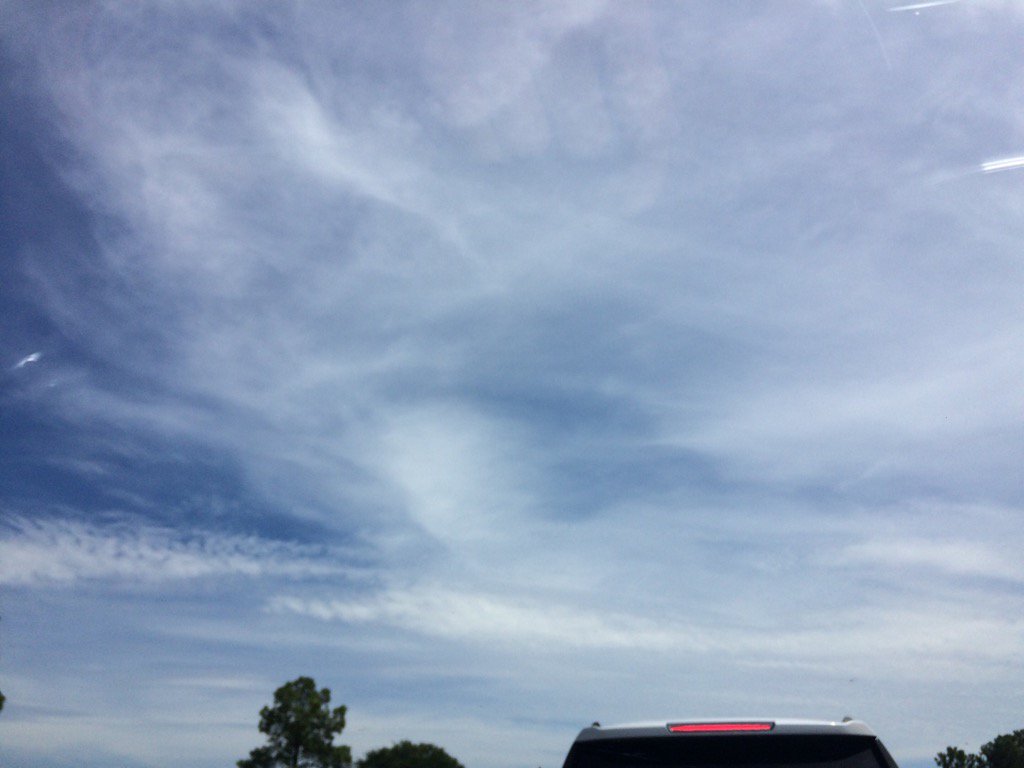 Northwest Houston, TX, during the early afternoon.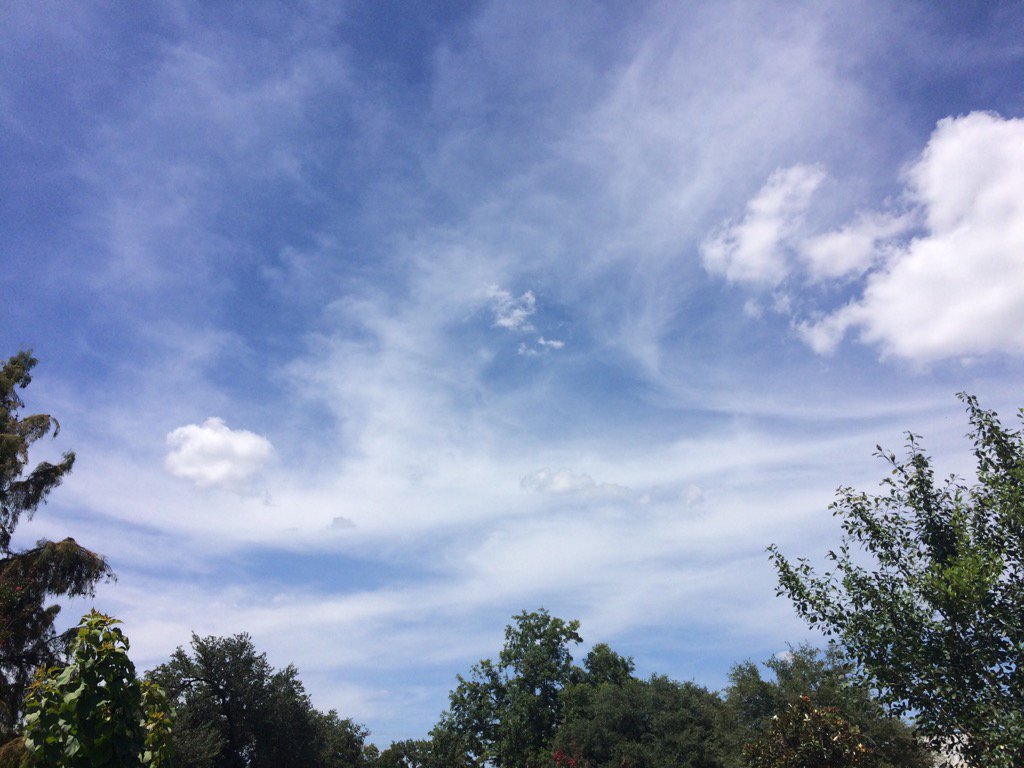 Northwest Houston, TX, during the mid-afternoon.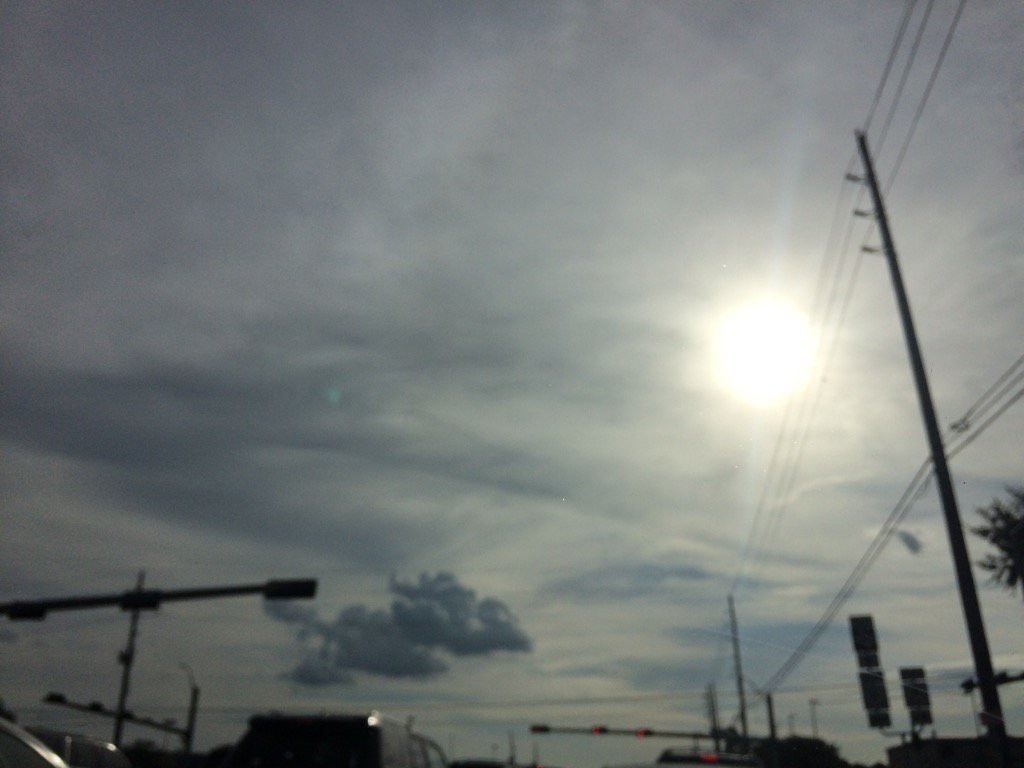 Northwest Houston, TX, during the early evening.
Summary:
The day was sunny, dry, and very hot. No rain. There looked to be a few clusters of isolated light to moderately heavy showers and thunderstorms, just to the north of Houston, TX, near Conroe, TX, during the early, or maybe mid-afternoon. I don't think there was anymore rain after that, but there might have been some. I didn't see, feel, or hear any rain drops. Alto stratus clouds looked to be scattered across the sky, during the morning. Alto stratus with a few stratocumulus underneath clouds looked to be scattered across the sky, during the afternoon and evening. The sky looked to have become clear, or maybe mostly clear with maybe a few cirrus, or maybe alto stratus clouds, during the night. The wind speeds looked to be calm with maybe some gentle to moderate gusts. It felt very warm during the early and mid-morning, evening, and night. It felt hot, during the late morning and late afternoon. It felt very hot, during the early and mid-afternoon. There was a Hazardous Weather Outlook issued for the Houston, TX area, by NOAA and Heat Advisory issued for the Houston, TX area. There were no other watches, warnings, alerts, advisories, or weather statements/outlooks issued for the Houston, TX area, that I know of. The low temps looked to be in the 70's and maybe a few 80's and the high temps looked to be in the high 90's and low 100's, for the Houston, TX area.
Storm Summary:
I didn't hear about any reports of flooding, or storm damages.
Locations:
Northwest Houston, TX.
Thoughts:
It was a very hot day... Some rain chances expected soon!
Area Forecast Discussion
Issued by NWS Houston/Galveston, TX
Home | Current Version | Previous Version | Text Only | Print | Product List | Glossary Off
Versions: 1 2 3 4 5 6 7 8 9 10 11 12 13 14 15 16 17 18 19 20 21 22 23 24 25 26 27 28 29 30 31 32 33 34 35 36 37 38 39 40 41 42 43 44 45 46 47 48 49 50
000
FXUS64 KHGX 300234
AFDHGX
Area Forecast Discussion
National Weather Service Houston/Galveston TX
934 PM CDT Sat Jul 29 2017
.DISCUSSION...
The pre-frontal trough was setting off some thunderstorms in
Orange and Jefferson counties toward the Sabine at 9:30 PM. The
HRRR has been handling the coverage fairly well as of the last
couple of runs. 00Z upper air profiles show the potential for a
decent low-level inversion to be in place and this is shown on the
latest NAMBufr forecast soundings across the forecast area. Best
chances will be over the far eastern areas. The current forecast
is on track.
40
&&
.PREV DISCUSSION... /ISSUED 623 PM CDT Sat Jul 29 2017/
AVIATION.../00Z TAF/
Latest radar and GOES 16 imagery show several boundaries across
SE Texas. There is the sea breeze along the coast held in check by
synoptic pressure gradient support SW to W winds. Sea breeze is
making some progress north as winds have backed to SE at KHOU and
KIAH, but it is slow progress. To the north is another boundary
from Temple to Huntsville to may be near Beaumont. The true
frontal boundary is still to the north over the Arklatex pushing
SW towards the area. Think VFR conditions continue despite the
front moving into the region. Upper level riding looks to be too
strong for convection to over come. CAMs show some convection
developing in the 08Z to 15Z time frame so will keep VCSH in the
TAFs to cover that small possibility. Again it is a small chance
and overall confidence in any convection is low.
Overpeck
PREV DISCUSSION... /ISSUED 347 PM CDT Sat Jul 29 2017/
DISCUSSION...
Heat index values range from 100 to 112 degrees across Southeast
Texas this afternoon, with highest heat index values being
observed near and just behind the seabreeze evident on the KHGX
radar moving inland across Brazoria, Galveston, and Chambers
counties. Heat will remain the big concern through the early
evening hours and a Heat Advisory is in effect for much of the
region through 7 PM CDT. Additionally, as of 3 PM CDT, Houston
Hobby had hit 100 degrees... tying its record high temperature for
today set in 2015. It`s possible that this record may be broken
before the seabreeze moves inland later this afternoon.
Afternoon surface analysis showed that a cold front had made
minimal progress towards the region, stretching from near Wichita
Falls across the D/FW Metroplex to south of Shreveport. Ahead of
this front, a prefrontal trough stretched from Midland towards
Lufkin. Subsidence from upper ridging centered over West Texas has
done a good job limiting most convective development along these
features so far today, but will need to keep an eye on both
through the evening and into the overnight hours as mid-level flow
veers from northwest to northerly and allows these boundaries to
push farther into the region. Visible satellite imagery has has
shown some enhancement to the cumulus clouds across Houston and
Trinity counties over the past hour and would expect the northern
and northeastern counties to be the first to see isolated shower
or thunderstorm development during the late afternoon hours along
the prefrontal trough.
Loss of heating should result in anything that develops to fall
apart by mid-evening, but weak divergence spreading over the
region as the upper ridge retreats overnight should allow for
another round of isolated to scattered showers and thunderstorms
to develop along the cold front as it moves southwest across the
region. Anything that develops during the afternoon or evening
hours would be capable of a gusty wind threat as forecast
soundings continue to indicate an inverted-V signature (meaning
that dry sub-cloud air may enhance evaporational cooling leading
to downdraft acceleration) with showers and thunderstorms that
develop along the front tonight capable of producing locally heavy
rainfall. Surface convergence inland along the front is expected
to be weak and, as a result, expect greatest shower and
thunderstorm coverage across the coastal waters tonight. However,
with precipitable water values pooling in excess of 2 inches
ahead of the front, expect areas generally along and south/east
of Highway 59 to have the greatest potential for seeing rain (and
locally heavy rain/ isolated 1-2 inch totals).
The front will continue to slowly sag southwest across the region
during the day Sunday, with a few showers lingering along it as
it washes out approaching the Middle Texas Coast. Otherwise,
morning lows on Sunday are expected to range in the mid 70s to low
80s and warm into the low to mid 90s during the afternoon. Drier
air behind the front will help keep afternoon heat index values a
bit "cooler" than today in the 96-106 range... but Sunday will
still feel like summer.
Upper ridging will continue to retreat from the region towards the
west Monday and Tuesday, with falling mid-level heights resulting
in temperatures dropping back to near normal for this time of year
(highs in the upper 80s to mid 90s) and increasing rain chances
Wednesday into the next weekend. Timing of greatest chances still
remains a bit uncertain at this time as it appears to largely
depend on when disturbances rotate through upper troughing that
becomes established across the eastern CONUS mid to late week.
Huffman
MARINE...
A light southwesterly wind regime can be expected out ahead of
the weak front this evening, which should reach the coastal waters
overnight tonight and into early Sunday morning. With the passage
of this system, high PW values between 2.1-2.4 as well as the
added lift could result in isolated to scattered showers and
thunderstorms developing in the near and offshore waters. Gusty
winds can be expected beneath stronger storms. Expect to see the
winds begin to turn due to the influence of the frontal passage,
becoming northeasterly by late Sunday morning. Seas should stay
around 2 ft in the beginning of week and eventually bump up to 3
ft towards the end of next week. Onshore flow should also return
to the forecast late Wednesday into early Thursday.
Hathaway
&&
.PRELIMINARY POINT TEMPS/POPS...
College Station (CLL) 78 96 72 96 75 / 20 10 10 10 10
Houston (IAH) 79 95 75 94 76 / 30 20 10 10 10
Galveston (GLS) 81 90 80 90 81 / 30 30 10 10 10
&&
.HGX WATCHES/WARNINGS/ADVISORIES...
TX...NONE.
GM...NONE.
&&
$$
Discussion...40
Aviation/Marine...39
Hazardous Weather Outlook
Hazardous Weather Outlook
National Weather Service Houston/Galveston TX
348 PM CDT Sat Jul 29 2017

TXZ195>197-210>214-226-227-235>238-302100-
Austin-Brazoria-Brazos-Burleson-Chambers-Colorado-Fort Bend-
Galveston-Harris-Jackson-Matagorda-Waller-Washington-Wharton-
348 PM CDT Sat Jul 29 2017

This hazardous weather outlook is for portions of Southeast Texas..

.DAY ONE...This Afternoon and Tonight

High temperatures between 100 to 103 degrees inland and the mid
90s at the coast can be expected through early evening. Heat
index values should peak between 107 and 112 degrees later today.
Take the necessary precautions to keep people and pets safe from
the heat.

A few thunderstorms will be possible late this afternoon and
overnight. Some may be capable of gusty winds or locally heavy
rain.

.DAYS TWO THROUGH SEVEN...Sunday through Friday

No hazardous weather is expected at this time.

.SPOTTER INFORMATION STATEMENT...

Spotter activation is not expected at this time.

$$