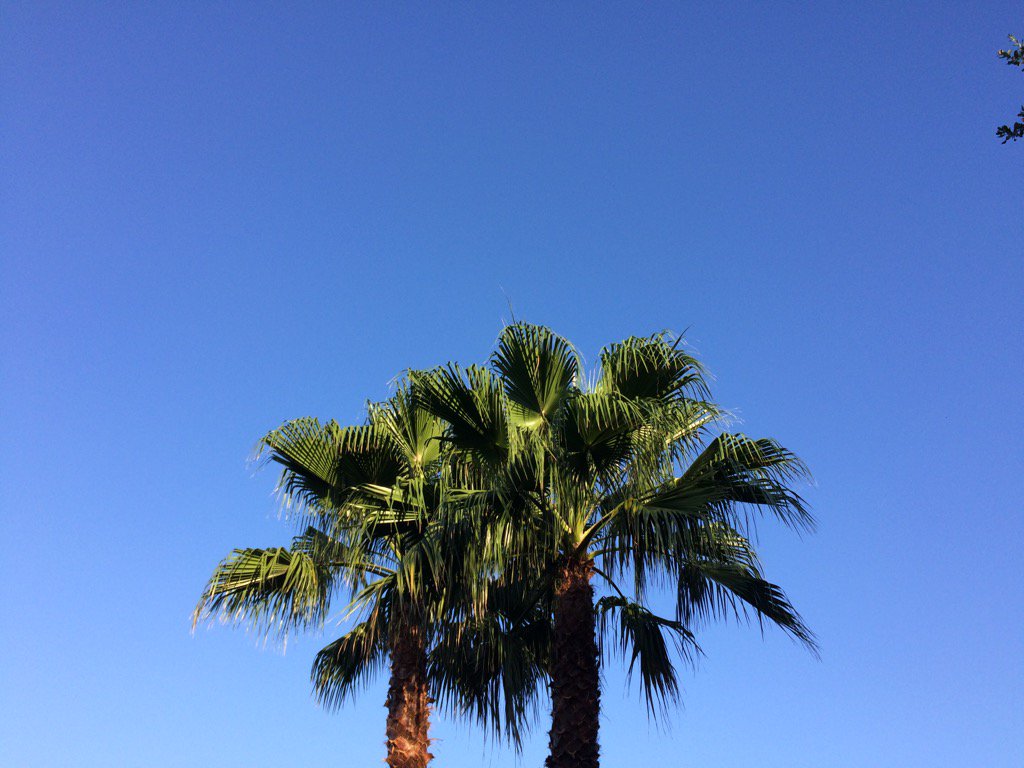 Northwest Houston, TX, during the early morning.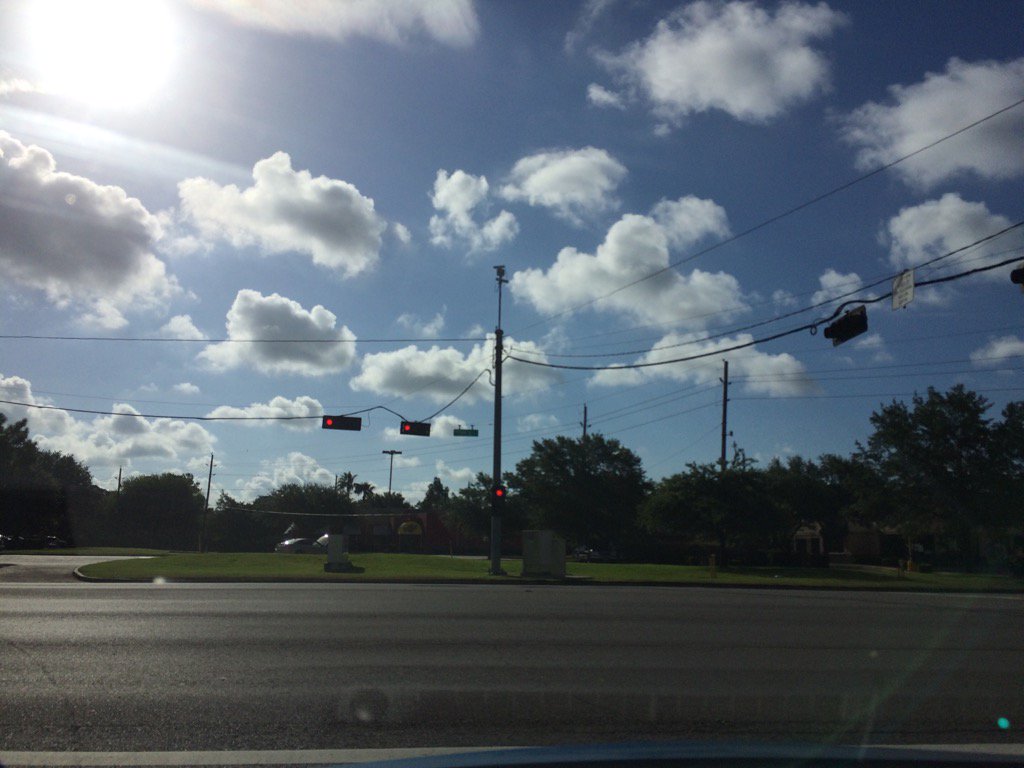 Northwest Houston, TX, during the mid-morning.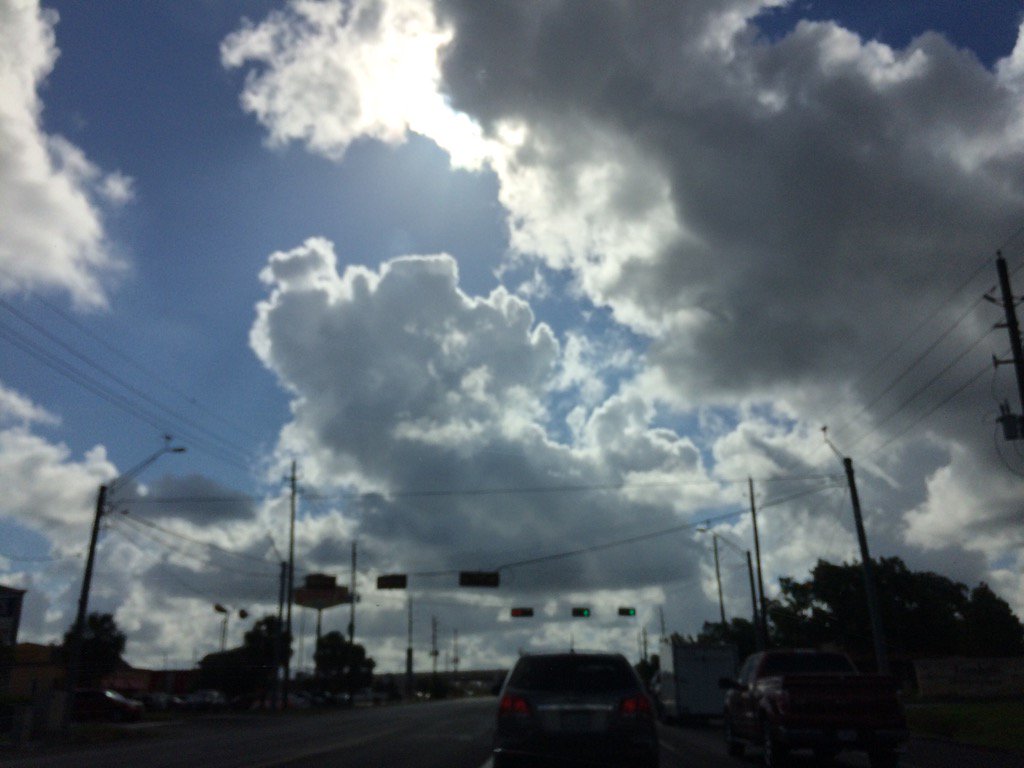 Near Tomball, TX, during the mid-morning.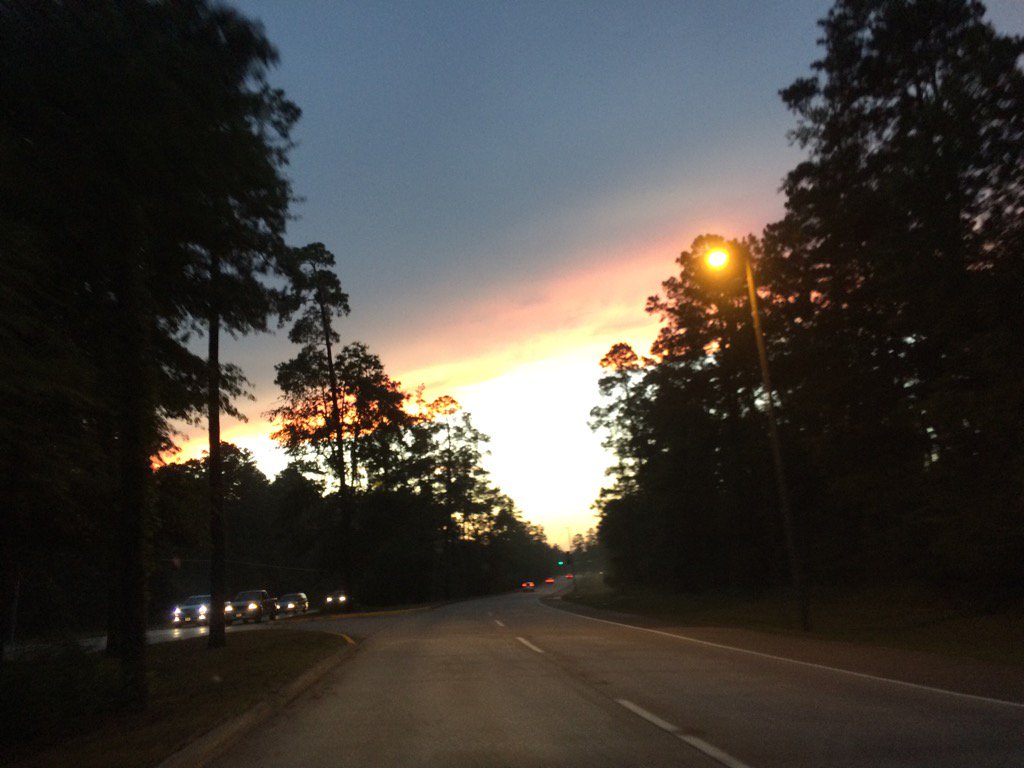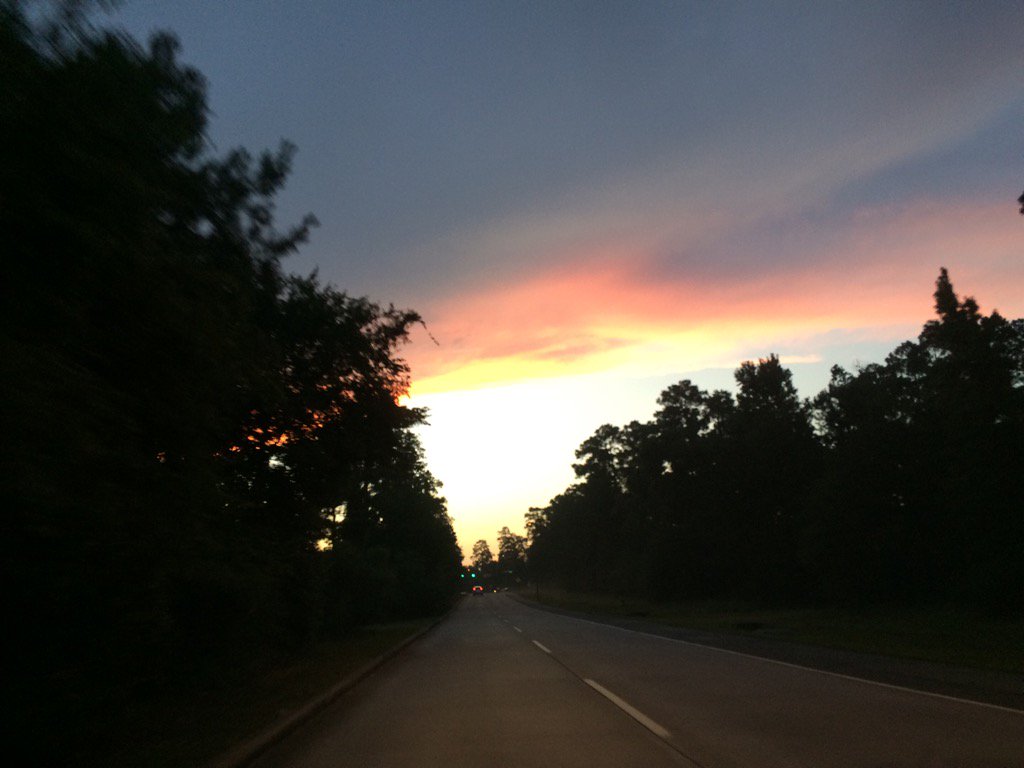 Woodlands, TX, maybe Spring, TX, during the late evening.
Summary: The day was mostly cloudy, sunny, and hot. Scattered light to heavy showers and thunderstorms, looked to have started to pop up in and around the Houston, TX area, sometime during the afternoon and stayed around through the evening. I heard some loud distant rumbles of thunder and light to moderate rain was falling, when I was in the heights of Houston, TX, during the mid and late afternoon, and early evening. Stratus and stratocumulus clouds looked to cover most of the sky, during the morning. Stratus, stratocumulus, and nimbus clouds looked to cover most of the sky, during the afternoon and evening. Stratus clouds looked to cover most of the sky, during the early and maybe late night. The wind speeds looked to be calm with gentle gusts and some moderate to moderately strong gusts. It felt warm during the morning, late afternoon, evening, and night. It felt very warm during the mid-morning. It felt hot during the late morning and early afternoon. It started to feel warm, during the mid-morning. There was a Hazardous Weather Outlook issued for the Houston, TX area, by NOAA. There was also a Special Weather Statement issued for the thunderstorms that passed through the Woodlands, TX and North Houston, TX area, during the late afternoon, or maybe early evening. There were no other watches, warnings, alerts, weather statements/outlooks, or advisories issued for the Houston, TX area, that I know of. The low temps looked to be in the 70's and the high temps looked to be in the 90's, for the Houston, TX area,
Storm Summary: Flash flooding along with thunder and some outted traffic lights accompanied the showers and thunderstorms that passed through the Houston, TX area, during the afternoon and early evening. There were also some strong winds in the Woodlands, TX and maybe north Houston, TX area. There was also some light rain fog, formed from the rain, during late evening and early night.
Locations: Northwest, north, southwest, and heights, Houston, TX, Tomball, TX, Woodlands, TX, Spring, TX, and maybe Bellaire, TX.
Thoughts: I got to see some rain today! I really enjoy the thunder and cool storm clouds. Looks like there is still rain in the forecast for the Houston, TX area, for Saturday and some days next week.
Area Forecast Discussion
Issued by NWS Houston/Galveston, TX
Home | Current Version | Previous Version | Text Only | Print | Product List | Glossary Off
Versions: 1 2 3 4 5 6 7 8 9 10 11 12 13 14 15 16 17 18 19 20 21 22 23 24 25 26 27 28 29 30 31 32 33 34 35 36 37 38 39 40 41 42 43 44 45 46 47 48 49 50
000
FXUS64 KHGX 080258
AFDHGX
Area Forecast Discussion
National Weather Service Houston/Galveston TX
958 PM CDT Fri Jul 7 2017
.UPDATE...
Late day thunderstorms across the city and points northward quickly
died out with the setting sun. Other than a slight eastward expansion
Four Corners-centered upper ridging...there has been and will not be
any mentionable change in the regional weekend weather pattern. Thus
this recent summertime pattern of very warm and humid days...with periods
of early day near coastal showers leading to more numerous scattered
afternoon inland thunderstorms...will continue in the short term.
31
&&
.PREV DISCUSSION... /ISSUED 648 PM CDT Fri Jul 7 2017/
AVIATION...
Typical summertime pattern in place and a fcst of persistence
looks to be the way to go. Mainly VFR, with the exception of
patchy MVFR cigs shortly after sunrise. Isolated/scattered showers
develop near on off the coast late at night, then inland during
the later morning & afternoon. 47
&&
PREV DISCUSSION... /ISSUED 348 PM CDT Fri Jul 7 2017/
Surface observations across SE Texas showed temperatures in the
low/mid 90s and heat index values from 95 to 105F except for the
rain cooled areas from Bay City to Wharton. Radar shows most of
the shower and thunderstorm activity over S Wharton county with a
smattering of activity SW of Houston where higher moisture exists.
There is very little activity north of I-10. Any shower and
thunderstorm activity will be pulse up in intensity before gusting
out. GOES 16 derived total precipitable water shows 1.8 to 1.9
inches along the coast with 1.6 to 1.7 inches north of I-10 hence
not as much activity. GOES 16 derived CAPE shows a similar story
with instability at most 1200 J/kg and with low wind shear, there
is no storm organization. This means storms produce a quick 1 inch
of rain and gust out producing an outflow boundary that could
initiate other storms. That should be the trend the next few hours
until day time heating is lost.
Short range model guidance and CAMs suggest similar conditions
tomorrow and through the weekend. CAMs show a stronger outflow
boundary coming from convection over the Arklatex that could push
into northern portions of SE Texas Saturday afternoon. Still think
wide spread 30 PoPs will cover the chances. Precipitable water
values do not change much over the next couple of days so expect
isolated to widely scattered showers and thunderstorms to be
possible. Upper level ridging tries to build but the ridge
remains over the Rockies with a inverted trough over Mexico. This
means there will be little upper level flow but neutral large
scale vertical motion.
As we continue to track the ridging in the extended, GFS/ECMWF
start to increase heights aloft Tuesday next week. The ECMWF tries
to build the Bermuda ridge westward while the GFS has a flat
ridge across the southern U.S. There may be enough easterly flow
under the ridges that vertical motion remains neutral and there
will be the chance for showers and thunderstorms each day. Chances
look lower than what guidance suggest so the forecast goes with
rain chances a good 5 to 10 percent lower than guidance mainly in
anticipating that there will be more subsidence than lift and
deep moisture will not be as robust.
Main hazards going forward will be heat index values near 100-105
each day but even that is typical for this time of year. Storms
could produce heavy rainfall and lightning but severe weather is
not expected at this time.
Tropics...as expected TD4 has become an open tropical wave with
little if any convection. E PAC has become more active with the
start of TS Eugene. Overall there is not much activity in the
tropics even in the models until the day 8-12 time frame which is
typical for the models this time of year. 39
MARINE...
Generally light onshore winds will continue the next several days
with slightly higher wind speeds over the coastal waters at night.
Rain chances will persist across the bays/Gulf waters through the
weekend...mainly during the overnight and early morning hours. 41
&&
.PRELIMINARY POINT TEMPS/POPS...
College Station (CLL) 75 96 75 95 75 / 10 20 10 30 10
Houston (IAH) 76 94 76 94 76 / 10 30 30 40 10
Galveston (GLS) 81 90 80 90 80 / 10 30 10 30 10
&&
.HGX WATCHES/WARNINGS/ADVISORIES...
TX...NONE.
GM...NONE.
&&
$$
Discussion...31/47
Hazardous Weather Outlook
Hazardous Weather Outlook
National Weather Service Houston/Galveston TX
416 AM CDT Fri Jul 7 2017

TXZ163-164-176>179-195>200-210>214-226-227-235>238-080930-
Austin-Brazoria-Brazos-Burleson-Chambers-Colorado-Fort Bend-
Galveston-Grimes-Harris-Houston-Jackson-Liberty-Madison-Matagorda-
Montgomery-Polk-San Jacinto-Trinity-Walker-Waller-Washington-
Wharton-
416 AM CDT Fri Jul 7 2017

This hazardous weather outlook is for portions of Southeast Texas..

.DAY ONE...Today and Tonight

Scattered showers and thunderstorms will be possible today. The
storms will be slow moving and some areas could receive brief but
heavy rain.

In addition to the showers, heat index values will range between
100 and 105 degrees today.

.DAYS TWO THROUGH SEVEN...Saturday through Thursday

Scattered showers and thunderstorms will persist on Saturday and
Sunday. Storm motion will again be slow so a few of the stronger
storms could produce locally heavy rain.

Heat index values will remain between 100 and 105 degrees.

.SPOTTER INFORMATION STATEMENT...

Spotter activation will not be needed.

$$