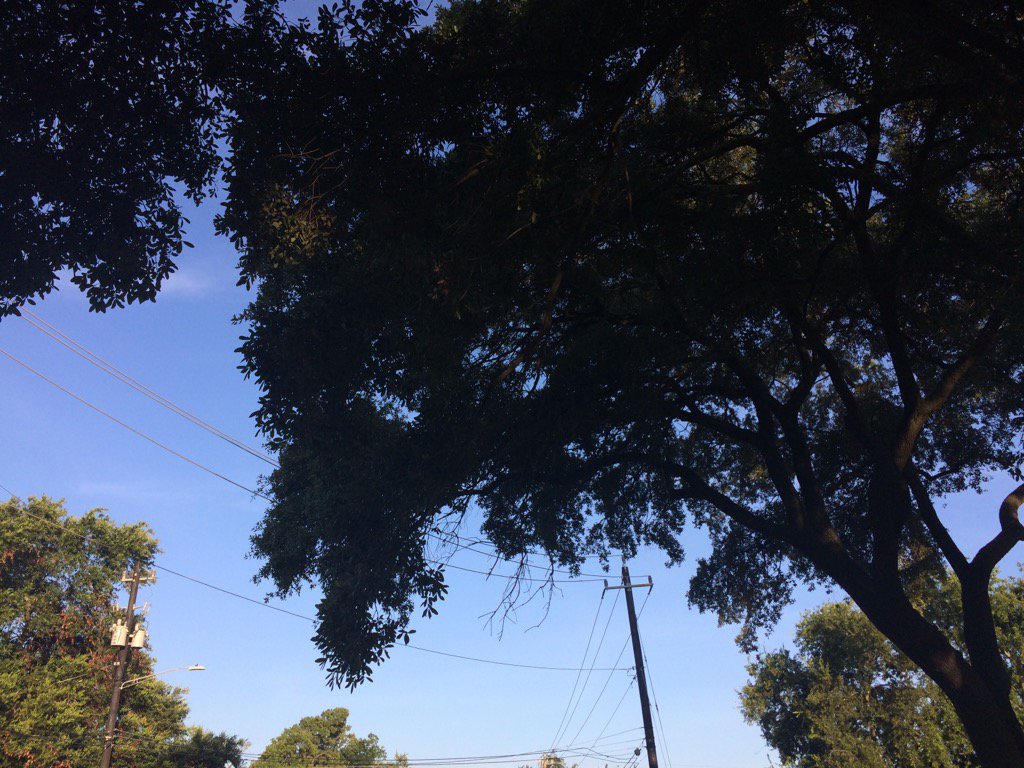 Northwest Houston, TX, during the early morning.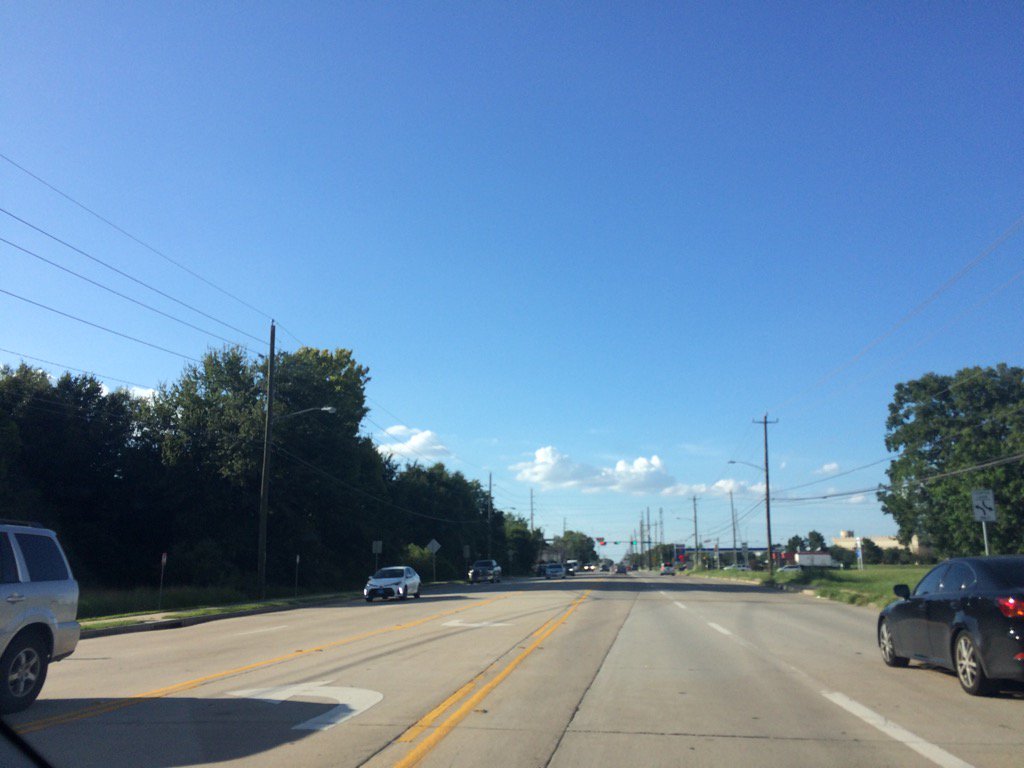 Northwest Houston, TX, during the early evening.
Summary:
The day was very hot, sunny, and dry. There looked to be some possible light isolated showers in and around the Houston, TX area and there was also a storm reported in and around the Sugarland, TX area, just southwest of Houston, TX. I didn't see, feel, or hear any rain drops. The sky looked to be clear, or maybe mostly clear, during the early morning. Stratocumulus clouds looked to be scattered across the sky, during the mid and late morning, afternoon, and evening. The sky looked to be clear, or maybe mostly clear, during the night. The wind speeds looked to be calm with moderate to moderately strong gusts with some really strong gusts. It felt very warm, during the early and mid-morning, and night. It felt hot, during the late morning. It felt very hot, becoming unbearably hot, during the early afternoon. It felt unbearably hot, during the mid and late afternoon and early evening. There was a Hazardous Weather Outlook issued for the Houston, TX area, by NOAA. There were no other watches, warnings, alerts, advisories, or weather statements.outlooks issued for the Houston, TX area, that I know of. The low temps looked to be in the 70's and the high temps looked to be in the high 90's with maybe some areas getting into the 100's; including my work area, with a 108 heat index value.
Storm Summary:
There were no reports of flooding, or storm damages, that I know of.
Locations:
Northwest Houston, TX.
Thoughts:
The Weather Channel App, for the area that I work in northwest Houston, TX. Said that the temperature was 100 with a heat index of 108. When I left for work, during the early evening. That's too hot!
Area Forecast Discussion
Issued by NWS Houston/Galveston, TX
Home | Current Version | Previous Version | Text Only | Print | Product List | Glossary Off
Versions: 1 2 3 4 5 6 7 8 9 10 11 12 13 14 15 16 17 18 19 20 21 22 23 24 25 26 27 28 29 30 31 32 33 34 35 36 37 38 39 40 41 42 43 44 45 46 47 48 49 50
000
FXUS64 KHGX 290236
AFDHGX
Area Forecast Discussion
National Weather Service Houston/Galveston TX
936 PM CDT Fri Jul 28 2017
.DISCUSSION...
Isolated showers and thunderstorms which occurred earlier this
evening near Sugar Land dissipated before sunset. The 500 mb high
pressure ridge continued to nudge southeastward this evening. The
current forecast is on track for overnight lows to be in the upper
70s over the inland areas and near 80 to the lower 80s along the
immediate coast.
40
&&
.PREV DISCUSSION... /ISSUED 631 PM CDT Fri Jul 28 2017/
AVIATION.../00Z TAF/
Sea breeze has pushed inland with a lone isolated storm just west
of KSGR. Expect this storm to remain just outside 10 mile radius
of KSGR and likely gust out. SGR may experience a brief
thunderstorm gust if anything. VFR conditions are expected tonight
with light winds. There should be enough capping during the day
to keep convection out of the TAFs. There will be a frontal
boundary pushing into the area from the NE so might see a storm or
two develop along it but coverage in CAMs looks sparse. Might see
a bit more activity in the 03-09Z Sunday time frame.
Overpeck
PREV DISCUSSION... /ISSUED 336 PM CDT Fri Jul 28 2017/
DISCUSSION...
Another hot afternoon is in store today with many sites already
reaching heat indices of 105-108. So far it seems that the 108
values are sparse enough (only 2 so far) to not warrant a heat
advisory. The cu field isn`t looking incredibly robust right now,
but based on satellite derived PWs of 1.7-1.9 inches, I still
think we could squeeze out a few showers and storms later this
afternoon/early evening. Tomorrow will likely be a touch warmer
than today as we`ll have a west wind for most of the day. This
will allow the Brazos Valley to reach highs in the 101-102 degree
range and give Houston another good shot at hitting 100 for the
first time this summer. Although the ambient temperature will be
warmer tomorrow, the west wind will also likely allow for more
mixing to occur. This will likely keep the heat indices in the
105-109 degree range again. A heat advisory may be needed, but
that decision will be left for the midnight shift after we have a
chance to evaluate the max heat index values observed today. It is
also worth noting that due to the higher temperatures expected
tomorrow, a heat advisory may be required for the Brazos Valley
based on forecast ambient temperature and not necessarily the heat
index. Heat advisory criteria for our office is a heat index of
108 or ambient temperature of 103.
The forecast gets a little bit more interesting tomorrow afternoon
as a cold front backdoors into the area from the northeast. The
models have been speeding up the arrival of this front, and now
it`s looking like the front and associated showers/storms could
begin to reach the Piney Woods region by late tomorrow afternoon
into early evening. If the front does progress this quickly,
showers and storms will be entering the area during peak heating
of the day and have access to ample CAPE. This in combination of
the inverted V on the forecast soundings suggests that some of
these storms could become strong to severe, with gusty downburst
winds being the primary threat. The front will continue to
push southwestward throughout the night Saturday night into
Sunday, eventually clearing the area by Sunday night.
Following the front, a drier and slightly cooler period is
expected to start out the work week. However, the front is only
going help lower temperatures by a few degrees, so although we
back away from heat advisory criteria it will still be quite hot.
It looks like a more unsettled pattern will take shape for the
second half of next week as an upper-level trough over the eastern
CONUS will bring periods of showers and storms to SE Texas through
the rest of the forecast period. 11
MARINE...
The light southwest winds over the waters today should pick up some
tonight as a front begins to drop into Texas from the
north/northeast. By late Saturday afternoon, that front will reach
portions of Southeast Texas, but a wind shift over the waters
shouldn`t be expected until Sunday as winds head towards
northeasterly. Isolated to scattered showers and storms are possible
around the boundary, particularly farther up the coast. Winds early
next week may veer only modestly, with some variance around
easterly.
Luchs
&&
.PRELIMINARY POINT TEMPS/POPS...
College Station (CLL) 78 102 78 98 74 / 10 20 30 20 10
Houston (IAH) 79 99 78 95 76 / 20 20 40 20 10
Galveston (GLS) 83 93 83 91 80 / 10 10 30 40 10
&&
.HGX WATCHES/WARNINGS/ADVISORIES...
TX...NONE.
GM...NONE.
&&
$$
Discussion...40
Aviation/Marine...39
Hazardous Weather Outlook
Hazardous Weather Outlook
National Weather Service Houston/Galveston TX
347 PM CDT Fri Jul 28 2017

TXZ163-164-176>179-195>200-210>214-226-227-235>238-292100-
Austin-Brazoria-Brazos-Burleson-Chambers-Colorado-Fort Bend-
Galveston-Grimes-Harris-Houston-Jackson-Liberty-Madison-Matagorda-
Montgomery-Polk-San Jacinto-Trinity-Walker-Waller-Washington-
Wharton-
347 PM CDT Fri Jul 28 2017

This hazardous weather outlook is for portions of Southeast Texas..

.DAY ONE...This Afternoon and Tonight

Heat indices between 104 and 108 are expected through the rest of
the afternoon hours. Take the necessary precautions to keep
people and pets safe from the heat.

.DAYS TWO THROUGH SEVEN...Saturday through Thursday

Elevated heat indices are again expected Saturday. We will be
keeping an eye on the potential for some storms, some possibly
strong, to move from Louisiana into southeast Texas late Saturday
afternoon into the overnight hours.

.SPOTTER INFORMATION STATEMENT...

Spotter activation is not expected at this time.

$$