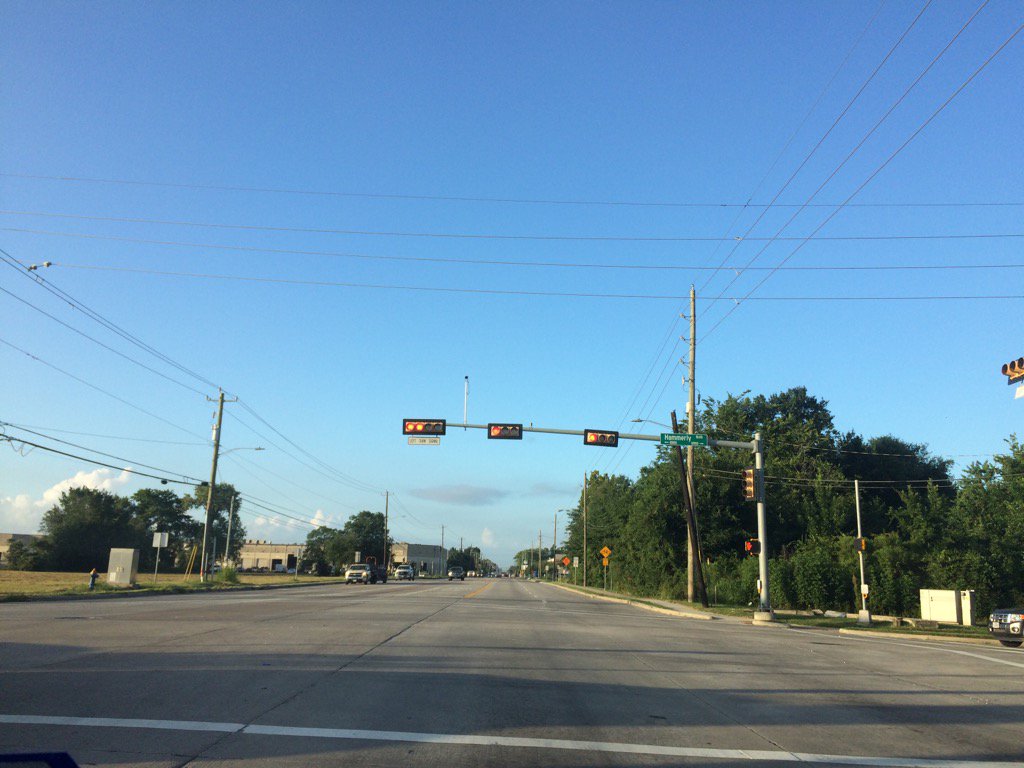 Northwest Houston, TX, during the early morning.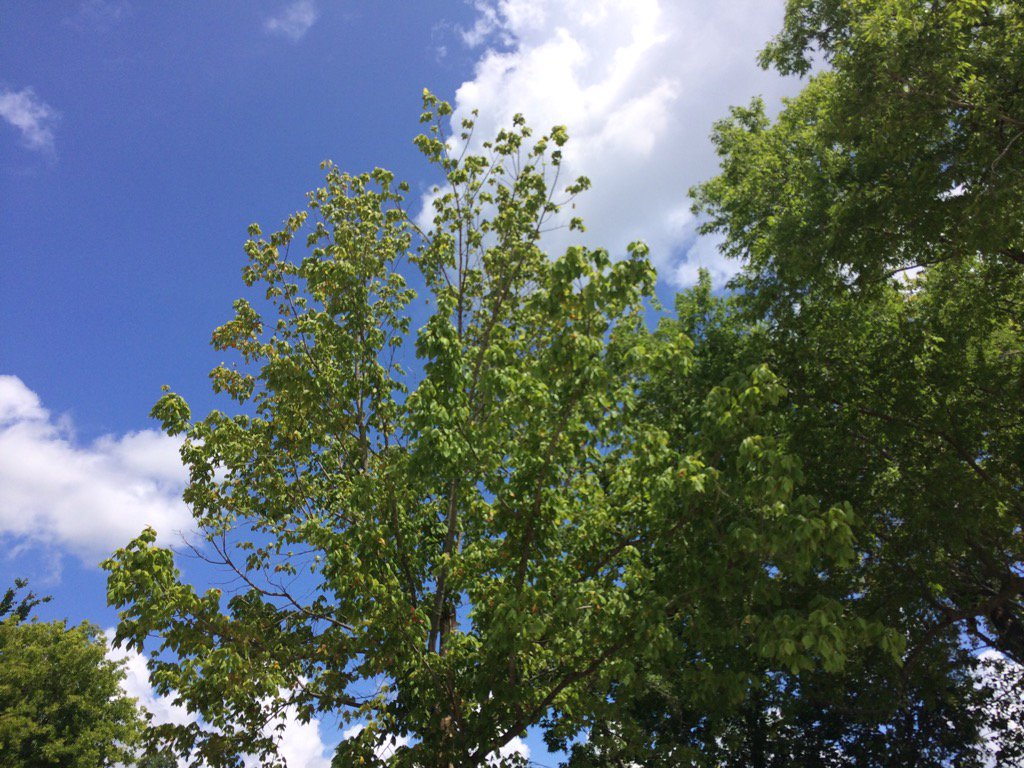 Northwest Houston, TX, during the early afternoon.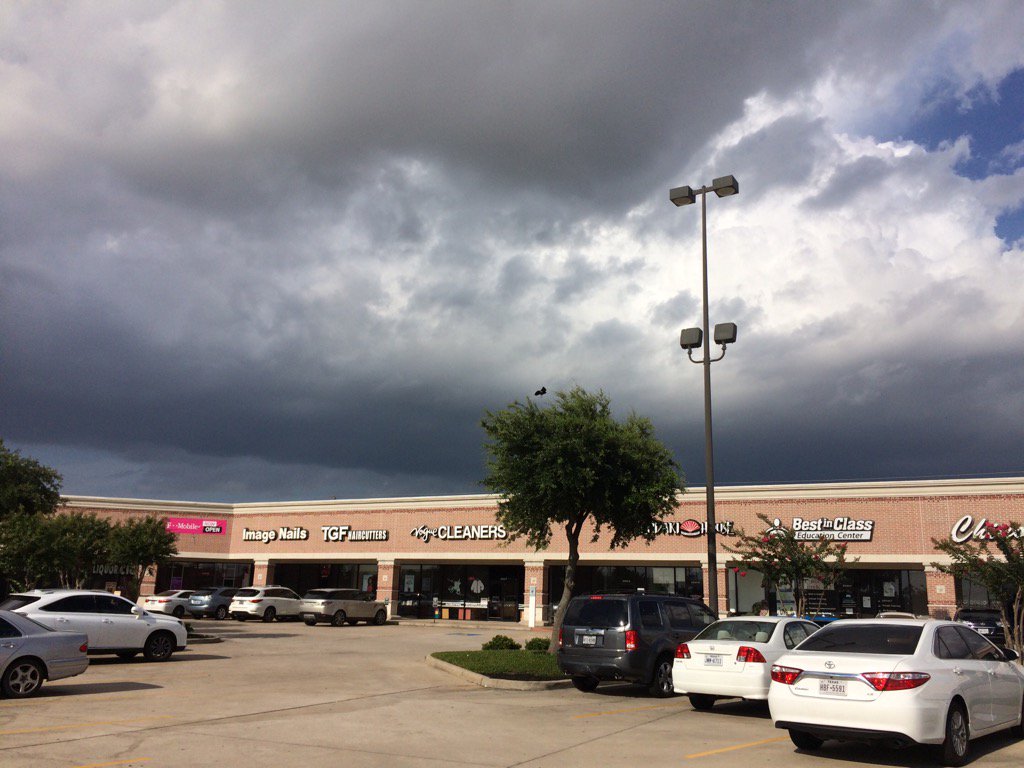 Northwest Houston, TX, during the early evening.
Summary: The day was hot, sunny, and dry. Isolated to scattered, light to heavy showers and maybe a few thunderstorms were swirling in and around the Houston, TX area, during the morning, afternoon, evening, and maybe night. I didn't see, feel, or hear any rain drops. Stratus, stratocumulus, and some nimbus clouds were scattered to widely scattered across the sky, during the morning, afternoon, and evening. The wind speeds were calm with gentle gusts and some moderate gusts, during the morning, afternoon. The wind speeds were gentle with moderate to moderately strong gusts, during the evening. It felt warm during the early and mid-morning, late evening, and night. It felt hot during the late morning, afternoon, and early evening. There was a Hazardous Weather Outlook issued by NOAA, for the Houston, TX area. There were no other watches, warnings, alerts, advisories, or weather statements/outlooks issued for the Houston, TX area, that I know of. The low temps looked to be in the 70's and the high temps looked to be in the 90's, for the Houston, TX area.
Storm Summary: There were no reports of flooding, or storm damage, for the Houston, TX area, that I know of.
Locations: Northwest Houston, TX.
Thoughts: More hot weather. I wish I could have seen some rain, but oh well.
Area Forecast Discussion
Issued by NWS Houston/Galveston, TX
Home | Current Version | Previous Version | Text Only | Print | Product List | Glossary Off
Versions: 1 2 3 4 5 6 7 8 9 10 11 12 13 14 15 16 17 18 19 20 21 22 23 24 25 26 27 28 29 30 31 32 33 34 35 36 37 38 39 40 41 42 43 44 45 46 47 48 49 50
000
FXUS64 KHGX 060025
AFDHGX
Area Forecast Discussion
National Weather Service Houston/Galveston TX
725 PM CDT Wed Jul 5 2017
.AVIATION...
Primarily VFR with brief periods of MVFR ceilings over more inland
hubs around sunrise tomorrow morning. Expecting a repeat of today
as it relates to shower and storm coverage. A moist and unstable
enough atmosphere should support morning near coastal showers and
isolated storms that will transition to metro area activity into
the afternoon hours. Early day variable to south breezes will
back more easterly through the day with the passing sea breeze
boundary. 31
&&
.PREV DISCUSSION... /ISSUED 315 PM CDT Wed Jul 5 2017/
DISCUSSION...
Looking at the surface analysis there is really not much to
analyze. There is a weak pressure gradient so not much wind for SE
Texas and it is hot/humid. Heat index values have been any where
from 95F to 105F across the area. As far as the upper levels of
the atmosphere are concerned, there is a little more to analyze
than the surface. Upper level ridge was located over the
Rockies/Four Corners region with a short wave trough over the
Ozarks. SE Texas is in a weakness in the ridge so there have been
a few showers and storms to pop up today. Overall subsidence is
winning over the convection as there are still 590 dm 500mb
heights over the area. Radar is showing signs of a developing sea
breeze along the coast. This may initiate a few storms this
afternoon but overall think 20 PoPs will be on track instead of
the 30-40 PoPs previously in the forecast. Conditions supported
higher rain chances with better moisture but that has not exactly
panned out so far this afternoon. There is still time for
scattered activity to develop but looking less likely.
Now through the end of September the forecast hinges largely on 2
things - tropics and upper level ridging. Weak to no ridging
usually yields rain chances. Strong ridging means no rain
chances. And then an approaching tropical cyclone makes for a
messy forecast scenario. As far as ridging is concerned, the
summer time ridge should be weaker over SE Texas through Friday
maybe Saturday with NW flow aloft over the plains since the core
of the ridge will be over the Rockies. So the forecast will keep
some mention of showers and thunderstorms through that time. The
ridge looks to expand over Texas and the Plains Sunday through
early next week so expect low to no chance of rain for the area.
High temperatures will be in the typical mid 90s and heat index
values in the 100-105F range. The ridge expands more for the
middle of next week. Forecast model blends seem to be too high on
rain chances given the ridge, so rain chances have been lowered by
a good 10 percent across the area in the extended forecast
compared to model guidance output.
Tropics...NHC is tracking a tropical disturbance in the middle of
the Atlantic and give it a 60 percent chance of development in
the next 5 days. Model guidance keeps the system in the Atlantic
turning towards Bermuda. No concern for the Gulf. 39
&&
MARINE...
Not a lot of changes with the marine forecast as generally light to
moderate onshore winds prevail. Wind speeds should pick up over the
coastal waters at night and during the day over the bays. Scattered
showers and isolated thunderstorms will be possible across the Gulf
waters overnight tonight...then spreading into the bays toward sun-
rise early tomorrow morning. Upper level ridging building back over
the area from the west will help to lower rain chances by Friday on
through the weekend. 41
&&
.PRELIMINARY POINT TEMPS/POPS...
College Station (CLL) 75 95 74 95 75 / 10 20 10 30 10
Houston (IAH) 76 94 76 93 76 / 10 30 10 40 10
Galveston (GLS) 81 88 80 88 80 / 10 20 10 40 20
&&
.HGX WATCHES/WARNINGS/ADVISORIES...
TX...NONE.
GM...NONE.
&&
$$
Discussion...42
Aviation/Marine...31
Hazardous Weather Outlook
Hazardous Weather Outlook
National Weather Service Houston/Galveston TX
336 AM CDT Wed Jul 5 2017

TXZ163-164-176>179-195>200-210>214-226-227-235>238-060845-
Austin-Brazoria-Brazos-Burleson-Chambers-Colorado-Fort Bend-
Galveston-Grimes-Harris-Houston-Jackson-Liberty-Madison-Matagorda-
Montgomery-Polk-San Jacinto-Trinity-Walker-Waller-Washington-
Wharton-
336 AM CDT Wed Jul 5 2017

This hazardous weather outlook is for portions of Southeast Texas..

.DAY ONE...Today and Tonight

Heat index values are expected to climb into the 100-106 range
late morning through this evening.

Isolated to scattered showers and thunderstorms will be possible
today. Some of these may be capable of brief heavy rainfall.

An elevated risk for rip currents will exist along Gulf-facing
beaches.

.DAYS TWO THROUGH SEVEN...Thursday through Tuesday

Heat index values may climb into the 100-106 range late morning
through the evening hours each day.

Isolated to scattered showers and thunderstorms will be possible
each day. Some of these may be capable of brief heavy rainfall.

An elevated risk for rip currents is possible along Gulf-facing
beaches through Friday.

.SPOTTER INFORMATION STATEMENT...

Spotter activation will not be needed.

$$