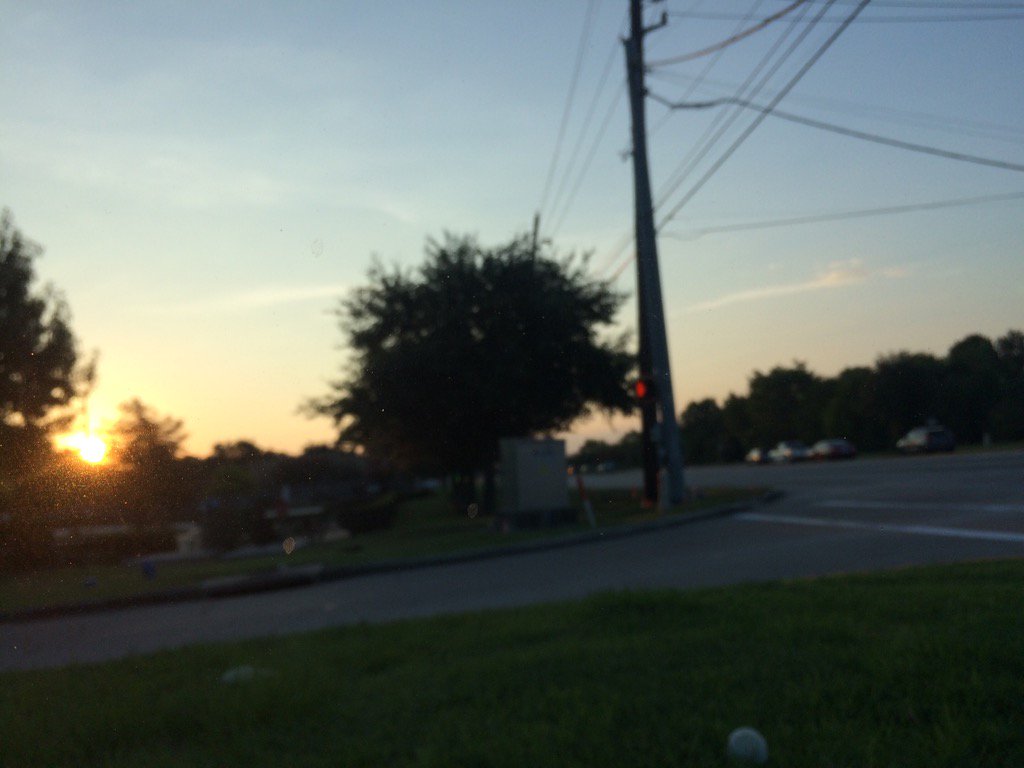 Northwest Houston, TX, during the early morning.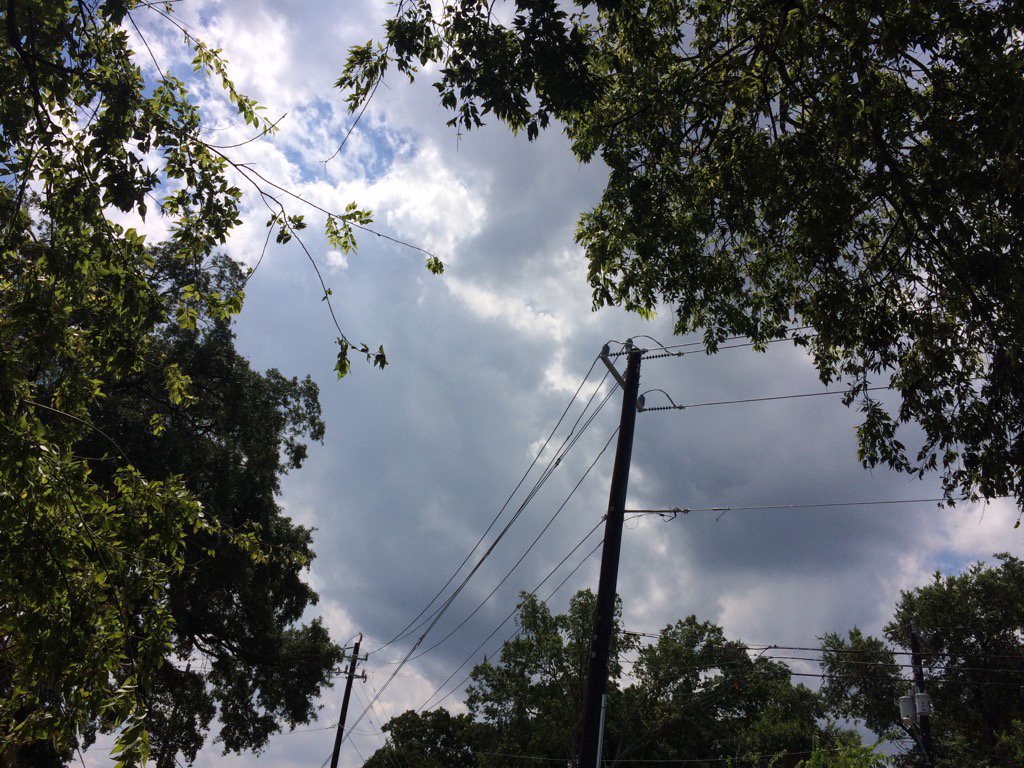 Northwest Houston, TX, during the early afternoon.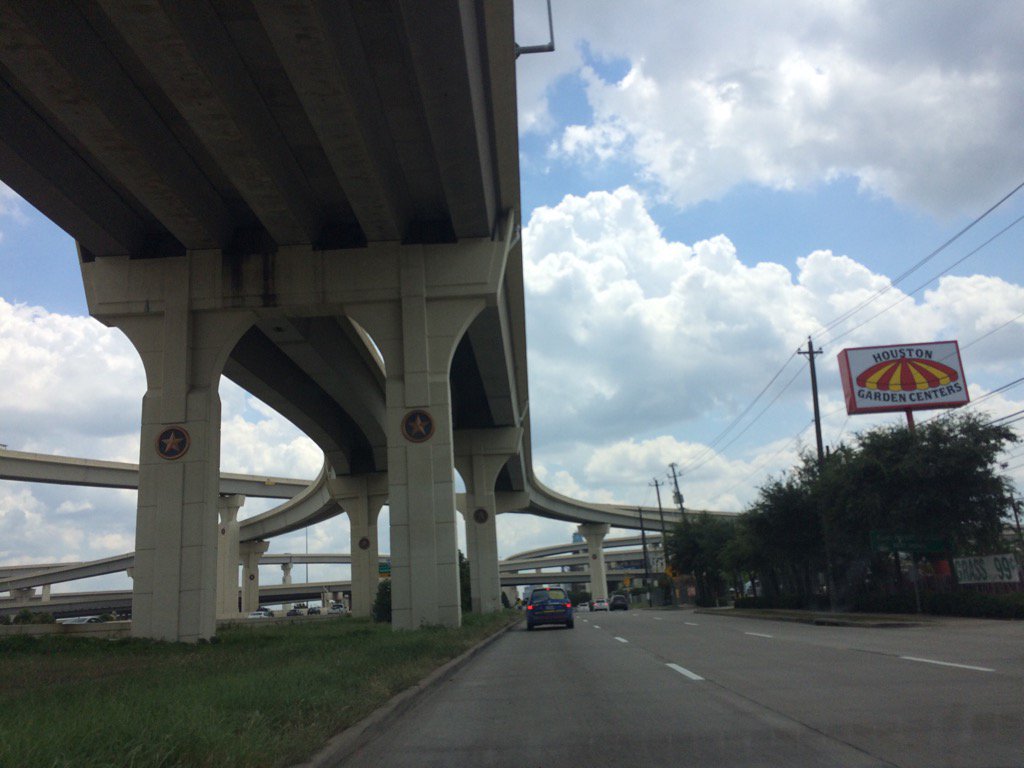 West Houston, TX, during the early afternoon.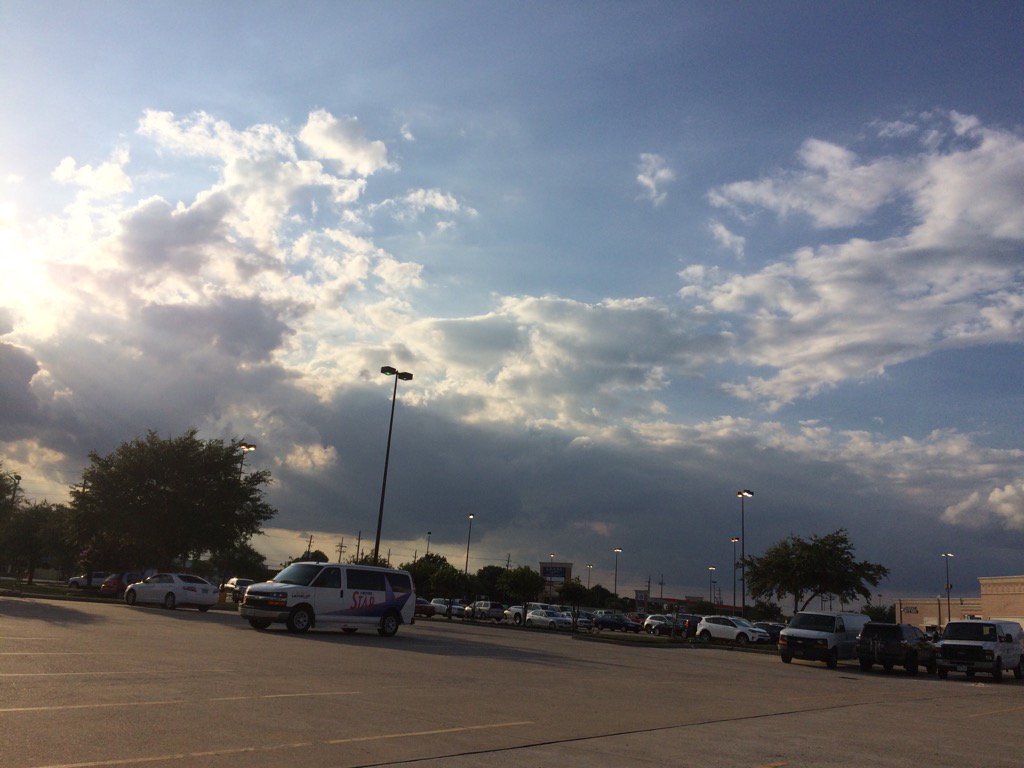 Northwest Houston, TX, during the early evening.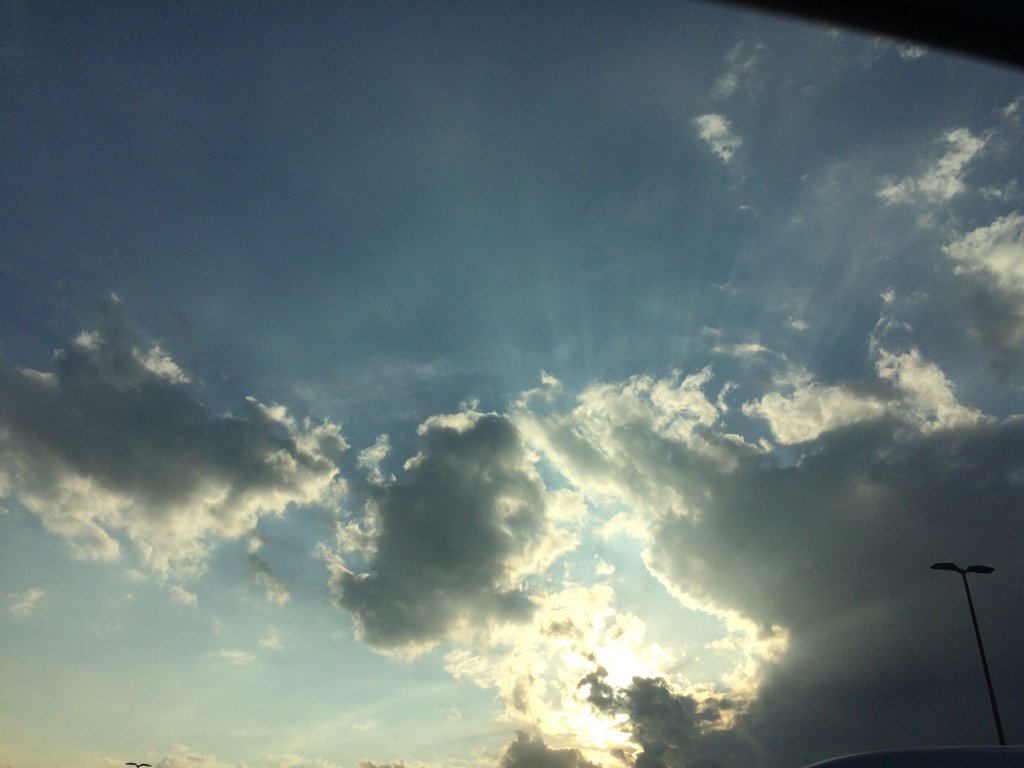 Northwest Houston, TX, during the late evening.
Summary: The day was warm, sunny, and dry. There were some isolated light to moderately heavy and possibly heavy showers and maybe a few thunderstorms scattered near and in some areas of Houston, TX, during the morning, afternoon, evening, and maybe night. I didn't see, or hear any rain drops. I felt some possible brief light drizzle, sometime during the late afternoon. That was the only rain drops that I saw, during the day. Alto stratus clouds looked to be scattered across the sky, during the early morning. Stratocumus clouds started to become scattered across the sky, sometime during the mid, or maybe late morning. Stratocumulus clouds with maybe some nimbus clouds from time to time, looked to be widely scattered across the sky, during the afternoon and evening. The sky looked to be mostly clear with just some cirro stratus clouds scattered across the sky, during the night. The wind speeds looked to be calm with gentle to moderate gusts with maybe some moderately strong gusts. It felt warm, during the early and mid-morning, late afternoon, evening, and night. It felt very warm, during the late morning. It started to feel hot, during the early afternoon. It felt hot, during the mid-afternoon. I think there was still an Air Quality Alert issued for the Houston, TX area, for today. There were no other watches, warnings, alerts, advisories, or weather statements/outlooks issued for the Houston, TX area, that I know of. The low temps looked to be in the 70's and the high temps looked to be in the 90's with maybe some 80's, for the Houston, TX area.
Storm Summary: There were no reports of flooding, or storm damages, that I know of.
My Storm Summary: I started to see some dark grey storm looking clouds, during the early afternoon and continued to see them through the evening. I only felt a brief drizzle while I was at work in northwest Houston, TX, from one of these dark clouds, sometime during the early afternoon. I didn't see any flooding, or storm damages.
Locations: Northwest and west Houston, TX.
Thoughts: It almost felt cool during the early morning. I am looking forward to some more rain chances tomorrow and through the rest of the week.
Area Forecast Discussion
Issued by NWS Houston/Galveston, TX
Home | Current Version | Previous Version | Text Only | Print | Product List | Glossary Off
Versions: 1 2 3 4 5 6 7 8 9 10 11 12 13 14 15 16 17 18 19 20 21 22 23 24 25 26 27 28 29 30 31 32 33 34 35 36 37 38 39 40 41 42 43 44 45 46 47 48 49 50
000
FXUS64 KHGX 020309
AFDHGX
Area Forecast Discussion
National Weather Service Houston/Galveston TX
1009 PM CDT Tue Aug 1 2017
.DISCUSSION...
Radar imagery shows a void of echoes across SE Texas as convection
has dissipated from this evening. The 00Z upper air data shows a
jet streak at 300mb over the Texas panhandle with the main
anticyclone over Mexico. GOES 16 water vapor imagery and derived
upper level winds confirm this. GOES 16 derived precipitable water
imagery shows a large area of PW greater than 2 inches across SE
Texas and extending into the Gulf. The 00Z LCH and CRP soundings
are on either side of this moisture plume see in the GOES 16
imagery. This plume seems to be on the south side of a frontal
boundary, perhaps the old frontal boundary that pushed through
over the weekend.
From a pattern recognition standpoint, a lot of boxes get checked
for the potential of heavy rainfall. Aloft there will be an
approaching jet streak where the nose of the jet is pointed right
at SE Texas tomorrow afternoon. This is about the same time a
trough axis and height falls occur over the area along with
increased jet divergence and large scale ascent. If it was not for
the NW flow aloft, this pattern looks very much like a setup for
late spring. About the only thing missing is a strong LLJ in the
boundary layer. However there will be a lot of moisture for
thunderstorm development. Synoptic models show PW getting close
to 2.4 inches at time which would be pushing climo 99 percentile
for the area. There also looks to be several boundaries for storms
to form along. One boundary will be along the plume of higher PW
air along the Gulf coast. A second will be outflow pushing down
from the north so there may be some natural convergence due to the
boundaries pushing together. It looks like there could be a
couple areas that could see heavy rainfall based on the location
of boundaries but the exact location will largely depend upon
mesoscale evolution. For now areas from College Station to
Crockett along the northern boundary could see heavy rainfall, and
then down along the coast anywhere SW of Houston to E of Houston.
Several models like the 00Z HRRR, 00Z NAM, 18Z Tx Tech WRF, 21Z
HRRR ensemble, 00Z HRRR-TL, NCAR ensemble, and 18Z GFS show
similar precipitation patterns consistent with the boundary
locations. Ensemble guidance shows areas of greater than 50
percent chance of 3 inches of rain in a 6 hour period. It is also
worth noting that none of them show any probability of 6 inches of
rain in a 6 hour period. It seems that 1 to 3 inches of rain
looks like a good range and likely cause street flooding and rapid
rises on bayous. The concern is that given the synoptic set up,
there could be the possibility of higher rainfall amounts in a
short period of time. Given the FFG of 4 to 6 inches in 3 hours,
most areas can handle this much precipitation except for the urban
areas. For now a FF watch is not needed, but this could be
revised tomorrow depending upon how storms evolve.
For now the changes to the forecast include increasing PoPs a bit
along the coast and to the north where boundaries are expected to
be located. Forecast will leave wording for locally heavy rainfall
as this should be the primary threat.
Overpeck
&&
.PREV DISCUSSION... /ISSUED 637 PM CDT Tue Aug 1 2017/
AVIATION...
First portion of the forecast looks generally on track, with VFR
conditions across the area and winds slowly coming down through
the evening. Big picture for the back half also appears good, but
uncertainty about the details - including the potential for
heavier rain - remains at this time.
As an upper disturbance swings into Southeast Texas, feel there`s
enough confidence to start bringing in TEMPOs for rain/storms at
the northern sites. The question comes closer to the coast, as
convergence in winds seen today over Colorado/Austin/Wharton
counties will set up and become the dominant feature for our
Houston and coastal TAF sites. While the blanket VCs seem
reasonable, whether the northern feature or the coastal feature
become dominant may impact the timing of when the best coverage of
storms is possible farther south by several hours. For now, both
scenarios seem plausible, so will punt on probs/tempos for this
cycle, and look for more clarity with the evening model runs.
It does seem likely that around 00Z, most of the rain will be
ending or at least moving east of the TAF sites. For most, this is
the end of period so I don`t explicitly forecast this at this time,
but does show up in the extended portion of the IAH TAF.
Luchs
PREV DISCUSSION... /ISSUED 358 PM CDT Tue Aug 1 2017/
DISCUSSION...
Gulf moisture nosing back into the region this afternoon had
allowed for a few showers to develop along and south/east of the
Highway 59 corridor, but most of the region has remained dry
today. However, recent dryness will quickly change to a relatively
wet pattern for Southeast Texas for early August as an
approaching disturbance from the Southern Plains reaches the
region later tonight into Wednesday.
Most shower activity is expected to dissipate with loss of
daytime heating this evening, but another round of rain will
approach the region from the north and northwest tonight into
early Wednesday morning as the upper level disturbance arrives.
Additionally, afternoon surface analysis shows several distinctive
surface convergence zones or boundaries located across the
northwest Gulf. Height falls on the order of 2-4 decameters
tonight may result in enough of a surface reflection/trough to
draw one or both of these boundaries inland... but several
questions still exist on when, which one(s), or how far inland
they will travel but will need to monitor areas along and
south/east of Highway 59 based on consensus from 12Z guidance.
Convergence along these features should result in continued
shower development across the waters overnight with coverage
gradually spreading into the coastal counties along any one of
these boundaries. As the upper disturbance passes across the
region on Wednesday, additional showers and thunderstorms may
focus along whatever boundaries move inland. With forecast
soundings showing precipitable water values rising into the
2.2-2.4 inch range (near the 99th percentile for August), locally
heavy rain will be possible with any shower or thunderstorm that
develops tomorrow. Luckily, recent July rainfall deficits of
anywhere from 1-3 inches below normal should help mitigate against
any widespread threat... but a splitting (albeit weak) 250-300 MB
jet over the region during the day should be enough to support
high rain rates and this may result in minor flooding issues in
urbanized areas.
The main energy from the upper disturbance looks to clear the
region Wednesday night into Thursday morning with subsidence
behind this feature expected to result in a temporary decrease in
rain chances during the overnight hours. However, a secondary
shot of energy moving across the region during the day Thursday
should result in the development of another round of scattered
showers and thunderstorms into Thursday night before this energy
clears the region.
Northwest flow aloft will persist across the region through the
end of the work week and into the weekend, with rain chances
highest over the coastal waters at night and inland during the
day. Any smaller disturbance translating across the region during
this time in the flow aloft would certainly result in an
enhancement to coverage, but pinpointing any of those features (or
timing) at this point out is incredibly difficult. One such
disturbance may send a cold front into Texas by Friday, but with
the disturbance quickly pulling east across the Great Lakes the
front appears to lose too much of its upper level support to make
it into the region.
Temperatures over the next few days should remain near to below
seasonal normals due to rain and cloud cover, with highs in the
upper 80s to mid 90s and lows in the 70s to low 80s.
Huffman
MARINE...
A weak trough of low pressure over the western Gulf and high
pressure over the eastern Gulf will maintain a light east wind
through Wednesday. Low pressure will develop in West Texas
Wednesday night into Thursday and surface winds will veer to the
south-southeast by Thursday and persist for the rest of the week.
A series of upper level disturbances will bring unsettled weather
to the coastal waters through next weekend. Winds and seas will be
higher in and near scattered showers and thunderstorms. The
pressure gradient will tighten over the weekend and slightly
stronger onshore winds will be possible on Saturday night into
Sunday. 43
&&
.PRELIMINARY POINT TEMPS/POPS...
College Station (CLL) 74 89 73 92 75 / 10 70 30 30 20
Houston (IAH) 76 87 74 89 76 / 30 60 40 50 30
Galveston (GLS) 79 87 78 87 79 / 50 60 50 50 40
&&
.HGX WATCHES/WARNINGS/ADVISORIES...
TX...NONE.
GM...NONE.
&&
$$
Discussion...39